We are known for our rainy days here in the UK, but rain doesn't have to stop play when it comes to doing fun things with the children. Here are just a few things you can do when the rain starts to fall.
Get your bake on
Our children all love spending time in the kitchen and we often spend a wet day getting creative in the kitchen. As the UK weather is so unpredictable, it's worth always having a few things in for baking just in case. You don't want to get all set up and realise you don't have any eggs for example. If you aren't a big baker yourself and worry about doing things like this, why not have a few of the quick mixes in the cupboard. You might find you only need to add some water, or an egg to the mix.
If you don't want to bake, or that's not interesting enough for the children, get them to help you make the lunch or dinner for that day. Lots of children really enjoy being 'helpful' so it can be a great way to involve them.

Get the games out
Our children love playing games. The big kids teach the little ones or they have teams that play each other. Rainy days are a great time to get out the games and puzzles. Perhaps you have a few jigsaws the children haven't done yet? Or maybe you could teach your children to play a game you played as a child?
Why not let each of your children pick a game and then flip a coin for who goes first – you'll play them all, this is just to decide which order you do things in.
What would be your children's choice? Is there a game they've been wanting to play for ages, or a puzzle they need a bit of help with?
Movie marathons
A rainy day is a great time to have a movie marathon, whether you try and do the whole Harry Potter collection in a weekend, go for a theme like 'comedy', or just let everyone choose their favourite, its all good fun. Why not spend some time in the kitchen beforehand and pop some corn or bake some flapjack or cookies to munch during the movie. You could also make some milkshakes or smoothies ready for the movie session.
Get crafty
I always have craft stuff in. You never know when children are going to want to get their craft on and make something extra special. Glue and paper are a must obviously, but try to offer things that they can use to make or decorate, Buttons are good, as are sequins and coloured ice lolly sticks. You could use feathers, pipe cleaners, or just bits and bobs from around the house.
Get the wellies on
Just because it's raining doesn't mean no going outside. So pop on those wellies and go and find some muddy puddles to jump in, mud to squelch or even go on a mini beast adventure.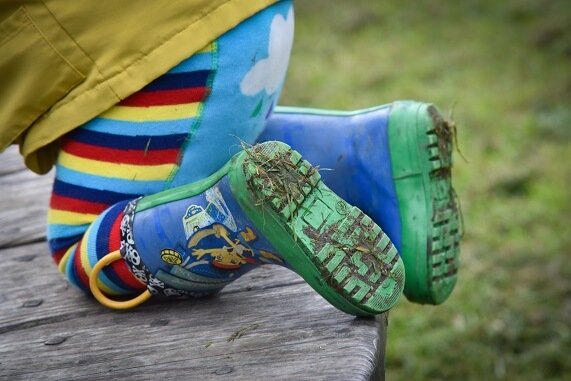 As long as little ones are warm and dry playing in the wet weather can be great fun. Cold hands are always the first thing to bring my tribe back indoors, aside from that I think they would be quite happy playing in the rain.
What do you like doing with your children on a rainy day at home?