Have you ever thought about travelling to Sri Lanka? The former British colony is known for its fragrant tea and mesmerising scenery. However, do you know that the Sri Lanka is also a very family-friendly destination? There are plenty of things for the whole family to enjoy and learn together. Isn't that what makes a trip much more precious? If you are not sure about what to do in Sri Lanka, check out below for some recommendations:
Learn about sea turtles at Sea Turtle Farm & Hatchery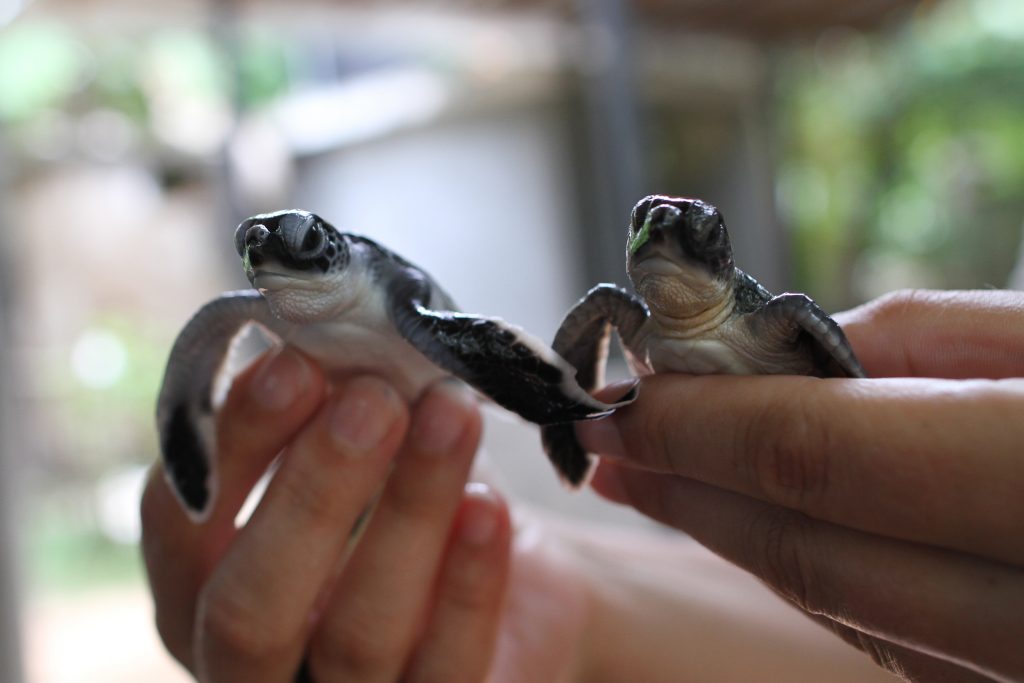 Credit: Bo Jørgensen
Sea Turtle Farm & Hatchery is a non-profit organisation that aims to save sea turtles from extinction. They have a turtle farm in Habaraduwa, Galle to hatch, cure sick or injured turtles and release them to the ocean. At the centre, you will be able to understand the dangers sea turtles are facing as well as conservational efforts to save them. The children will also love to release turtles back to the ocean – definitely a once in a lifetime experience for them!
Visit Pinnawala Elephant Orphanage
Sri Lanka is home to about 2,100 to 3,000 elephants. If your children have never seen an elephant before, or even if they have, it is nowhere the same as in Sri Lanka. This country is the perfect place for the children to learn more about elephants. At Pinnawala Elephant Orphanage, your children will be able to see the animal being fed and bathed. If they are close enough, they can feed the elephants themselves.
Go on a wild safari
Credit: Kosala Bandara
There are several National Parks in Sri Lanka, where you can see wildlife in its natural habitat. Yala National Park is one of the best parks for mammals in Asia. You will be able to spot leopards, sambars, sloth bears and different types of monkeys. Uda Walawe National Park is best for bird watching and viewing wild elephants. If you are keen on bird-watching, then head to Sinharaja Rainforest Reserve where you will be able to find mixed-species bird flocks comprising of different endemic birds.
Take a scenic train ride to Ella
If you think that taking the train is not an interesting experience, think again, as the train ride in Sri Lanka earns its reputation for a reason. The train from Nuwara Eliya to Ella goes slowly along the hillside, passing tea plantations. While the distance is only 60 kilometres, the ride takes 3-4 hours as it has to cross the mountains. You will be able to cast your eyes on rolling emerald hills, tea terraces and let your dreams fly amidst the scenic surrounding. Slow down, take a deep breath and enjoy the precious moment.
Have a splash at the beach
There are plenty of beautiful beaches in this tropical country as well. Spend a day or two by the beach, letting the children take a refreshing dip in the water while you lounge on the soft yellow sand and work on that perfect tan. Do note that there are no lifeguards at the beach, so you may want to pay close attention. However, the water is calm and safe enough for the little ones.
Learn how to fish like a Sri Lankan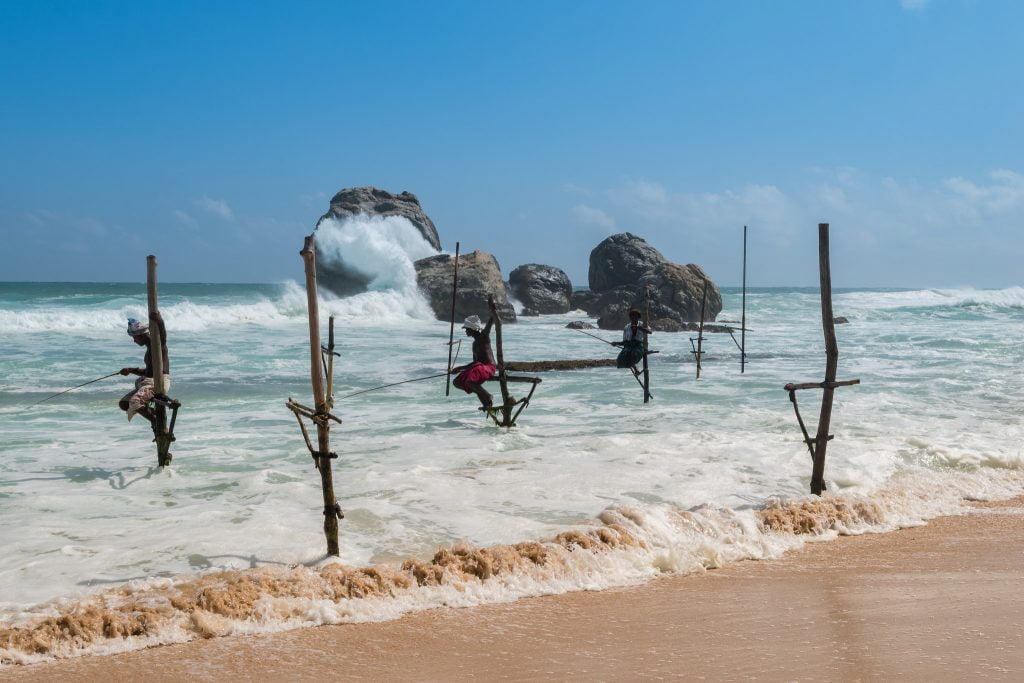 Credit: dronepicr
Whether you are experienced at fishing or not, this is a fun experience for both children and adults. While the feeling of catching a fish after patiently waiting is satisfying, fishing in Sri Lanka brings the excitement to a whole new level as the traditional way of fishing here is pretty unique. The locals sit on what is called a riti panna, which is a pole with a small bench attached to it, while fishing. This is indeed a very different experience from the way we usually fish in the UK.
Viewing Sri Lanka from a hot-air balloon
Floating in the sky and experience Sri Lanka from above definitely makes a great memory for both you and the children. As you float high above, you will see the mountains, the rainforests and various scenic places. The atmosphere is quiet and peaceful, and the view is simply mesmerising. This will be an unforgettable experience for your children.
Visit the Temple of the Sacred Tooth Relic
The Temple of the Sacred Tooth Relic is located in the cultural city of Kandy. At this temple, the children will be able to learn more about Buddhism, Sri Lanka's official religion, as well as the chronicles surrounding the temples. Do note that you will need to remove your footwear before entering the temple, and the way in could be too hot so it's advisable to bring along some socks to keep you protected.
Stay at a family villa in Sri Lanka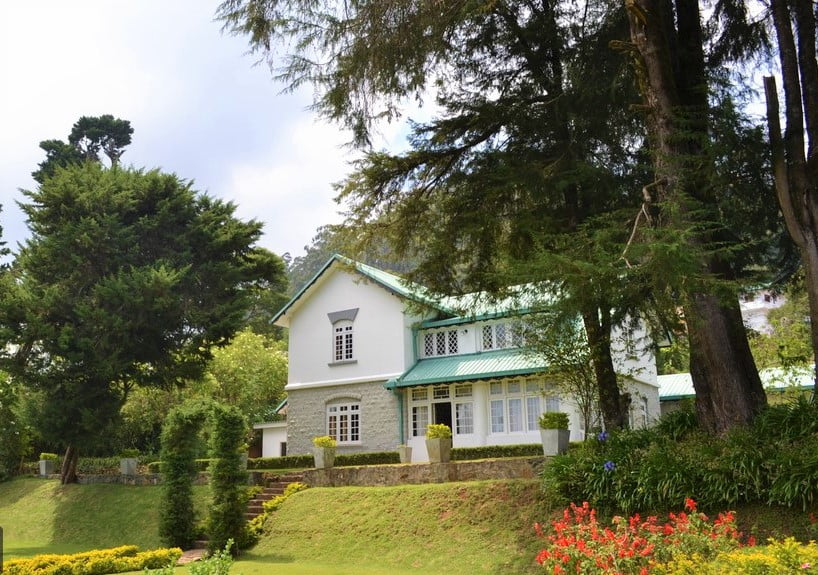 Credit: SriLanka-Villa.com
While there are plenty of accommodation choices, don't miss the chance to stay in a villa in Sri Lanka. At a villa, you can cater the services to your own needs, especially if you are travelling with young children. If you need a baby cot or high chair, it can be easily arranged.
On days when you want to take it slow, the children can still have fun with in-villa entertainment, the pool or the lawn, and you can enjoy a peaceful drink while casting your eyes on the beautiful surroundings.