You might have seen our article recently around tips to avoid waste in lunchboxes as we approach a new school year.
The bulk of schools these days have a healthy lunchbox policy which, as a parent I fully support. However, parents with fussy eaters can struggle with what to put in a lunchbox, especially five days a week for a large part of the year.
First things first, let your children choose their lunch box. One of the children loves this blue lunch bag from Bibetta as it is easy to carry and weighs nothing when they've eaten their lunch. From my point of view it is easy to store and clean. As these bags are naturally insulating, it also means food remains fresh until lunchtime.
As a main lunchbox item sandwiches are obviously an option and many children will eat a range of sandwiches. If I am making sandwiches I only ever use Flora on the bread plus the filling. I always try to give the children brown bread, or at the least a white with more type of bread. I bulk buy and freeze bread so we always have some in, it avoids that last minute panic the night before school.
If, like some of my children, yours frequently bring home crusts with the bulk of the sandwich still attached, why not give something else a try for a while?
I switched part way through last year to giving the children a wrap for lunch instead of a sandwich. They love meals at home involving wraps so I'm not quite sure why I hadn't tried it before.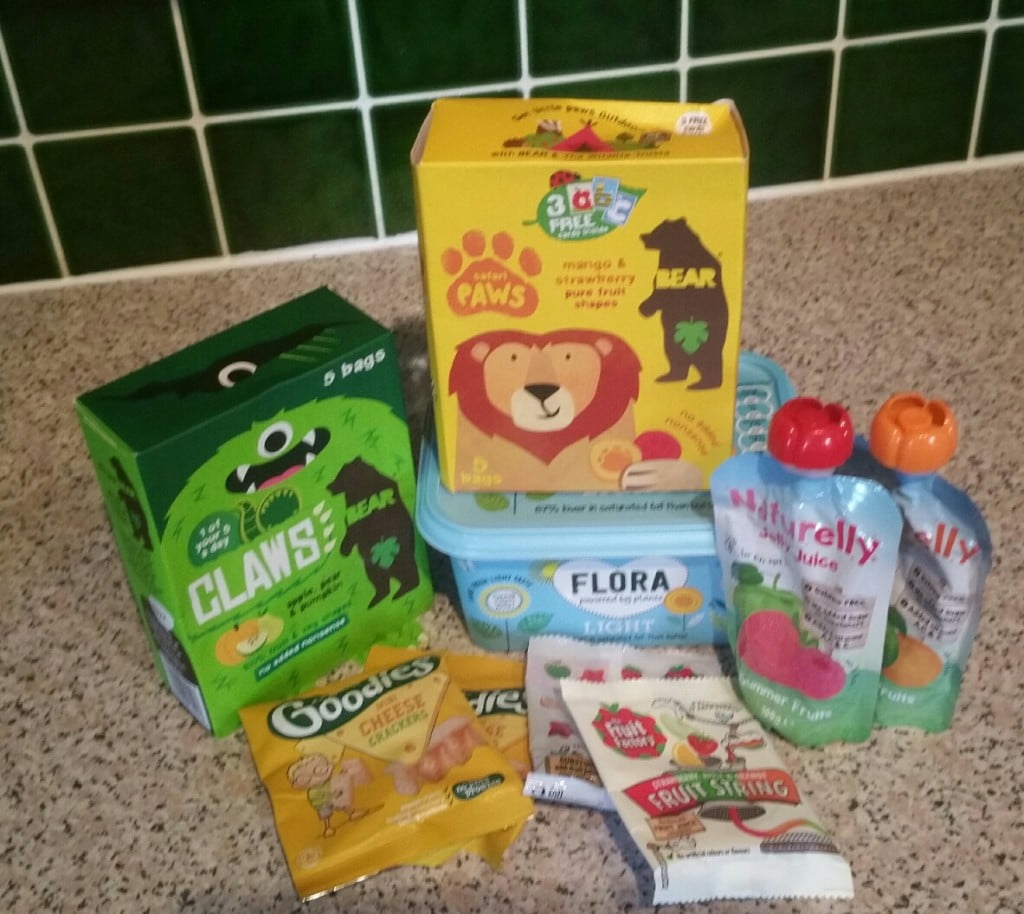 There are loads of ideas out there for what you can fill your wraps with depending on what your children like. Flora have a super section of their website dedicated to lunchbox ideas. Of course you can vary them to suit your children, and if you have a child who is quite fickle about what is and is not acceptable as a combination, why not get a lunchbox with a number of compartments. You can fill each one with something different, and they can then build the wrap on their own and eat some things separately if they wish. That's what I will be doing when the new school year begins.
In terms of what else to pop in the lunchbox, you will know what your children will and won't eat but I tend to include things like:
A pot of strawberries, blueberries or grapes (I always halve the grapes as they can easily get stuck, even with older children)
A fruit snack from Bear – if you haven't tried these with your children yet I recommend you give them a go. They have a range of different fruit products and all the children like different ones, so I always have a selection in. There is no added nonsense to them so you know they are getting a super healthy snack anytime. With all the options and flavours available you should find something your children like.
Naturelly is a great addition to a healthy lunchbox, half drink, half jelly, these are quite popular with the children
A carton of juice, I do often include something like a pure apple juice in with lunch. The children have water the rest of the time at school but it means they get a bit of variety and adds to their 5 a day intake too.
They do all enjoy a packet of crisps but I try to vary these with things like packets of crackers and rice cakes, mainly to reduce the amount of salt really. They all still like crackers and rice cakes so it never proves much of an issue
Sometimes I will make a flapjack at the weekend with the children and then slice that up for lunchboxes as well
Dried or freeze dried fruit snacks can also be a good choice. You can vary these in lunchboxes throughout the week, or just take them on the school run with you for an after school snack. Forest Feast do a range of dried fruit in handy lunchbox size packs, they even do those yummy yoghurt coated cranberries. The children love these and so do I! Acti-Snack also have a super range of products, their mango pieces make a lovely addition to lunchboxes and then their little snack packs of fruits, nuts and soya are great for popping in your handbag, baby bag or even in the car to keep you going in between school runs, work and other appointments and general running around.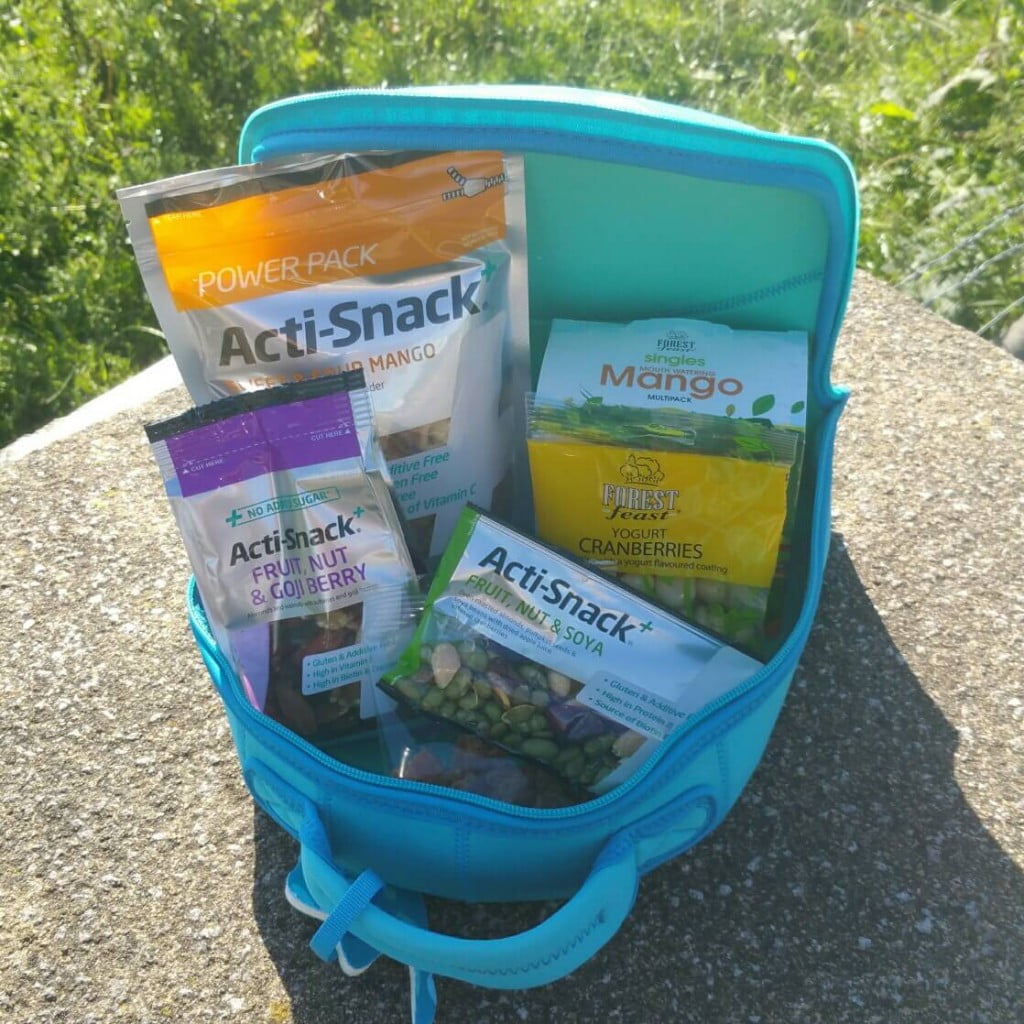 You will find loads of inspiration on the Flora site for both main lunchtime meals and snacks, here are our favourites:
If you're short on time and need a lunchbox filler your little one will love, look no further than this Egg, Mayo and Pepper Wrap recipe. You'll have it prepared and packed for tomorrow before dinner's even on the table .
Servings: 1
Preparation time: 10 minutes
Ingredients
1 dollop (10ml) Hellmann's Light Mayonnaise
1 medium egg, hardboiled and chopped
1 seeded tortilla wrap
1 tomato, sliced
½ red or yellow pepper, sliced
7g Flora Light
Mix together the Hellmann's Light Mayonnaise and chopped boiled egg.
Spread Flora over the wrap and top with the egg mayonnaise.
Scatter the tomato and peppers over the filling, then roll and fold the wrap to close.
You can substitute the egg for tuna if your children can't eat eggs or don't like them, or alternate between the two fillings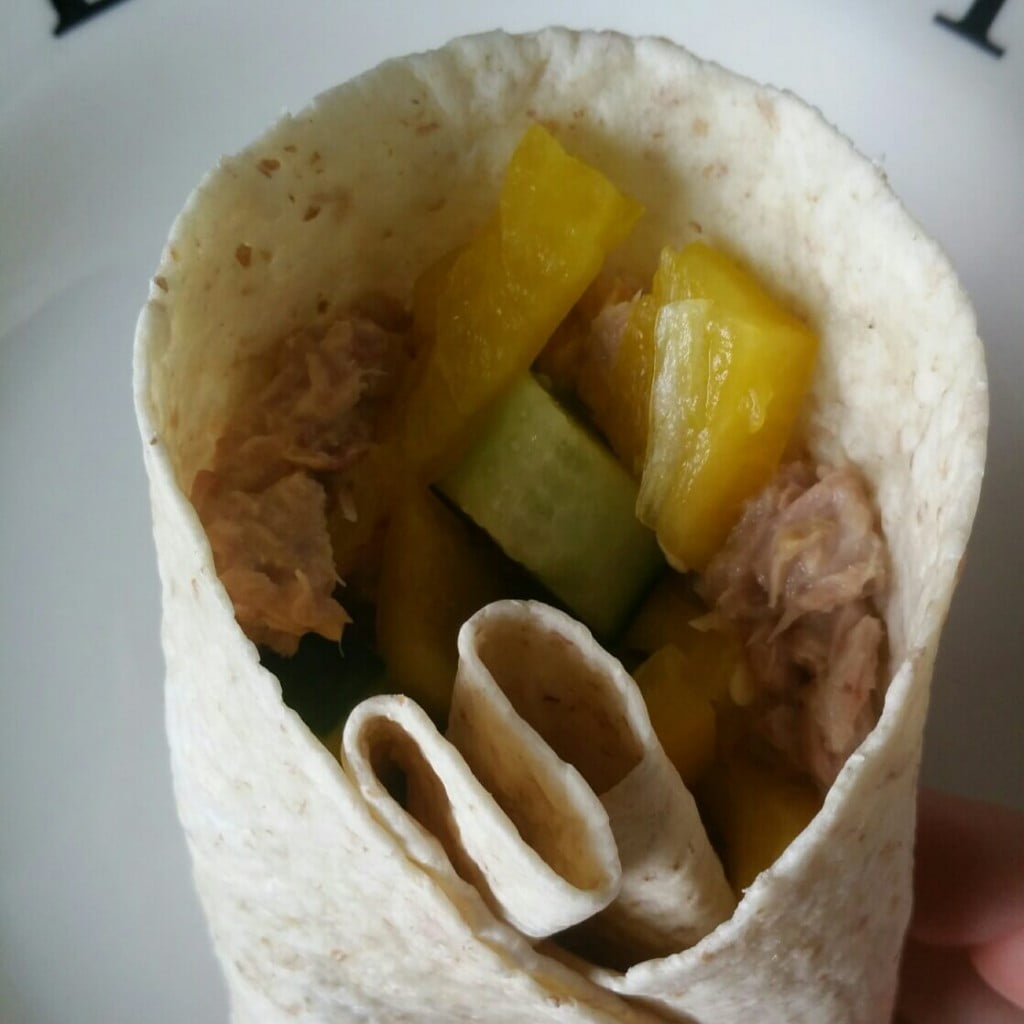 Recipe Serves: 16          Prep time: 15 min          Cook time: 35 min
A recipe that's yummy every time, the tasty oats in these fruity flapjacks are good for a slow release of energy on busy school days. Pop a couple into their packed lunch to help give them a little lunchbox boost.
Ingredients
115g Flora Buttery
115g golden syrup
55g soft brown sugar
175g rolled oats
55g dried apricots, chopped
55g raisins
Grease an 18cm (7-inch) square shallow tin.
Melt Flora, syrup and sugar in a saucepan, stirring until the sugar has dissolved.
Stir in the rolled oats, apricots and raisins.
Spread the mixture in the prepared tin
Bake in a pre-heated oven at 180° C, 170° C fan, Gas mark 4 for 30-35 minutes.
Cut into 16 pieces and leave in the tin until cold.
You can vary the ingredients for a bit of variety.
Once you've got into a bit of a rhythm with lunchboxes, you'll be doing them with your eyes closed and developing a range of time saving techniques. You'll see what gets brought home uneaten and be able to adjust your approach accordingly.
Sometimes there is no rhyme or reason to it. One of my children kept bringing home their apple last year, despite loving apples, so one day I left a note on the apple saying "eat me!" – they got eaten after that and I got told that I made their friends laugh, so everyone was happy!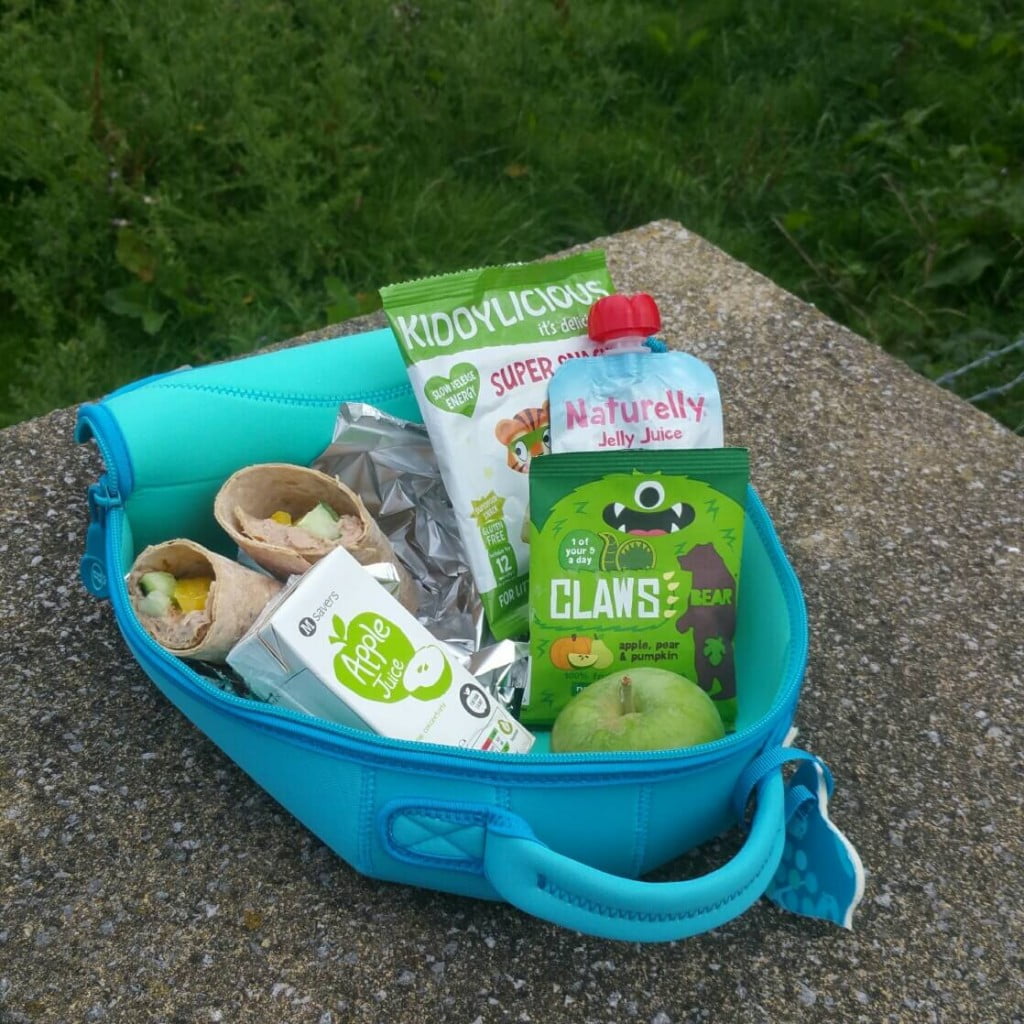 Do you have any nice lunchbox tips to share?
This is a sponsored article