I think it's fair to say that at the start of 2020 few of us anticipated being confined to ours homes for weeks on end. Few of us anticipated that schools would be closed and lots of people would either be working from home or furloughed…I mean, had we even heard that word before?
Isolation, lockdown, social distancing – all these new words are in our daily vocabulary now, how weird is that?
For lots of people this has meant they've had more time on their hands. Some people have got seriously into fitness, others into baking. For lots of parents there is a new juggle – trying to educate and occupy children all day every day, whilst also working. Despite this being really hard for so many parents, there are no school runs, there is no rushing about to and from after school activities or those weekend swimming lessons.
In some respects there is more time, or a slower pace of life, or just more flexibility with the way the day is put together. So what is everyone doing with this time?
More 'me' time
If you are lucky enough to have more time to yourself, you could be spending some time trying out a new beauty routine? Maybe it's giving your self a regular pedicure, or finally tackling that dry skin issue. Maybe it's practising with false eyelashes, or whitening you teeth. Maybe you fancy giving yourself a glow and trying your hand at some fake tan – after all, if any of these things go wrong, it's not like you are going to be on show is it?
There are tons of fun products to try out during this period of extended time at home. You could try out Glo Teeth Whitening System with Coconut Oil – easy to use at home, this comes in a 14-day kit, ideal for time at home.
Fancy a tan? Missing the sunshine? Give St Moriz Express Tan Foaming Water a go. Comes with a mitt, super easy to use, and as fake tans go, not too patchy! Available from Boots online.
Just more time
If you've got children, especially young children, you might be thinking, what on earth is she on about…me time? What is this phenomenon? Okay, so you may well not have more 'me time', you may have less…but you will have more time to fill with the children.
Now is the time to say yes to all those things you've avoided or say you don't normally have time for. Now is the time to read that extra story, have that mid-week movie night, bake bread together and get crazy with some fun bath times.
If you want to give your children a bath time to remember, let them loose with Crazy Soap Bath Foam and glittery bath foam. This stuff is SO much fun. The bath foam is mouldable. The kids can turn themselves into Santa, make shapes or just plaster the bathroom with foam, whilst sitting in a glittery bath of bubblegum scented bubbles – a child's bathtime bliss! At least someone can have an indulgent bathtime in lockdown!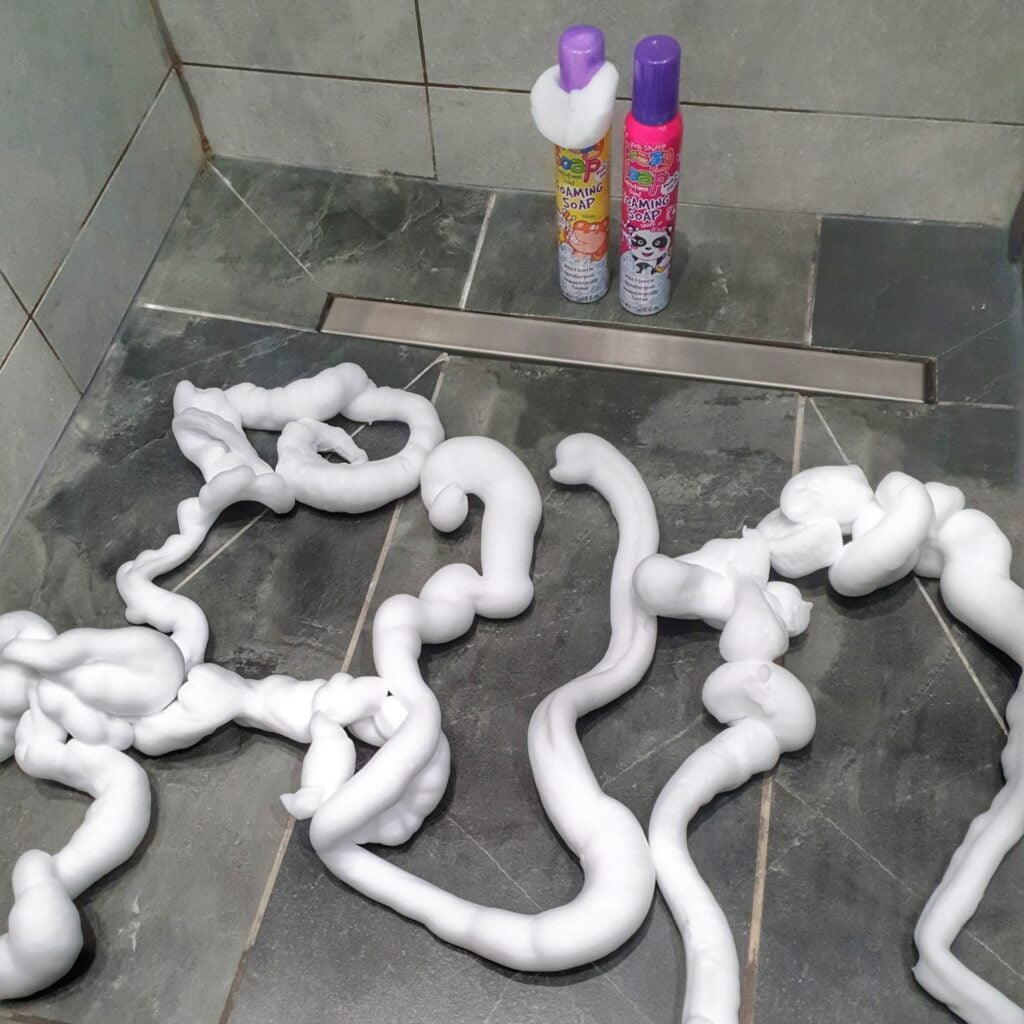 What have you been up to during lockdown? Do you have a new beauty regime, a new workout you are doing, or have you just been exercising your cocktail making skills?