Are you looking for some quality games to play with your children? The kind that will last for years and become family favourites? Then look no further than Jaques, who have the most stunning range of wooden toys.
There is something really special about wooden toys, don't you think? There are so many reasons to buy wooden toys: Wooden toys are environmentally safe; wooden toys offer excellent educational value; wooden toys have a classic look and tactile feel; wooden toys can excite the imagination; wooden toys encourage social interaction; wooden toys are durable and long-lasting; and wooden toys are safe.
We've been trying out a couple of wooden games from Jaques recently.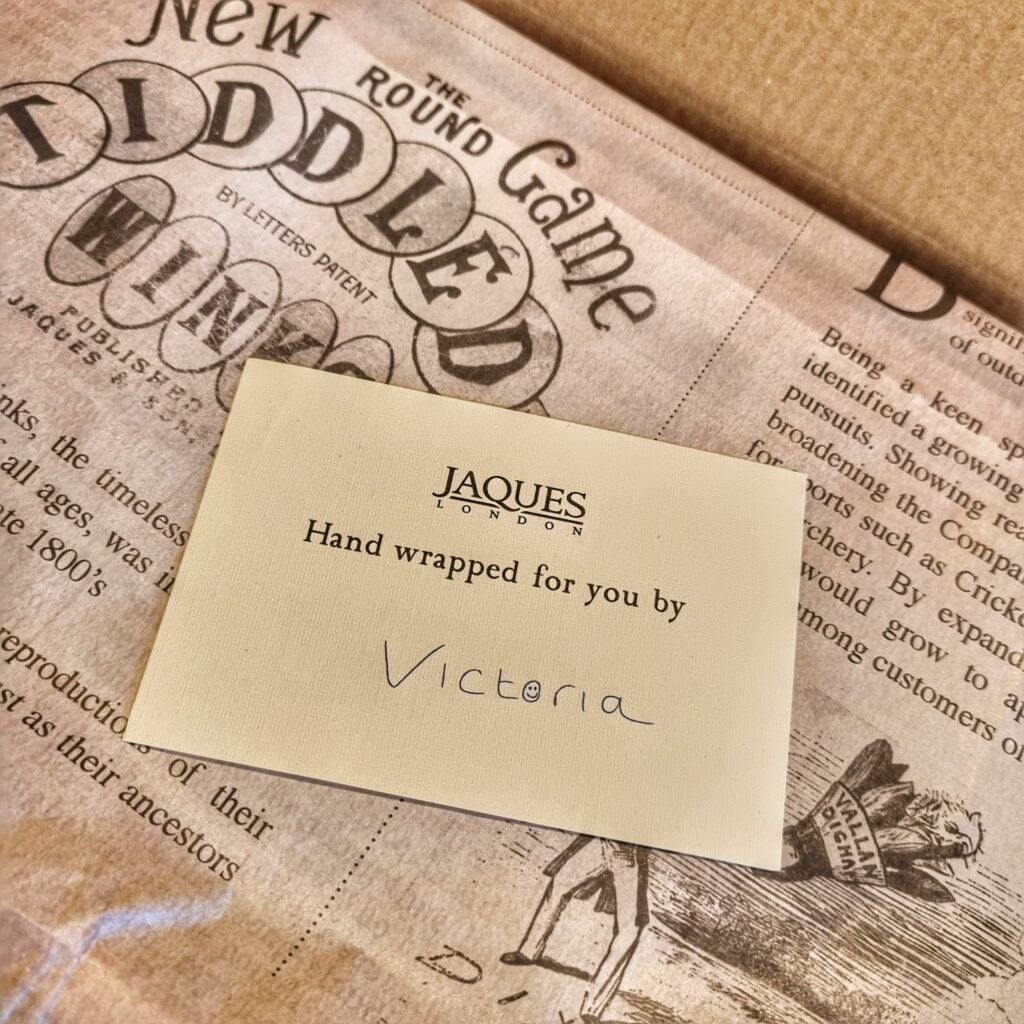 Shut The Box
Shut the Box is a fantastic dice game, featuring a baize lined wooden frame plus comprehensive rule book. This is an excellent introduction to the basics of arithmetic and numbers for younger players, and casual fun for older participants. Perfect for young children to learn without them even realising it.
The History of Shut the Box is unknown but records of the game can be traced back to 19th Century France. The game did not appear in England, however, until the mid 20th Century. Jaques were one of the first companies to market Shut the Box in the UK. The game itself is a dice game for one or more players. The object of the game is to cover all the numbers, or 'shut the box', according to throws of the dice. The Jaques' version of the game features a baize-lined, polished wooden frame and includes dice and full Shut the Box game rules. This game is an excellent way to teach numbers and mathematics. Learning should be fun and enjoyable and this game certainly keeps it that way.
This is so simple yet so perfect to have as a family game, also easy to store, without any bulky packaging and ideal for all ages. Why not keep everyone on their toes when it comes to maths!
Double Nine Dominoes
Dominoes is one of those games that transports me straight back to my childhood. I used to play for hours with one of my grandfathers. It was his subtle way of trying to improve my number recognition, although I didn't know it at the time! We've been trying out the Jaques Club Dominoes Double 9 set – presented in a Handmade Wooden Case.
A full set of 55 hand painted Double Nine Dominoes are included in this set, which would make a lovely gift.
Standard Double Nine Domino Sets today include 55 pieces, each of which consists of a line dividing it into two squares and a number of spots (or 'pips') in each square end.
This set has professional standard Brass Pins for superb shuffling! A game with ancient roots, the oldest known sets date back to c.1120 A.D. in China, and it is thought that they were introduced to China from India before that. It wasn't until the 18th Century that double six dominoes appeared in Europe where, over time, the game was adapted into the form that we know today. This Club Dominoes set, like all Standard dominoes sets today include 28 pieces, each of which consists of a line dividing it into two squares and a number of spots in each square end.
Jaques Toys
All the toys from Jaques come beautifully hand wrapped in recyclable packaging. Each is packaged with a lovely note from the person who packaged the gift. This is a really nice personal touch, demonstrating the care the company go to.
The brown boxes are then wrapped in ribbon tied in a bow. These toys therefore make amazing gifts. I've bought items from here as Christmas gifts and I'm just so pleased with the overall quality and presentation.
As well as being sustainable and beautifully presented, these toys are really appealing. Many come in bright colours, ideal for stimulating young children.
This is a collaborative article.