I have had long hair for most of my life.
I had long hair as a child and bar a moment of madness aged 10, when I had it cut in a bob, it got longer and longer.
With each pregnancy it grew and grew and after baby number four arrived it was down to the backs of my knees.
A little long perhaps?
Anyway, after heading for a trim the hairdresser got a little excited and took quite a bit off. At least now I can have it down and not get wrapped around everything and everyone I am in contact with, and like the hairdresser said "it's still long by normal standards".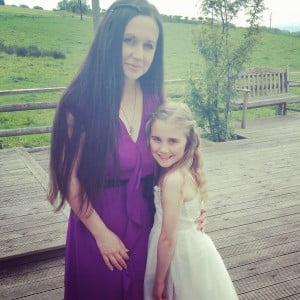 My top tips for caring for long hair are:
brush it lots – especially before bed
use a tangle teaser brush or similar
make sure you brush from all angles as knots can be hidden
use a good shampoo and conditioner like DGJ Organics and pick the correct products for your hair type
brush your hair through with shampoo on and rinse
brush your hair through with conditioner on and rinse
use argan oil once a week in the ends of your hair
towel dry hair, re-brush and towel dry again (saves drying time)
blow dry in stages to avoid overheating the hairdryer
use dry shampoo in-between washes to avoid doing all the above everyday!
avoid using hair bobbles as they leave a nasty ridge in your hair, use large clips instead to keep hair out of the way when you are busy
if you run, plait hair as simply putting it in a pony tail will cause hair to rub and get matted during exercise.