Welcome to part fifteen of our 'Christmas Gift Guide' – how is your shopping going? Do you wrap as you buy or do it all in one go? I love the idea of doing it all in one go in front of a good Christmas movie with a glass or mulled wine, but these days there are too many present squishers about!
I always think that Christmas is a great time for new games and there are always loads of great games advertised in the run up to Christmas. Have you seen any that you fancy in particular?
We normally have a new game in the Christmas Eve box and then a couple more as presents. Playing a game as a family can be lots of fun and we have some super suggestions here for you to consider.
Hotel Tycoon
The game sees players try to buy and build the best hotels, earning the most money and bankrupting their opponents. As in Monopoly, money is earned by players who end up on one of the entrances of your hotels, after their dice roll. The more luxurious the hotel, the more money a guest will earn you! This one is available from Waterstones for £24.99 and is also available from Amazon.
Here's a video to show you how it works:
The main thing you need to be prepared for with this game is that there is a lot of preparation the first time you play, as all the buildings need to be constructed. The best way to approach this is to make this part of the initial game with the children and all build the buildings together. If your children like to craft or are into construction toys then they will enjoy this as much as playing the game anyway.
I'm a big fan of games like Monopoly and Game of Life and for me, Hotel Tycoon is in that league. This is a great one for family game night and I might even like this more than the likes of Monopoly. Superb! Fun, but also a great way of developing maths and money skills with your children too, without them realising.
This game promotes strategic thinking and forward planning. It can be hard for children sometimes to accept that they don't always win, but it is really important to teach this. Playing games is a great way to instill this in children.
Timeline
The game comes in six different versions; Historical Events, Inventions, Music & Cinema, Science & Discoveries, General Interest and the Star Wars edition, and holds an RRP of just £12.99 (available from Waterstones).
The game involves players placing cards that represent events or objects on one side, and the date they happened on the other side, in a timeline. Players are dealt upwards of five cards (depending on how many players there are) which they have to keep date side down. Players are not allowed to look at the dates; they have to deduce where in the timeline the event fits and place it there before turning it over to discover whether they were correct. If not, that card gets discarded and that player draws a new card. The winner is the person to get rid of all of their cards first.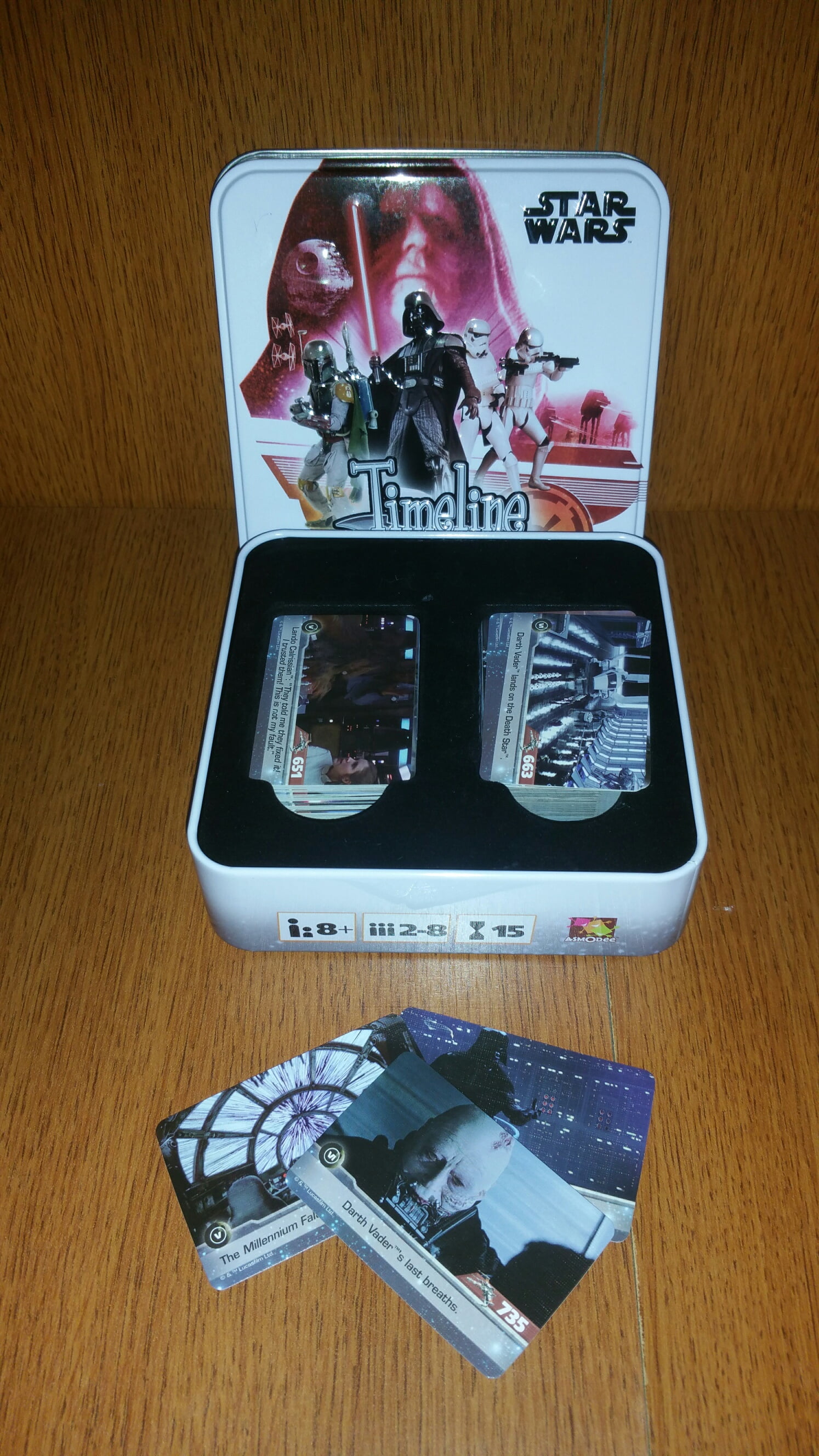 This game would make a super gift, it is educational and lots of fun all rolled into one. We have a huge Star Wars fan in our house so this version of the game is really popular. He found it quite challenging but loved learning more at the same time.
It comes in a nice compact tin so is also the perfect game for taking on holiday as well.
Jungle Speed
Similar to Dobble in that it requires fast reflexes and image matching, the game involves placing a wooden Totem in the middle of the table, waiting for the player with the fastest reflexes to snatch it up and win the game.
Each player is dealt a hand of cards. In order to win you must be the first player to get rid of all of your cards. Each turn, all of the players reveal one of their cards. If two cards are identical, those players must make a grab for the Totem. The faster player then gives their cards to their unfortunate adversary.
To add to the difficulty, certain cards are almost identical, which can trick a hapless player into grabbing the Totem by mistake, I made the same mistake in Dobble. Other cards force all players to make a grab at once, change the method of play, or otherwise add to the difficulty.
Jungle Speed: £14.99, available from gaming stores which can be found using the store locator and also from Amazon.
As a sleep deprived Mummy, this game was not especially suited to me, my reaction time was way too slow, but for the children this was brilliant, it held their attention and really is fast paced, which makes it exciting, if not rather intense! It is quite complicated and there is a lot to remember but I think for ages 6 plus it is superb.
Disney Pictopia
A Disney trivia game with questions that span the decades of Disney's world class entertainment, making it appealing to both children and adults alike. Here is a short video which demonstrates how the game works:

This is a wonderful family game. Everyone loves Disney and there will be questions that everyone can answer, young, old and those in between. This is colourful and so much fun. The perfect family game and a lovely one for a Christmas Eve box as Disney is somehow even more magical at Christmas. Pictopia: RRP £19.99, available from Waterstones and Amazon.
How good is your Disney knowledge? Play the game to find out!
One of the things we really love about this game is the fact that you can team up to play, giving family members a chance to play teams against each other. Will it be boys against girls? Old against young? You decide!
Games make wonderful Christmas gifts for all ages. If you buy gifts for lots of people, you could buy the whole family a game, instead of getting 3,4,5, or 6 separate gifts. I have done this before and it has been really well received.