Have you ever got in a situation where you have a ton of partially used beauty products? Recently I've made a point of using everything up before buying anything new. I've done the same with cleaning products as well, it's great to have a de-clutter and you always discover things you had forgotten about. It's much better to use everything up before you add to the collection. How much excess do you think gets spent on things when we don't really need to?
The fun part of course is really thinking about what you NEED to replenish your stocks with once everything is used up, and then shopping around for those new items.
With a range of winter sales and offers on at the moment, now is a great time to do this as lots of brands have sales and deals starting ahead of Christmas. The other way you can benefit from these sales is using it as an opportunity to buy something that you would normally consider out of budget. So, for example is there a face cream you've always wanted to try but can't justify the price, a scar treatment perhaps, or just some luxury products you'd love for the Christmas hols? With the level of uncertainty again in the world, everyone deserves a little treat.
If you are feeling sad, deflated, tired and generally done in with all the news at the moment, now could be the time for a little pre-Christmas glow up.
Here are a few things that might be worth considering.
Victoria's Secret Shimmer Nourishing Hand & Body Lotion
Shine all season long. Shimmering and fragrant, this silky lotion leaves you sparkling from head to toe. Smooth on, then finish with Mist for lasting scent and glimmer. Available in four best-selling scents. Choose from: Love Spell Shimmer: Fruity. Cherry blossom. Fresh peach. Irresistible in shimmer. Pure Seduction Shimmer: Warm. Juiced plum. Crushed freesia. Shimmer all night long Bare Vanilla Shimmer: Fresh. Whipped vanilla. Soft cashmere. Shimmer on skin. Velvet Petals Shimmer: Floral. Lush blooms. Almond glaze. Made you shimmer.
St Moritz
A secret to achieving a beautiful glowing, streak free tan! This exfoliating Pre-Tan Skin Primer is a must-have product for any self tanner! It's an essential for creating the perfect, most professional, natural looking tan and who doesn't want that? Simply use 24+ hours before you plan on tanning, by applying all over the body, paying extra attention to dry areas whilst showering and massage gently into the skin. The Primer will then get to work exfoliating the skin and removing any dead skin cells to even out the skins surface, creating the perfect base for any tanning product, meaning your skin will be silky smooth and your tan will look flawless for days.
Apply in the shower, all over the body 24-48 hours before you apply your tan. Pay extra attention to dry areas whilst showering. Massage gently, using circular motions. Rinse well after use. Use again 3-4 days after your tanning session to help your tan fade evenly. Ideal to remove tan build up in common areas (elbow crease, armpits, wrists and ankles).
Wipe the nozzle and bottle clean before storing away in a cool place, out of direct sunlight. In warmer weather, it is advisable to store the product in a fridge.
The Advanced Colour Correcting Medium Tanning Mouse works like a colour correcting primer using olive (not green) undertones to neutralise red tones, and Chamomile to combat skin sensitivity and redness, creating a more natural looking flawless glow. Perfect for anyone on the go, the transfer resistant instant colour lasts all day, and then washes off to reveal a long lasting natural-looking sun-kissed tan. Meanwhile the Hyaluronic Acid & Vitamin B5 get to work providing long lasting hydration, helping your skin stay silky smooth and help keep your tan looking flawless for days. Colour Correcting Medium Tanning Mousse is best suited to skin with red undertones, looking for a natural looking golden glow. Suitable for normal, oily or combination skin types.
For a flawless finish, exfoliate & shave 24+ hours prior. Pump onto an applicator mitt or glove and blend well in a circular motion on your body and face. When applying, bend knees and elbows to avoid streaks. Wait until you are fully dry, before getting dressed. Your instant tan is good to glow! Your long-lasting tan will begin to develop after 1 hour, and will continue to develop up to 8 hours. After this time, simply wash away the instant colour, avoiding any soaps, shower gels or shampoo. During the developing time avoid contact with water, perspiring or applying other products to the skin.
Wipe the nozzle and bottle clean before storing away in a cool place, out of direct sunlight. In warmer weather, it is advisable to store the product in a fridge. Please recycle when empty. Bottle and cap widely recycled. Check with your local authority. Unfortunately the pump cannot currently be recycled.
KELO-COTE®
KELO-COTE® SCAR SPRAY, a medicine cabinet essential, has now launched in Superdrug. Sometimes you need the protection of this advanced formula silicone treatment, but your scar is either too large, too hard to reach or is sensitive to the touch – like a burn scar, for example. 
KELO-COTE is the no.1 brand prescribed silicone gel in the UK. 
Glo teeth
Glo 32 – formulated with Coconut Oil for a healthy way to achieve a whiter, brighter smile. Double your Glo with the Advanced Whitening System Kit, including; a 14 day treatment of Advanced Whitening Strips to lift your smile, and the Advanced Whitening Stilo for on the go whitening.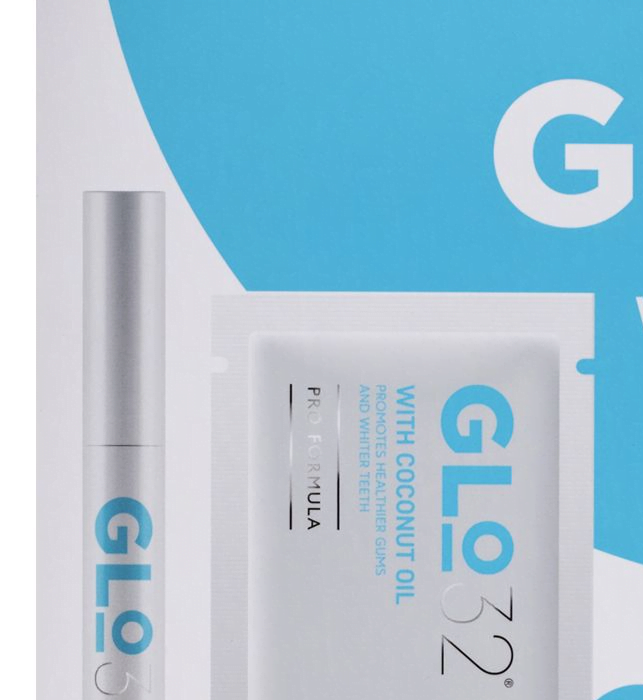 How to use
To apply Strips – Carefully tear open the pouch and using a mirror apply the long strip to your upper front teeth (gel side to teeth). Fold the excess part of the strip to the back of your teeth. Repeat with the smaller strip to your front bottom teeth. After 20-30 minutes carefully remove strips and immediately rinse mouth with water or brush away any access gel with toothbrush. To use Stilo – Twist base of the stilo to dispense gel onto the brush. Apply a layer of gel on the teeth avoiding the gums and leave on for 10-20 minutes. Do not eat or drink during the treatment. Rinse mouth well with water when finished. Apply 2-3 times a day for optimum results.
There you have it, a few products to offer you a lovely winter glow!