*This article contains affiliate links*
If you are a regular reader of my blog, you might have seen my Christmas Gift Guide for 2021. I thought I would also put together a guide just for toys, but not a toy guide of the big brand toys that everyone is talking about this year – who needs to see that list again? Not me.
I worry about the lists every year that tell us (parents and kids) what the 'must have' toys are this year. Mostly, they are often hugely expensive items – one this year includes a Barbie Dream House for over £300!
If you aren't into these lists, but want a few ideas for lower-priced toys for children keep reading.
Brain Teasers
BrainBolt is the handheld electronic memory game with light-up tiles and different levels of play. Offering an alternative to screen time. This also comes with batteries, so there will be no faffing about looking for them on Christmas morning.
Think quick and challenge your brain by remembering the light sequence and pressing the new light. Every time you select correctly, the game adds another light, but which one is new?
With 21 lights, that's the challenge! With cool sound effects, BrainBolt is great for solo play and has a two-player mode for competitive fun with a friend. There's also a timed mode for quicker games, with added pressure against the clock, as well as a tricky advanced mode for anyone who thinks they're an expert. A real brain teaser that they can even play in the dark – what fun!
BrainBolt is priced at £19.95 and available from Wicked Uncle. If you are travelling to see family this year, this could be a good gift as it would be really good on long car journeys.
Wooden Toys
I absolutely love buying wooden toys as gifts. There is just something so much more special about them than some of the plastic rubbish that's around these days. They last much longer than plastic toys, are much kinder to the environment, can be passed down through generations and are much more robust.
Something I bought quite a lot of as gifts over the years is wooden play food. You can get really nice little sets with a chopping board and knife so small children can roll play cooking and food preparation.
This stunning set for example is £18.99 from Amazon. What a gorgeous gift! Or this Melissa & Doug Pizza Play Set would also make a lovely gift for children who love role play.
My favourite wooden toy shop at the moment is Jaques – they have a range of wooden toys from traditional games, to learning toys and even outdoor toys. If you sign up to their mailing list you can get 15% off your first order and if you are ordering a few bits for Christmas it's well worth it.

I absolutely love this cute Animal Safari Toy – this is so beautifully made and the wooden animals are adorable. It doubles as a pull along toy too which is lovely, my children all loved pull along toys when they were first walking and the wooden ones were always the best.
Activity Cube toys always make great gifts I think as they are toys that children keep coming back to. I remember putting ours away for a few months when the children were little and then getting it back out and it became their 'new' favourite thing again. This is a really nice one as everything is stored away inside the cube, so for parents who can't cope with mess, it's a 'tidy' toy.
I honestly can't recommend Jaques enough, as all gifts come beautifully packaged in recyclable boxes, not a nasty plastic tie insight and each toy has a little note inside with the name of the person who packaged it up for you.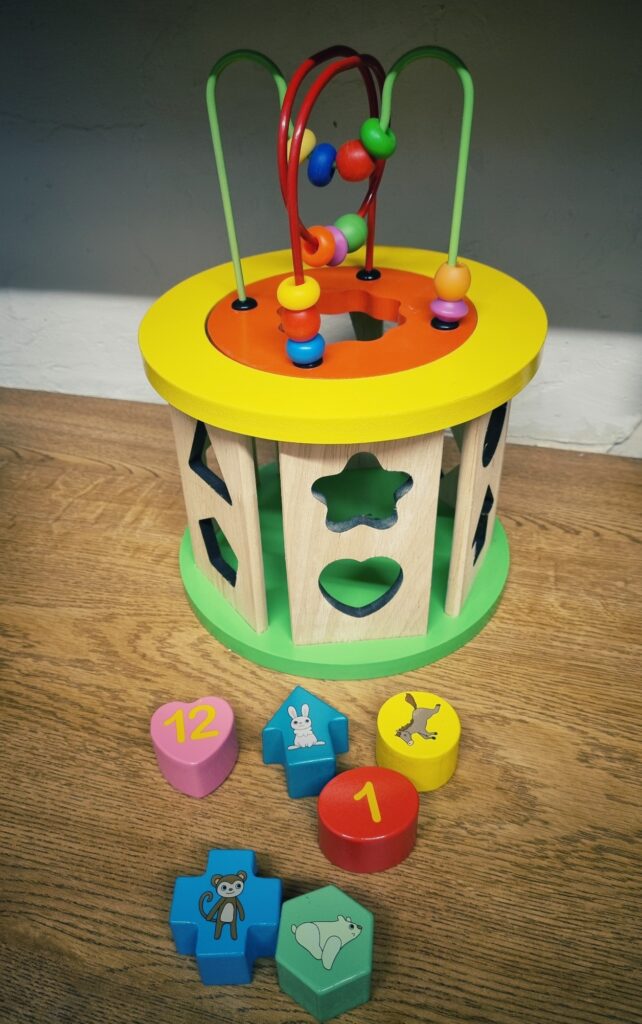 Group Gifts
One option to avoid getting a whole host of unnecessary toys is to buy a group gift that all children in the family will love. Naturally these will come at a higher cost than smaller individual gifts, but it might still work out better value when you add up what you might have spent individually. This is particularly useful when there are several children in a family.
Perhaps they would all enjoy a trampoline for their garden, or a slide even? One of the things that gets used by everyone in our house and anyone who visits is our circular disc swing. We have it hanging from a big tree, but they work equally as well from a climbing frame if you have one of those.
STEM Toys
STEM toys are toys that focus on science, technology, engineering and maths. They are educational in nature and designed to stimulate young minds.
These Number Blocks Math Link Cubes are a great example, appealing to children because of the fun TV show, but super useful and educational as well. These are really good. I bought these during the first lockdown to help with maths and I was really impressed. There are lots of other versions as well.
For older children something like the Sphero Mini could be a good option. This mini toy packs a lot of fun while introducing kids to the world of coding. Available in lots of colours, kids use the Sphero app to learn how to program games. When they aren't coding, it can be driven around using the app based remote, implementing fun technology like facial recognition as they play. You can get special hard cases for these to keep them safe and protected when not in use.
One of the things I'm considering this year is a set of Magna-Tiles. I've read really good things about these and I think they would be a fun alternative to LEGO over Christmas. Kids can dream up their own creations with these magnetic tiles that make construction (and deconstruction) a breeze. They're a great introduction to educational topics like shapes, principles of magnets, symmetry and spatial reasoning. If you have a magna-tiles super fan, you can opt for a larger set or even glow in the dark tiles.
There is nothing worse than spending a fortune at Christmas, only for things to break or be discarded a few weeks later. Shop smart this Christmas!