Constipation is very common in childhood. It is prevalent in around 5-30% of the child population[1].  In their first year, up to 4 in 10 children are likely to develop constipation at least once[2]. This means that in the UK, an estimated potential 270 thousand cases of constipation occur in infants each year.
Constipation affects up to a third of children in the UK at any one time and as many as 40% of babies will experience it within their first year. Constipation develops when the stools stay too long in the colon and too much water is absorbed from them, causing them to become hard and dry. Affected children and babies will pass stools less frequently than usual, and may experience straining and pain when going to the toilet
Possible causes of constipation in babies and children include over-feeding, a lack of fibre in the diet, low fluid intake and psychological factors (eg anxiety). Making simple alterations to the child's lifestyle can help reduce the symptoms developing. These include:
Adding more sources of fibre to the diet, such as fruit and vegetables
Making sure that the child or baby is taking enough fluids
Tips to ease constipation in babies who have not yet been weaned are to add a little non-absorbable sugar or dark fruit (prune or pear) to a baby's formula
Infants who start to suffer from constipation when cow's milk is introduced to the diet should be referred to a GP.
New Docusol Paediatric Solution is indicated for the effective and gentle relief of constipation in children and babies over six months.  It is a strawberry flavoured liquid oral solution containing docusate sodium.  Docusate sodium acts as a dual action constipation treatment that helps to makes stools softer and easier to pass by increasing absorption of water and fats and also acts as a gentle stimulant.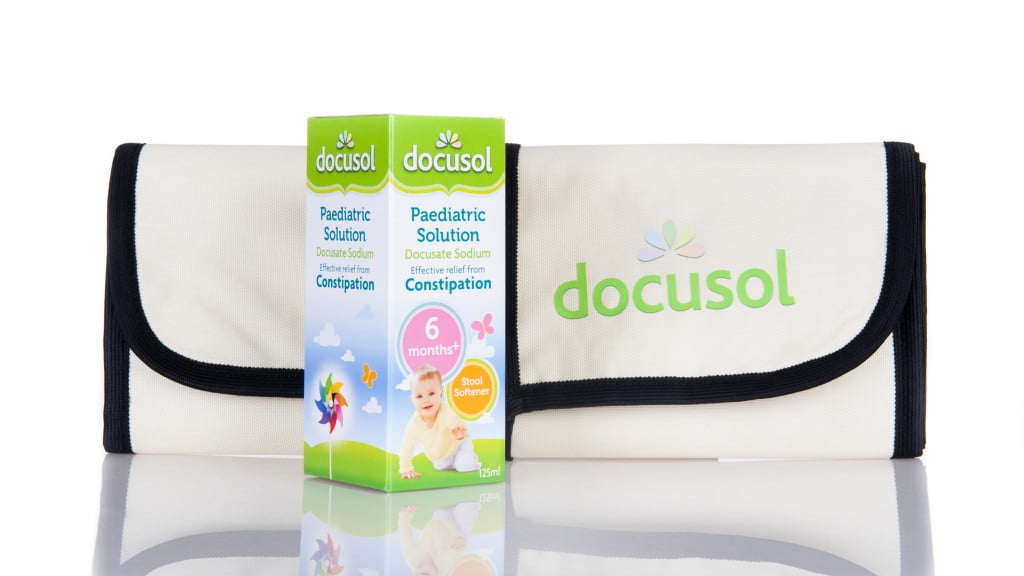 Appearing alongside the launch of Docusol Paediatric Solution is Docusol 'Make a Nappy Happy'. The 'Make a Nappy Happy' digital campaign features a hero nappy in 'conversation' with every day objects, explaining that they want to be filled – because a full nappy is a happy nappy… and because Docusol's gentle action provides effective relief from constipation, it can make a nappy happy!
Children should be given on to two 5ml spoonful three times daily, and infants one 5ml spoonful three times daily.  It should be diluted in a flavoured drink such as milk or fruit juice and consumed within 30 minutes of preparation.  Docusol Paediatric Solution gets to work within one to three days.[3]
Docusol Paediatric Solution is available in 125ml bottles, retailing at £7.99 from pharmacies.
To raise awareness of the issues around childhood constipation, we have a Docusol branded travel changing mat to giveaway to one lucky reader. Just enter the easy widget below.
* babies over 6 months
[1] NICE Constipation in young people & children, May 2010.
[2]Tabbers et al. Evaluation and Treatment of Functional Constipation in Infants and Children: Evidence-Based Recommendations from ESPGHAN and NASPGHAN. JPGN Volume 58, Number 2, February 2014.