Growing older is not something that most of us like to think about. Dealing with some of the issues of growing older can also be quite distressing for some people, depending on how quickly those things happen.
Most of us know that if we watch what we eat and drink and we exercise regularly, we can really give our bodies a helping hand. As far as our skin goes, avoiding too much exposure to the sun can help delay the ageing process.
Each time we do a supermarket shop, order something online, switch on the TV, open a magazine or even pop into Boots, we are overwhelmed by the number of skin products claiming to delay the ageing process.
Now, as much as we aren't likely to be sucked into every claim we hear from a particular skincare brand, there is that part of us that loves to think that these magic claims are all true and guaranteed – "look ten years younger", well who wouldn't want to?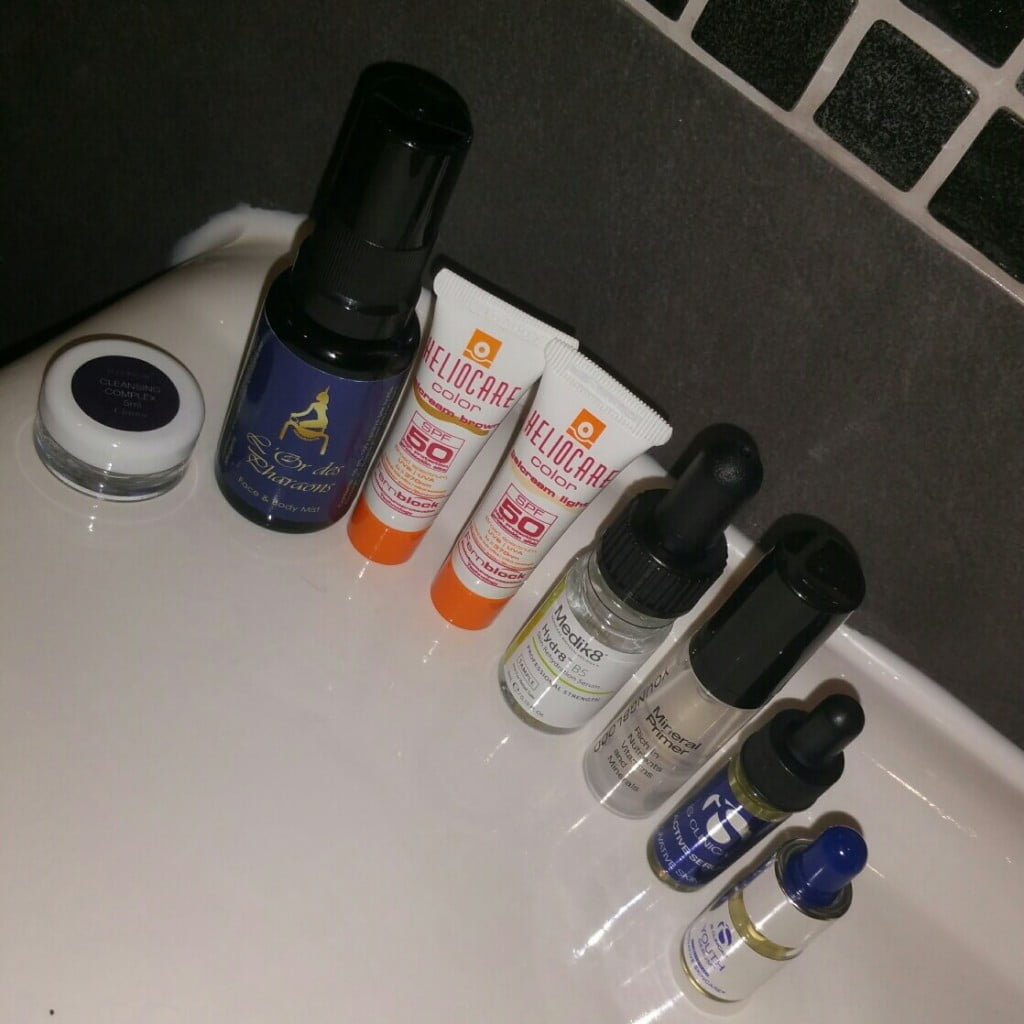 Sometimes someone will recommend a product to us, which is great as we have much clearer expectations of what it will or won't do for us. Although, having said that, what works for one person might not work as well for someone else.
I find buying skincare products quite tough to be honest because many are quite pricey. What happens if you spend a lot and it doesn't work, you don't like it, or worse, your skin has a bad reaction? Well, you've wasted your money, and let's face it, not many of us can afford to be doing that can we?
Recommendations, are one possible way to avoid this, but another option is trying out a sample of the product you are interested in. Many beauty counters in places like Boots and large department stores will have samples they can give you to try, or if not, you can try the product out there and then in store. At least this way you will know if your skin takes to the product, and if an adverse reaction happens, you know it's not for you.
If you get a decent size sample, you might get an understanding of how effective the product is. However, it's unlikely that even with a really good anti-ageing product that you will see results by the time you finish the sample.
Turn next to the reviews of that product, search for reviews of the product you like and see what results others have had with it over a longer period of time. That way you can better justify spending on the product you like and hopefully that won't be wasted money.
I've been trying out a few things lately.
An innovative product by Noble Naturals; specifically made for anyone who is looking to save their skin before it's too late. Keep those wrinkles at bay, and enhance your natural complexion!
It's a 3-in-1 purified and revitalised water; containing nanoclusters of gold, platinum and zinc. Sounds impressive for a a 15ml spray bottle of golden goodness. NO allergens, NO chemicals; just water and gold. The science behind it is that the particles are small enough to pass through the cell membranes for rapid absorption; combating the visible signs of ageing by revitalising the cells that need rejuvenating.
Simply spritz onto your skin before moisturising and applying makeup. Easy!
Collagen is responsible for smooth skin and shiny hair. As you get older, your collagen levels decrease rapidly. This can result in wrinkles and dull looking skin. However, using gold on your skin slows down the depletion of collagen levels; thus your skin enhances its brightness and complexion; whilst restoring its natural elasticity.
This is priced at £40 – an expensive 15mls for sure. I can't tell you that after 15mls you will look 15 years younger but I can tell you that skin feels tight, looks bright and feels refreshed.
Terproline Face Firming Cream (50ml)
Priced at £24.95, Terproline Face Cream contains essential ingredients to improve the appearance, tone and elasticity of your skin. The Terproline product range was created by medical professionals in burn units. Results of their testing showed that Terproline stimulates the raw materials in skin to speed up the removal of old tissue and replace with new skin tissue (making new collagen and elastin and improving fibroblast activity). Improves skin tone and firmness. Apply twice daily to clean skin.
I can say that after trying this out I found the cream to be really effective. It is a thick and rich cream to apply but doesn't feel heavy on the skin, leaving skin smooth and well conditioned.
Heliocare Gel Cream Colour SPF 50 (50ml)
At £23.99 Heliocare Gel Cream Colour is a foundation and SPF 50 (available in dark and light) that I really feel is worth the outlay. This product provides a medium coverage and gives skin a sun kissed healthy glow, it isn't heavy or greasy and leaves skin well conditioned and protected. It provides high level broad spectrum SPF 50 sun protection and covers skin redness and blemishes. This product is suitable for all skin types. Its lightweight, oil free gel texture makes it ideal for oily spot prone skin types. Put this product at the top of your Christmas list! Great for busy mums!
iS Clinical Active Serum (15ml)
At £66.99 I feel the iS Clinical Active Serum is pricey. It is supposed to offer multiple benefits to the skin with great long term results, but having only tried a small sample I can't confirm this. This fast acting serum is said to reduce the appearance of fine lines, hyperpigmentation and reduce blemishes and acne. The active serum is also thought to improve skin tone and texture through controlled exfoliation. This serum is suitable for everyone and is loved by celebrities including Rosie Huntington Whiteley and Jessica Alba. At night apply 3-4 drops to cleansed skin and at that price I get cross your fingers and hope for the best!
Youngblood Mineral Primer (30ml)
Youngblood Mineral primer, priced at £31, has a light silky formula and is packed with minerals and vitamins that smooth the appearance of fine lines and pores, creating an even surface for foundation. This primer feels velvety on the skin and the colourless base helps enhance the performance of makeup through the day whilst providing intense skin protection. I can't really disagree with these claims so far. The product contains Vitamin A, E and Jojoba seed oil to keep skin hydrated. It is suitable for all skin types and is free from talc, perfumes and chemical dyes and is non-comedogenic and cruelty free. The other bonus of this product is that you need very little of it to get a good effect.
iS Clinical Youth Eye Complex (15g)
At £80 I don't think I would ever be able to justify buying a 15g version of iS Clinical Youth Eye Complex. It is a thought to be a breakthrough formula, which instantly combats the signs of ageing. It diminishes puffiness and dark circles and strengthens skin; reducing the appearance of fine lines, wrinkles and crow's feet. Youth Eye Complex contains proteins, peptides and key growth factors to target the skin around the eye for instant and long term effects. This eye treatment cream also provides powerful antioxidant protection and hydrates the skin around the eye. You are supposed to apply a pea size amount twice daily – although the skin around the eyes looked a bit smoother, I did not notice any other benefits.
Medik8 Hydr8 B5 Skin Serum (30ml)
At £29.99 the Medik8 Hydr8 B5 Skin Serum is a different story. It is a lightweight and easily-absorbed hydrating gel which improves skin tone and texture and keeps skin intensely hydrated. The result is skin which looks and feels healthy and more youthful. I really like this serum, which provides 24 hours of non-stop hydration. With up to 100 applications in a bottle, this is much better value. This product is suitable for all skin types. Apply in the morning and/or evening after cleansing. Apply 3-4 drops.
I think overall my message would be shop around and remember that more expensive doesn't always mean more effective!
What are your anti-ageing beauty heroes?
Please note the bulk of these products can be found here.