One of the things I love about the better weather is eating outside as a family. I was so thrilled to discover that there is a whole week  dedicated to picnics – who knew?
National Picnic Week runs from 13th – 21st June!
There is a great deal to be said for eating outdoors….but the phrase "don't worry the birds will eat it" is music to my ears!
A picnic doesn't need to be complicated or fancy with little ones. For example, the wide range of Organix Goodies foods gives toddlers plenty of fun shapes, textures and tastes to explore, and helps keep their energy and imagination fuelled. As well as being tasty, the award winning Organix Goodies foods are just the right portion size for little ones. They come in snack sizes as well to minimise waste. Perfect!
Any outdoor space is great for a picnic, whether it's the garden, the park, the countryside or the beach. We love picnics because:
Eating al fresco is also an easy way to entertain your little ones.
They're great fun and little ones will love exploring the great outdoors.
Eating outdoors and having a picnic can bring variety to meal times, so you might find your little one is more open to trying different types of food.
They're a fantastic opportunity for little chefs to get involved in picnic preparations.
Sometimes a change of scene can do wonders – so for example, if you are struggling to get your little ones to eat much, then taking meal times outside can break the cycle of poor eating.
For little explorers on the go, why not pack some of these Organix Goodies foods in your picnic? All are suitable for toddlers from 12mths + and they come with the Organix No Junk Promise, a commitment to never adding anything unnecessary – so no junk, that's no added salt, sugar, artificial sweeteners, colours or flavours. Here are some of our favourites:
Organix Goodies Raisins: – these dried fruit snacks come in handy little boxes so they're great for little fingers, and they count as one of their five a day. RRP: £2.99 for 18 x 14g bags. (Just don't tell your health visitor or dentist and these may as well be sugar-coated sweets!)
Organix Goodies Chunky Banana & Date Fruit Bar: 100% organic fruit squished together into chunky pieces, perfect for breaking off into fun bite sized chunks, and each bar counts as one of a child's five a day. RRP: £2.49 for 6 bars. (These are by far the favourite in our house at the moment and these come with a big thumbs up).
Organix Goodies Raspberry & Apple Oaty Bars: these delicious bars are part of an award winning range, and baked using nothing but juicy fruit and wholegrain oats to keep little ones going. RRP: £2.49 for 6 bars.
Organix Goodies Carrot Stix: baked not fried and packed with carrot flavour and a delicious sprinkle of coriander. RRP: £1.99 for 4 x 15g bags. (These just don't last very long in our house!)
Organix Goodies Mini Cheese Crackers: these tasty little crackers, made with fresh cheese, are perfect for little fingers. RRP: £1.99 for 4 x 20g bags. (The little people have tried these for the first time recently and they are going down a storm)
If you are stuck for picnic ideas for the older children why not try one of the simple and delicious picnic foods from this Recipe Guide – it's packed with delicious and healthy recipes that you and your little ones can take with you, such as: No Junk Sausage Rolls; Asparagus, Gruyere & Spring Onion Mini Quiches; Cheddar & Grated Courgette Wrap with Bean Spread.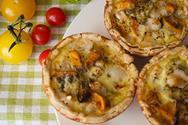 Wherever you choose to picnic, have fun and make the most of the British 'summer'!