Welcome to part two of our eating al fresco series. In part one we looked at some of the tasty but easy foods you can have when eating outside as a family.
Now, because eating al fresco can mean that you have little people who want to explore the great outdoors, or perhaps a few family races, or because there will always be someone in the family that knows a great "shortcut" to a picnic spot, or that remote bit of beach – eating outside can sometimes also mean someone gets a scrape, or cut, or sting, or messy, or perhaps one of the family drops their apple in something even!
Now you can pop a bottle of NatraSan First Aid Spray in your picnic. This product is 100% natural and made from <5% Hypochlorous acid, which is produced naturally by white blood cells to aid healing and fight infections and bacteria.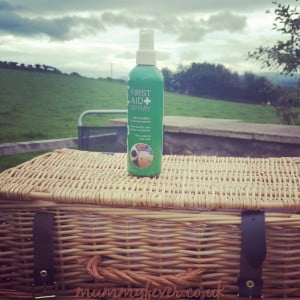 It is the perfect product to pop in your changing bag or picnic basket, as it can be used to disinfect dummies, toys, high chairs, or even food if necessary! It's also used for first aid purposes, so any cuts and grazes on little one's can be handled in just a quick spray.
This product is the first of its kind to have EU approval to be sold to consumers and kills 99.9999% of germs. It is pH neutral, non-irritating and free from alcohol, preservatives and fragrances.
We used it a few times last weekend and now I am keeping it in the change bag – it's my new must have product as it is multi-purpose.
We have got one of these to give away to one lucky Mummy Fever reader – just enter below!
UK entrants only please – GOOD LUCK!