We are almost into December and the momentum is gathering towards Christmas in many homes. Gifts are being bought online and in-store and preparations are well underway. The Christmas adverts are all over the place and have been around for a few weeks now and I even heard Christmas music on the radio on the school run last week.
How many of you made Black Friday purchases this year for your Christmas gifts? Did you get any bargains?
Although there are always specific toys that the children ask for at Christmas time, I do try to limit the mass overtaking of brightly coloured plastic stuff that takes an hour to get out of the box and never comes with batteries. One alternative is to buy a few things that are perhaps handmade, organic or recycled, or gifts that support a good cause or even small businesses.
Companies like uncommongoods supply a range of gifts for children as well as gifts for other family members, including Christmas Gifts for Dad (which can be some of the hardest to buy in my opinion).
I love gifts with a strong educational focus like these Super Nerdy ABC Blocks. A is for absolute zero…B is for binary…Give your little genius the building blocks of scientific knowledge–from Atom to Zeolite–with Tiffany Ard's geeky set of blocks. These classic, colorful cubes feature all 26 letters of the alphabet on one face, amazing, illustrated terms from the universe of science on the other five, and two bonus blocks showing decimals and powers of 10. Handcrafted in Michigan from local basswood; printed with nontoxic inks.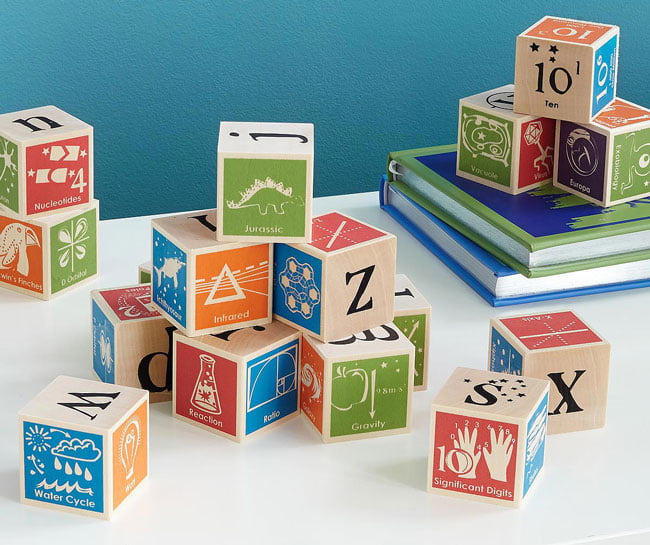 These really fit in with my ethos around education beginning at home. Building a tower out of blocks just went to a whole new level!
What's more, with a gift like this, packaging is kept to a minimum and no batteries are needed! Hurrah!