We don't have pets, but it feels as if we do, which is actually really wonderful. We have cows in the field next to us, we see sheep literally everywhere as they wander around freely near us. They are basically the only congestion we see on our school run and we love it. They all have names, so when Marjorie looks a bit glum on a Monday morning we stop for a quick chat through the window, or if Stella looks like she's picking on Francesca, we tell her to always be kind.
We have wild rabbits in the garden every day, a cheeky pheasant we call Phillip, frogs, toads, mice and shrews and all sorts of weird and wonderful insects.
Whilst I'm not thrilled about having any of these guys in the house, – because, lets face it, four children is plenty without pets as well – we all love that they visit our garden so often and the children love to take care of them.
We've made a few additions to our garden lately to encourage the wildlife, so I thought I'd share a few of these.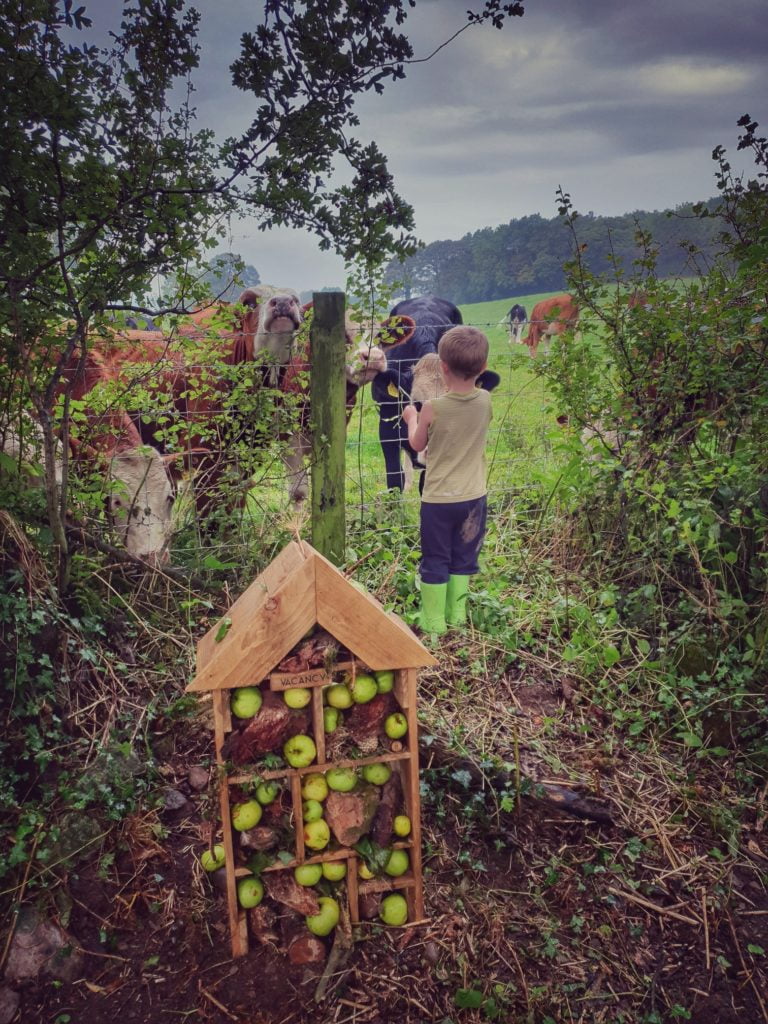 Bug Hotels
Why not give the bugs in your garden a luxury home? What about creating a bug hotel? You can either make your own, or buy one, but either way they are really fun to put together.
Have a search around your garden for bits and bobs that bugs will love. A damp log, moss, twigs and leaves are all a great start. Any rotting fruit you have, perhaps that's already fallen from the tree. Our bugs are loving eating through all the apples that fell early from one of our apple trees.
These are really fun to create with the children and you can add to them as the weeks go on. If the children find a bug in the garden they pop them in the bug hotel.
Toad and Frog Houses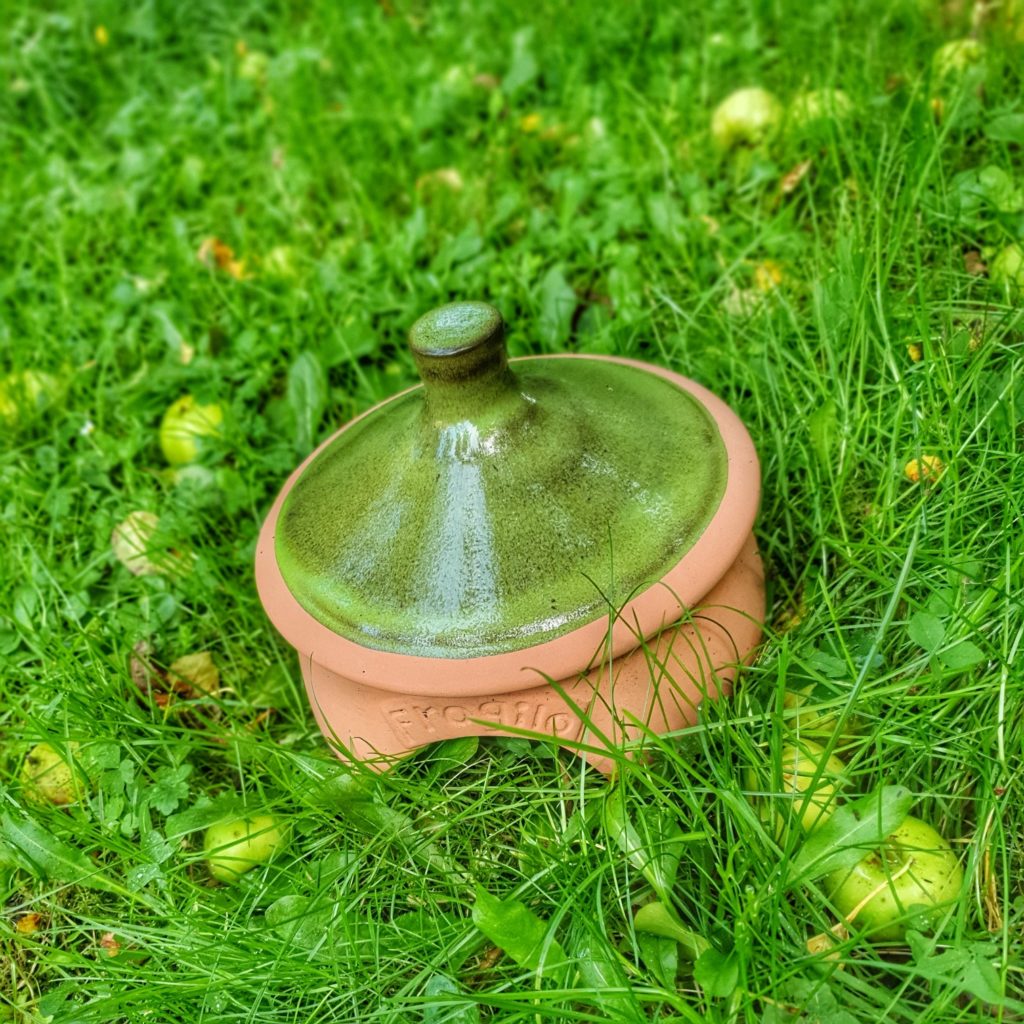 We have a bit of a thing for toads and frogs and we have tons in our garden at the moment. Attracting toads is the dream of many keen gardeners. Having toads in the garden is thought to be very beneficial as they naturally prey on insects, slugs and snails, up to 10,000 in a single summer it has been reported! Having a resident toad keeps the pest population down and reduces the need for harsh pesticides or labour intensive natural controls.
Given this, it makes sense to look after the toads and frogs – a toad house also makes a lovely addition to a garden. While you can always choose to purchase a toad house for the garden, they actually cost very little to make, and building a toad house is simple enough, so all the family can get involved.
Bird Houses and Tables
Bird houses and bird tables are another way of helping to take care of the wildlife. Of course you can feed the birds without either of these, but they do make a lovely addition to the garden and they are something the children can take charge of too.
Some bird species don't migrate during the colder months, so these kinds of 'backyard birds' benefit from year-round access to bird feeders. When scarce food sources are covered in snow and frost, bird feeders provide an important and easily accessible food supply for winter birds.
Hedgehog Houses
I mentioned these recently to someone and they laughed, they didn't think these were a real thing!
A hedgehog house is certainly a 'real' thing, although I think a rabbit has moved into ours at the moment.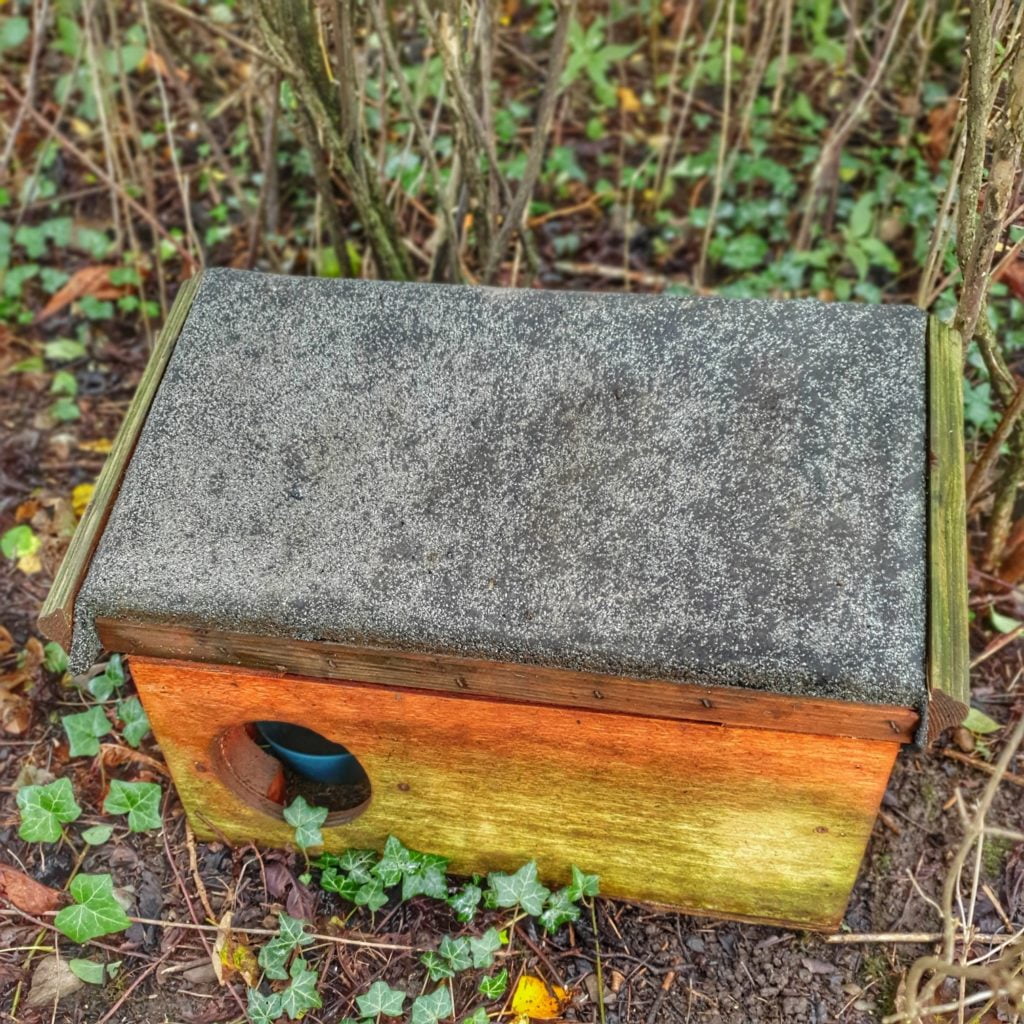 It is estimated that there were over 30 million hedgehogs in the UK in the 1950s – but recent estimates suggest there are less than a million left. That's awful, especially given that they are considered to be the gardener's friend, munching their way through pesky slugs.
Why not give a hedgehog a home and somewhere safe to hibernate and pop one of these in your garden?
How do you encourage wildlife in your garden? Any tips to share?