Welcome to the first in our series of articles looking at the best family friendly places to eat.
Having spent sometime in Japan whilst at university, Japanese food is something I love. I also went to a lovely sushi restaurant Leicester Square a while back.
When I think of family-friendly restaurants, Yo Sushi is not the first one to spring to mind. However, I was keen to see what they can offer a family and interested to see how they coped with younger guests.
We popped into the Cheshire Oaks branch of Yo Sushi for lunch. Although a week day, it was pretty busy, which is normally a good sign.  There were a couple of booths free but they had not been cleared. Although we were told that we would be seated 'soon' the member of staff responsible for table clearing and seating people seemed a little disorganised and flustered. We were eventually seated by the assistant manager, who also organised a highchair.
In all honesty, I didn't expect them to have high chairs, but they had the really impressive bloom high chairs that were suitable not only for our little man, but for the people next to us with an older toddler. The orange of the chairs even colour co-ordinated with the restaurant.
There isn't a children's menu but as we only had the smallest little man with us that didn't matter as I had taken his food with me. He was very happy watching all the plates go by and entertaining anyone who smiled at him – this sums up what he thought of Yo Sushi.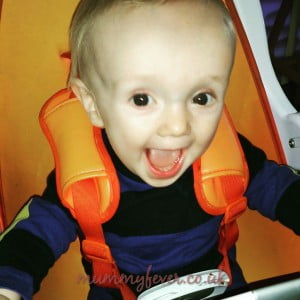 If you haven't been to Yo Sushi before, the dishes are priced based on what colour plate they are on.
It's quite clever really as you look and think that's a bargain and before you know it, you have a stack of dishes in front of you. If you see something you fancy on the menu you can buzz the staff and they will prepare it for you but it is part of the experience I think watching all the food travel around on the conveyor belt.
Everything looks really good, although we had a hard time figuring some things out as they didn't seem to match the pictures on the menu.
I love the salmon dishes and my favourite was the crispy salmon skin. This was so yummy and I was shocked it was on a green plate, as they are the cheapest. The crispy chicken was also great – oh who am I kidding, it was all yummy!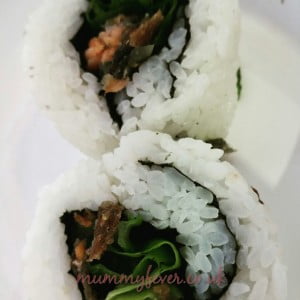 For quite a while during our time at Yo Sushi there were not many dishes on the conveyor belt, so not much to choose from. After about 15 minutes of this, the assistant manager came out all kitted up for the kitchen and got to work. The difference was immense. Within 5 minutes there were a huge range of dishes to choose from on the belt and all the staff were being much more efficient. She really made a difference.
So did it pass our family-friendly test?
The staff were welcoming and good with children
High chairs suitable for babies and toddlers are available
There was a baby changing facility
There was space to leave a pushchair
It is an entertaining place to be for children as there is lots to see
On the downside:
There is no children's menu
Dining is quite intimate so if your child is not likely to sit still for long, it might prove a bit stressful
Have you eaten at Yo Sushi as a family? What did you think?