Welcome to part three of our family-friendly dining series. If you missed part one you can read that here and part two here.
In this article we are looking at the suitability of Brewers Fayre for family dining.
We booked the Craigside Inn in Llandudno and having booked already I rang the night before just to confirm. I was spoken to by a very rude member of staff who said there was no booking and then seemed to struggle to comprehend that I required two highchairs when I attempted to re-make the booking.
I selected this particular restaurant as I was under the impression it had a indoor play area. Having been on the website I was in no doubt this was the case – this is what I saw, you will see if you click on the image below to enlarge it, that at the top of the page it says the name of the restaurant.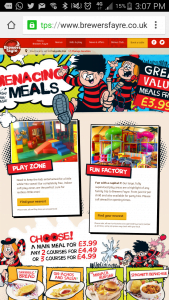 This to me says that there was a soft play – there was not a soft play, just an outdoor play area, only suitable for children over around four. I think the website is very misleading in this respect.
On arrival, not only were we disappointed with the lack of play area, but once again we were told there was no record of our booking – how so after telephoning again the night before? Perhaps it was all a dream?
It is fair to say that the food was very good. We enjoyed our meal and the children's food was well thought out as children's menus go, which always ticks the boxes for me. The children's food was well priced and there was a good selection.
It was refreshing to see that it wasn't just chips with everything and there were other options to choose from.
The children could even have a small sized roast dinner which was really nice to see on the menu.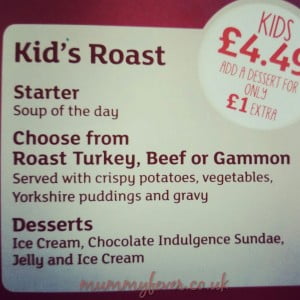 The food was nicely presented and appealing to children – the chicken went down especially well.
There were colouring packs available but you do need to ask for them, or hunt them out yourself – there is a little reminder about that though, on the menu!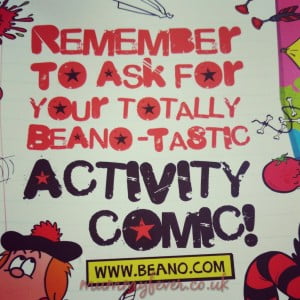 As far as the adult menu goes, there was plenty to choose from, it arrived hot and there were various options for sauces and substitutions available.
There was a good selection of drinks but the soft drink options are a bit annoying. When you ask for a coke you are told they do refills for £2.50 which I am sure is the same as lots of places. Really, this is just paying £2.50 for a drink as there is only so much you can drink.
What they have right:
Good children's menu
Good prices on children's food
Colouring packs
Highchairs
Good portion sizes
Good baby change
What they could make better:
Staff could be more organised
Staff could be more polite
The website needs improving so it isn't misleading
Overall – I think it is fair to say that the food is good but the service is poor. Whilst it is not fair to tarnish all Brewers Fayre restaurants with poor service, when a restaurant is part of a chain you do expect a certain standard.