Welcome to part two of our Family-friendly dining series. Part one featured Yo Sushi, you can read about that here.
In part two we are looking at TGI Fridays and how it fairs for families.
First of all, I quite liked the central online booking system which was really easy to do and allowed me to request two highchairs and to let them know we were celebrating a family birthday in advance. This meant no need to try and find a few minutes when all was quiet to try and phone them as it was all online and easy to do from a smartphone or laptop.
On arrival, we were greeted quickly and the highchairs were brought straight over to the table. The children were given activity and colouring packs which went down really well, and there were balloons on sticks at the table to amuse little people.
The coloring pack had space to draw your own comic strip, which went down especially well with our little illustrator and author.
We ordered our drinks and had a look through the extensive menu. The children's menu seemed really good. There were two parts to the children's menu, one for younger children, pictured below and one for older children. It was only after we had left I noticed that each of the dishes were supposed to come with "tasty sticks of apple, mixed peppers, cucumber and carrot" – these never arrived so not sure what happened there.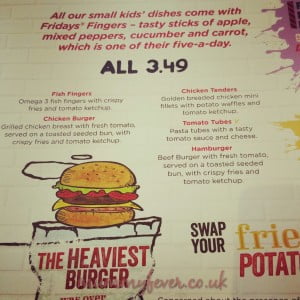 The choice of drinks for the children was extensive and I was quite impressed. In addition to the standard things, you could get 'proper' milkshakes with whizzed up fruit in them, yummy healthy smoothies like this banana one;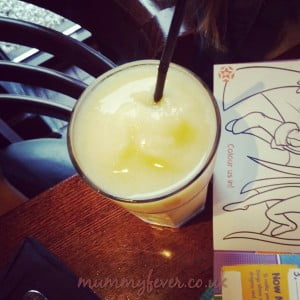 and slush, in a range of flavours and made to look really snazzy, like this one. The drinks are quite pricey but no more so that I have seen elsewhere.
The adult menu was extensive and it took us ages to choose so we were glad when our lovely waitress asked if we would like the children's food to come with the starters. Whilst they were waiting for their food she came back to the table and made them all a balloon model which was a lovely touch and kept everybody entertained.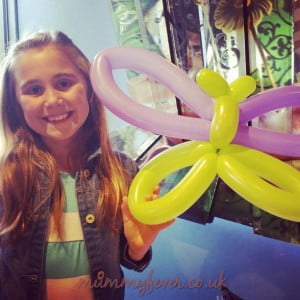 The children's food was nicely presented and the tiny tots food came on a non-breakable plate with a lip which was perfect. The portion sizes were perfect, the only slight area where the food fell down was by trying to be smaller portions of adult food. This didn't apply to all the dishes but for example, one of the children had a burger which had a spicy relish on and a big greasy onion ring which won't appeal to most children – perhaps some raw carrot or cucumber on the side would be better?
The adult food was lovely and the chicken caesar salad was one of the nicest I have had in ages, the dressing was especially good.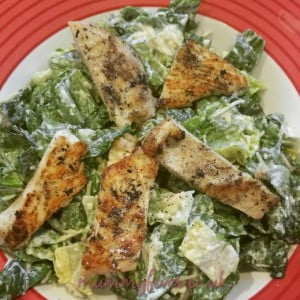 The big kids enjoyed watching the bartenders making cocktails – they found it really entertaining and thought it was like a show, another reason this was a nice place to eat as a family.
In the main, all the things to see and do meant that all the children sat nicely and enjoyed the evening and it was a relaxing place to eat as a family.
The highchairs they have are more suited to toddlers, but with a bit of improvisation we managed to get our smallest little chap to sit quite well with a bit of padding!
All in all I would certainly say that TGI Fridays gets the thumbs up from us as a stress-free family-friendly restaurant.
They even came and sang 'Happy Birthday' at the end which was a lovely touch, bringing a small pot of ice cream with a candle for the birthday boy.
What they have right
Friendly staff
Activity packs
Entertaining surroundings
Extensive menu
Evening meals begin at 5.30pm
Thoughtful touches
What they could make better
Smaller size cutlery for children
Less 'adult' sauces etc on children's dishes
Highchairs for a wider age range
Sharing platters for children