Ever walked into a room and forgotten why you're there? Well you're not the only one! New research by Efamol, which manufactures a range of food supplements including Efamol Brain Active Memory, reveals that Brits are forgetting everyday things on a regular basis. Does this sound like you?
The research revealed that two-thirds (66%) of us walk into a room and forget why we're there between 1-3 times per week and nearly half (46%) said they go to the fridge and forget why they've gone 1-3 times per week.
As a nation it seems we need to be writing more lists, as 55% of us tell ourselves we don't need to write something down then completely forget about. I do write lists all of the time, as I'm afraid of forgetting something!
It seems we're not much better remembering names either – 46% of us call someone by the wrong name 1-3 times per week. I do this with the children – does that count?
As a 24/7 online nation, we're being asked to provide so many passwords, it's no surprise that at least once a month 35% of us have to reset passwords for online accounts we've forgotten and 12% need to do so at least once a week. Sound like you?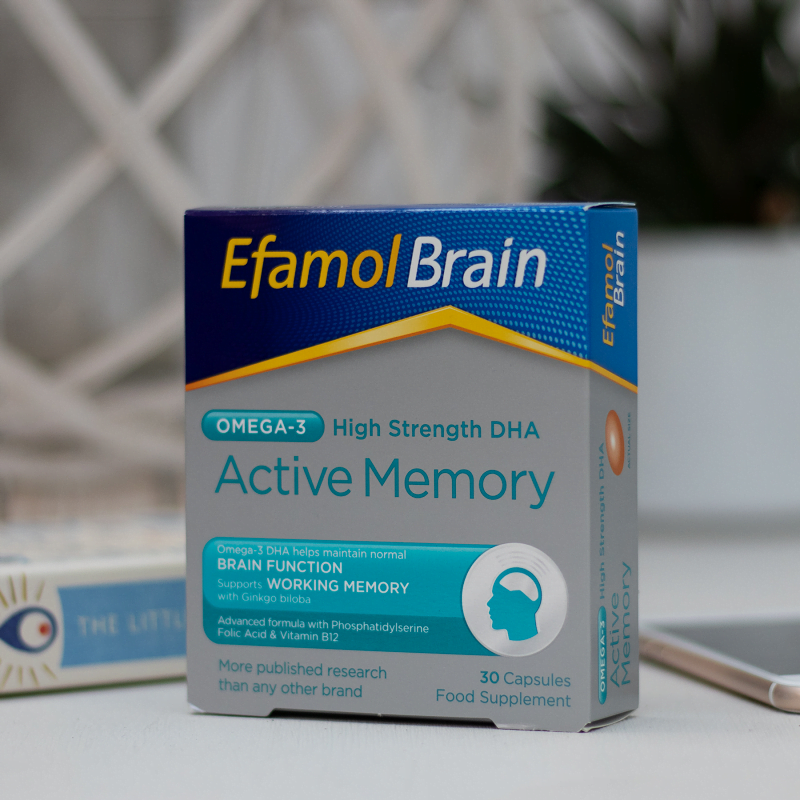 Efamol Wellbeing Expert, Jayne Wilson comments, "There are several lifestyle changes that can help us to slow down and feel less overloaded on a day-to-day basis. These include taking time out to stay calm and focus on well-being or a brisk walk or a little meditation is a good idea. Whilst neither foods or food supplements can improve your memory, it is important to make sure that your body is well nourished, for example with omega-3 fat, DHA (Docosahexaenoic Acid), to help keep your brain healthy and foods rich in B12 (like good quality meat, fish, eggs, milk and cheese) and Folic Acid (for example, peas, chick peas, broccoli, dark green leafy vegetables e.g. cabbage, and fortified cereals) that help reduce tiredness and fatigue."
If you think you may be lacking these from your diet, why not try a food supplement such as Efamol Brain Active Memory. From the Essential Fatty Acid experts, Efamol® Brain Active Memory contains a carefully selected high strength fish oil that is especially rich in DHA, the most abundant Omega-3 fatty acid in the brain, each capsule contains a full 250mg of omega-3 DHA, the level which contributes to the maintenance of normal brain function plus Vitamin B12, Folic Acid and Phosphatidylserine. This unique formulation also includes Ginkgo Biloba which may help maintain working memory.
Efamol Brain Active Memory, RRP £10.99, is available from www.wassen.com, Amazon, Boots the Chemists, health food stores and independent pharmacies.
*Food supplements cannot replace a varied diet and healthy lifestyle*.
Competition time
We are giving one lucky Mummy Fever reader the chance to win a three month supply of Efamol Brain Active Memory. Just enter the easy widget below. Good luck!
Win a 3 month supply of EFAMOL ACTIVE MEMORY for brain health
TERMS AND CONDITIONS:
Giveaway will run until June 23rd.
There is one prize to be won.
The prize is non-transferable and no cash alternative is offered.
This giveaway is open to UK entries only.
Entrants must be age 18 or over.
Data controller for the purposes of this giveaway is Mummy Fever. Your details will not be used for any other purpose than selecting/informing a winner.
Winner's details will be passed to White Rose PR, who are responsible for sending out the prize.
All entries will be checked.
The winner will be chosen at random from valid entries after the closing date.
The winner will be informed by email.
The prize includes free UK delivery.
Failure to respond within two days may result in a new winner being drawn.
Once drawn, the winner's name will be displayed on this blog post.
Entry into the giveaway will be deemed as acceptance of these terms and conditions