Every so often you come across a beauty product that is a total game changer. A product that ticks a ton of boxes and just makes you feel better.
I've recently been introduced to the Doctor A Cosmetics range of beauty products and let me tell you…these products are incredible!
Doctor A Cosmetics is a British cosmetics brand, committed to providing skincare solutions with high-quality, 100% naturally-derived and ethically-sourced ingredients, including fruit extracts, plant extracts and vitamins. Doctor A Cosmetics is also a socially conscious brand, focused on giving back to the community and using sustainable, eco-friendly packaging to help protect our planet Earth.
Doctor Anika Walia is the founder of Doctor A Cosmetics and a qualified dentist. She's also the founder of Anika Food Charity and has won three awards for her philanthropic work, including the Charity Queen Award from Miss England, The Diana Award (the highest award a young person can receive for their social humanitarian work) and the British Citizen Award.
Anika is also a UN women UK delegate, a Mental Health First Aider, a member of the Queen's Commonwealth Trust and a Miss England former finalist. Doctor Anika combines her knowledge of healthcare with her passion for skincare to provide plant-powered, natural formulas and ingredients for your skin. Along with this, it is sustainable, vegan and cruelty free. 
From the packaging to the way they are made and right through to the effect on your skin, you will love these products.
Doctor A Intensely Exotic Night Repair Moisturiser
Doctor A Intensely Exotic Night Repair Moisturiser is super packed with a rich accumulation of healthy ingredients to help nourish and soothe your dry and dehydrated skin.
It is an alcohol free, fresh, hand- made moisturiser.
It contains hyaluronic acid, squalane, mango butter, grapeseed face oil, red raspberry face oil and is packed with plant powder to give you the best benefits for your skin.
It is a night moisturiser that will help to heal and restore your skin to give it that healthy, supple glow.
When you apply this it feels like a gentle face scrub or exfoliator. It feels luxurious on the skin and hydrates skin so well overnight.
Doctor A Vitamin C Brightening Moisturiser
Doctor A Vitamin C Brightening Moisturiser is completely fragrance free! It is a brightening cream for face. This brightening moisturiser is filled with powerful antioxidants and vitamins. The hero ingredient being vitamin C. Vitamin C has multiple benefits, including:
Protecting the skin from pollution damage
Helping to reduce pigmentation and scarring
Tackling the signs of ageing and works actively to brighten and even the skin tone.
It is a luxury brightening cream for face. It can be used on scarring, pigmentation, fine lines and stretch marks and even on sensitive skin.
It is a great cream for brightening skin and evening out skin tone.
This is a really lovely day moisturiser. It does brighten the skin and instantly gives your skin the nourishment it needs to face the day. It isn't a heavy cream and works fine as a base under make up.
Doctor A 24k Gold Royalty Treatment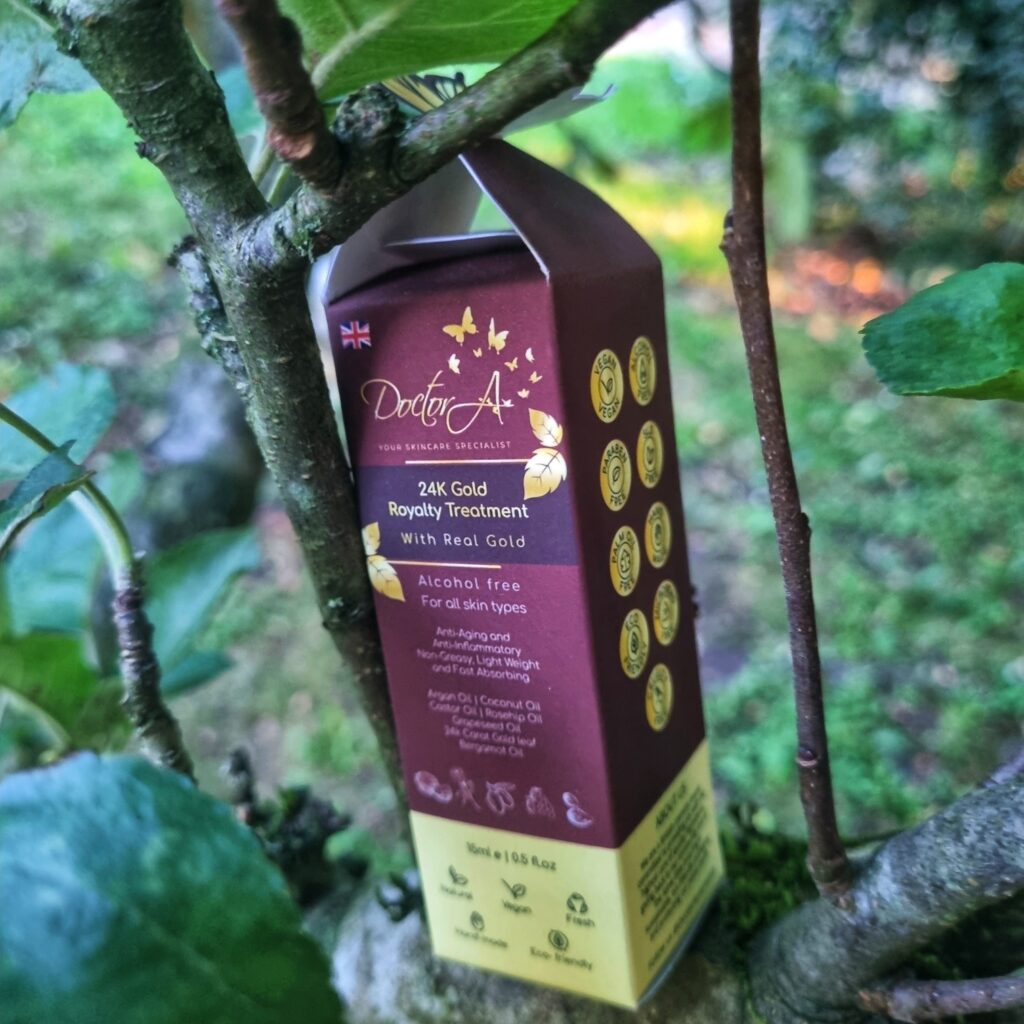 Doctor A 24K Gold Royalty Treatment will give you a real glow. This was my absolute favourite of the three products. It feels so good on the skin. Skin looks instantly better for an application, brighter and more healthy.
It is all natural skin care.
It is fresh and hand made. Vegan skincare that is cruelty-free and eco-friendly.
Alcohol free, it is immersed with a blend of some of the most powerful facial oils including argan face oil, coconut face oil, castor face oil, rosehip face oil, grapeseed face oil, bergamot face oil and real 24K carat gold leaf.
It will leave your skin looking healthy, younger, and an overall improvement in your complexion.
It is a lightweight facial oil that absorbs easily into the skin, leaving no sticky residue.
It contains anti-aging properties and can be used on acne scarring, pigmentation, fine lines and stretch marks.
It can be used as stretch mark oil too.
These really are the three musketeers of skincare!