I do love it when the Winter wardrobe can come out. I love boots and knitted dresses and thick tights. I love big bobble hats and cosy coats with hoods. How about you? What's your favourite item from your winter wardrobe?
Refresh your winter wardrobe
If you've had things packed away over the warmer months, you might feel they all need a little refresh before you wear them again. I used tumble dryer sheets this year to keep everything still smelling nice and I was surprised how well they worked – I'm a bit late to that party I think, have you all been doing that for years?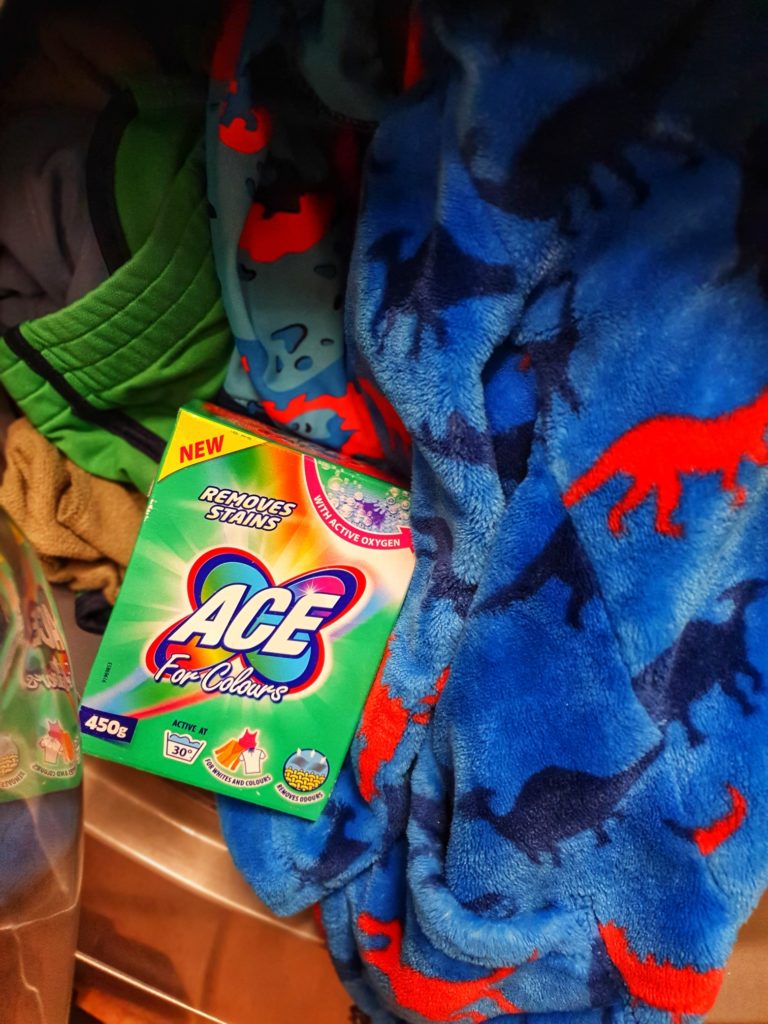 If you want to really experience that ta-dah moment with your Winter wardrobe then give ACE a try. I've been using their products for years now. I use their ACE for Whites on the big kids school shirts, and I've used their ACE for Colours liquid for everyone's clothes when we've been on a muddy adventure. I've also used their stain remover spray on clothes and also successfully in the car too, to clean off water and juice stains from the seats – along with the odd blob of mud of course!
Have you used any of these products before? Have you found them useful?
Get help for all kinds of stains with the ACE Stain Helper http://www.acecleanuk.co.uk/ and pick up the range at your nearest Morrison's store or buy online on Amazon.
Recently I've been using their ACE for Colours Powder to freshen up everyone's Winter clothing. This product is basically the same as the liquid I've used before but in a powdered form. Tough on stains but easy going on the clothes, it eliminates odours and makes colours nice and bright, so you can bring your favourite garments back to life.
Keep the brights bright
One of the things I hate is when you buy something in a really bright colour and it looks dull after a few washes. With ACE there is none of that, so bright yellow stays bright yellow and so on.
If you have lots of bright scarfs, gloves, hats etc that need a decent refresh, this is a great product to get them looking nice again. I just pop them in the airing cupboard afterwards to dry out.
Banish the funky smells
Things can smell a little funky after being packed away for a few months, ACE also makes clothes smell fresh, so you can hit Winter with a 'spring' in your step. Winter doesn't have to be dull and dreary!
This post is an entry for the BritMums #ACEWinterRefresh Challenge, sponsored by ACE for Colours Powder.