There's nothing quite like the feel of the perfect duvet around your body. One of the things I didn't like about camping for years as a child with my family was sleeping in a sleeping bag. I always loved that feeling of climbing back into my bed at home and snuggling down under my duvet.
Duvets are one of those things that people can have wildly different views on. I really don't like heavy duvets but neither to I like thin ones. Our children all get quite warm in bed, but they like to feel cosy too. They also love snuggling under something warm whilst watching a movie, making a den, or when we are travelling.
I'm so excited to have come across The Fine Bedding Company recently. They are a luxury bedding company with a long legacy of science and innovation. They are a fourth-generation UK-based company with their own 100% sustainable factory, where they have been producing premium down feather and innovative fibre filled bedding for over 100 years.
We have been testing out one of their coverless Night Owl duvets recently. These come in five different designs, a range of colours, 4.5 or 10.5 tog and what's more, you just pop them straight in the washing machine, without them loosing their shape and have them dry in a couple of hours! What more could you ask for from a duvet!
We've have been testing the Natural Cotton Waffle which is ridiculously soft and cosy.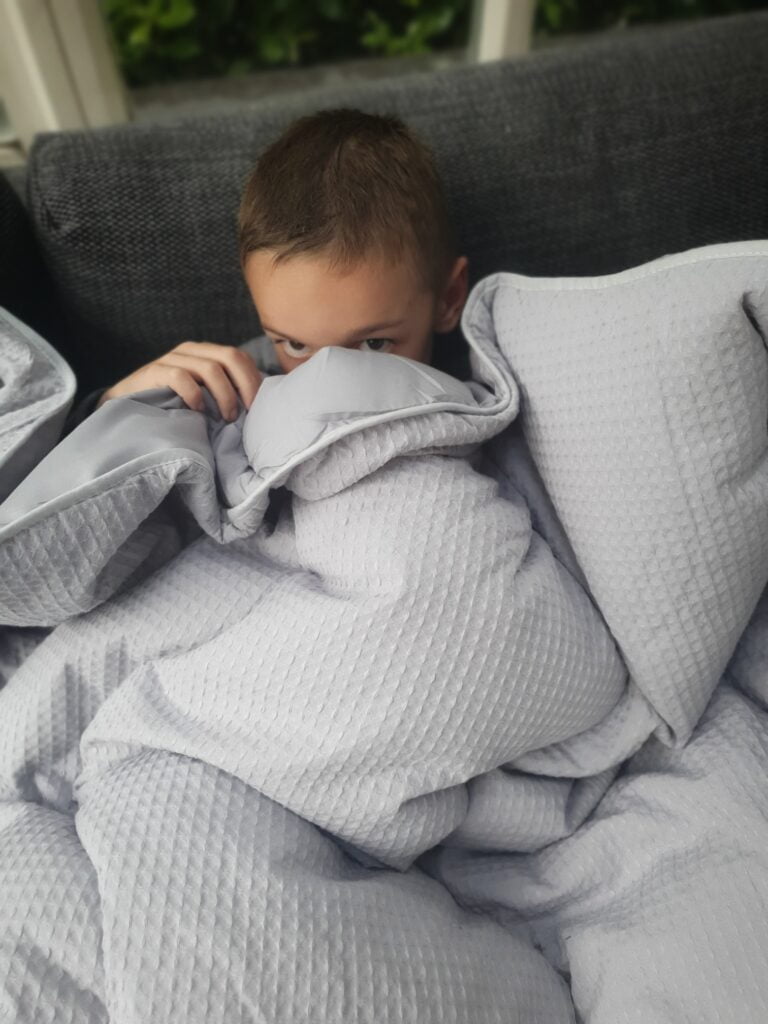 This duvet has gone down a storm and I now have children fighting over who gets to use it next. They love the way the fabric feels, how soft it is, how cosy, yet also lightweight it is – basically, I need to buy a load more of these duvets!
I can see that these are a massive time saver and generally less hassle to use at home, no more fighting with a duvet cover for a start. They also feel way more hygienic because you are washing the whole duvet not just the cover. You can even get matching pillowcases.
What we are really looking forward to thought is taking these away with us. They roll down easily into a nice drawstring bag that you can easily pack in a car or campervan if you are going away camping. If we are going on a long car journey and likely to be in the car at night time, the children always like to take a blanket in the car with them and a pillow. These are way better as two of these in the car (one on each row) and all the children would be comfy and cosy.
A massive hit here! Personally I really like the grey marl with a yellow trim but it only comes in a single. Also, unfortunately, these don't come in a super king size, so we can't have one on our bed. Most of the range do come in single, double and king though.
This is a collaborative article.