I have always known when one of the children is having a growth spurt as their appetites appear to increase ten-fold.
During these periods it seems hard to fill them up.
In general, these growth spurts tend to last about three days, but they have been known to last about a week at a time.
Growth spurts tend to happen at about 7-10 days, 2-3 weeks, 4-6 weeks, 3 months, 4 months, 6 months and 9 months and then after that every few months during the toddler years and throughout the teenage years. Of course, all babies and children are different and sometimes this can differ for girls and boys – what growth spurts have you noticed?
During a growth spurt your child may be:
more hungry than usual
more tired than usual
more fussy than usual
more grumpy than usual
Growing is a tiring business! Try to be patient and follow your child's lead, it won't last long and things will settle down again back into a more normal routine or pattern.
When the little ones are like this it is essential to have a big stash of snacks to keep them going. I like to have a range of things in and ensure what they are snacking on is as healthy as possible.
Ella's Kitchen never disappoint and the children can munch away as I am safe in the the knowledge that what they are eating is organic, healthy and supporting their development. The range of products they now sell is huge and it just keeps on getting better. The only problem we have with their products is that they don't last long in our house…I blink and the packet is empty!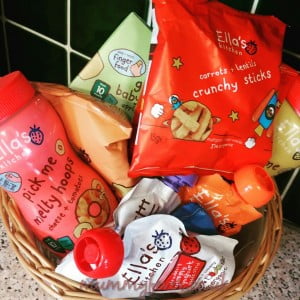 How do you fill up your children during a growth spurt?