Hard Rock Cafe Manchester recently announced that all children ages 10 and under can enjoy a free kids meal on a Monday to Thursday with the purchase of an adult entrée. This offer is valid until 31st August.
Hard Rock Manchester are currently celebrating their 50th year and we popped along this week to give them a try. Hard Rock is situated in the Printworks in Manchester, just a 10-minute walk from Q-Park. It's ideally placed if you've been out shopping or even to the theatre.
With regards to the children eat free offer, children can choose from a variety of Hard Rock Roxtars classics from its kids menu such as Buddy JR's Cheeseburger, Ain't nothin' but a Hot Dog, Razzi's chicken tenders and Styler's Twisted Mac & Cheese! There are also alternative options including grilled chicken breast served with fresh vegetables, twisted cavatappi pasta topped with marinara sauce and served with fresh vegetables or mixed fresh greens with diced chicken, Monterey Jack and cheddar cheese, served with carrot sticks and choice of dressing.
Our youngest two boys enjoyed the mac and cheese and the chicken with carrot sticks, with a pineapple juice on the side, thoughtfully served with a lid on the glass. They thoroughly enjoyed their food, which, for a couple of fussy eaters was a minor miracle!
The kids menu comes on the back of an activity booklet, which they enjoyed filling out whilst they were waiting.
The cocktails and mocktails were delicious. I sampled the blackberry sangria, which was so yummy and came complete with a giant blackberry as a gorgeous garnish. The big kids had a strawberry lemonade each, which we all sampled and all loved. We really need to try and recreate this one at home.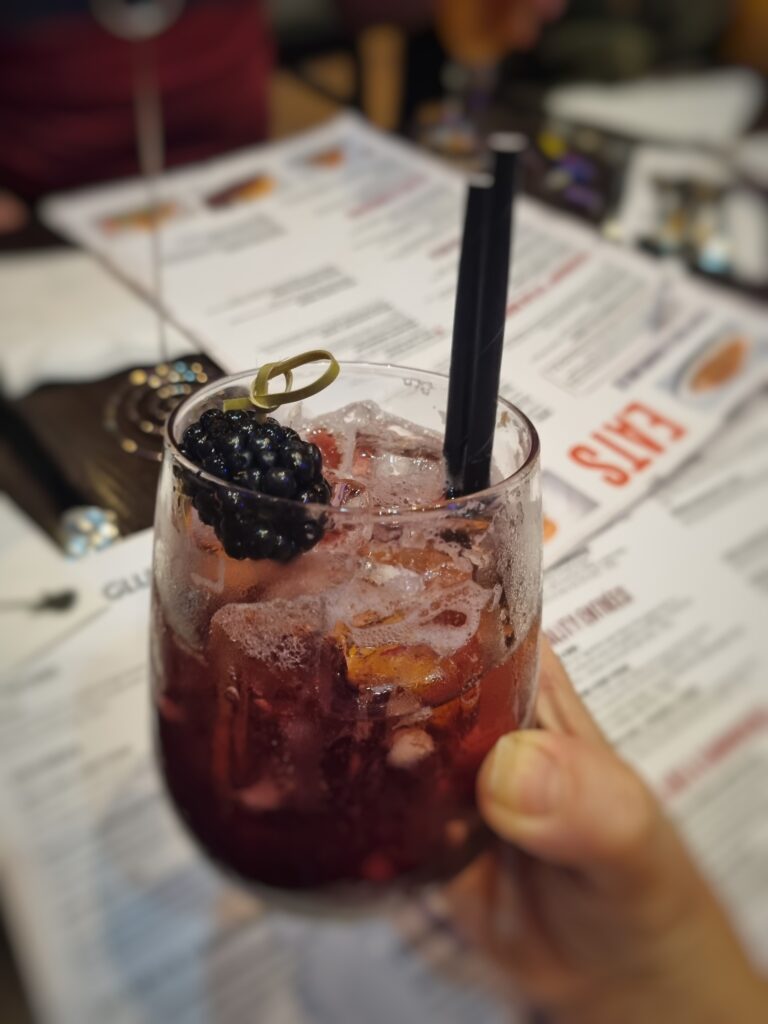 One of the things I was really impressed with were the gluten free options. There is an entirely separate gluten free menu and the staff take the preparation of the food very seriously. The manager came to explain exactly how everything is prepared and served so that there cannot be any confusion. In addition to this, she explained that ALL their chocolate brownie deserts are gluten free, which is unheard of. I was so impressed, but sadly too full to try one.
Each gluten free meal has one of these purple flags in, so staff are aware. It seems like a really robust system and made a real change from some other restaurants.
The menu was so vast and varied we all struggled a bit to choose our meals. In the end the big kids shared nachos as a starter. This was huge and they did then struggle with their main courses. I had spicy chicken wings with a blue cheese dip for a starter, followed by a delicious chicken Caesar salad for a main course.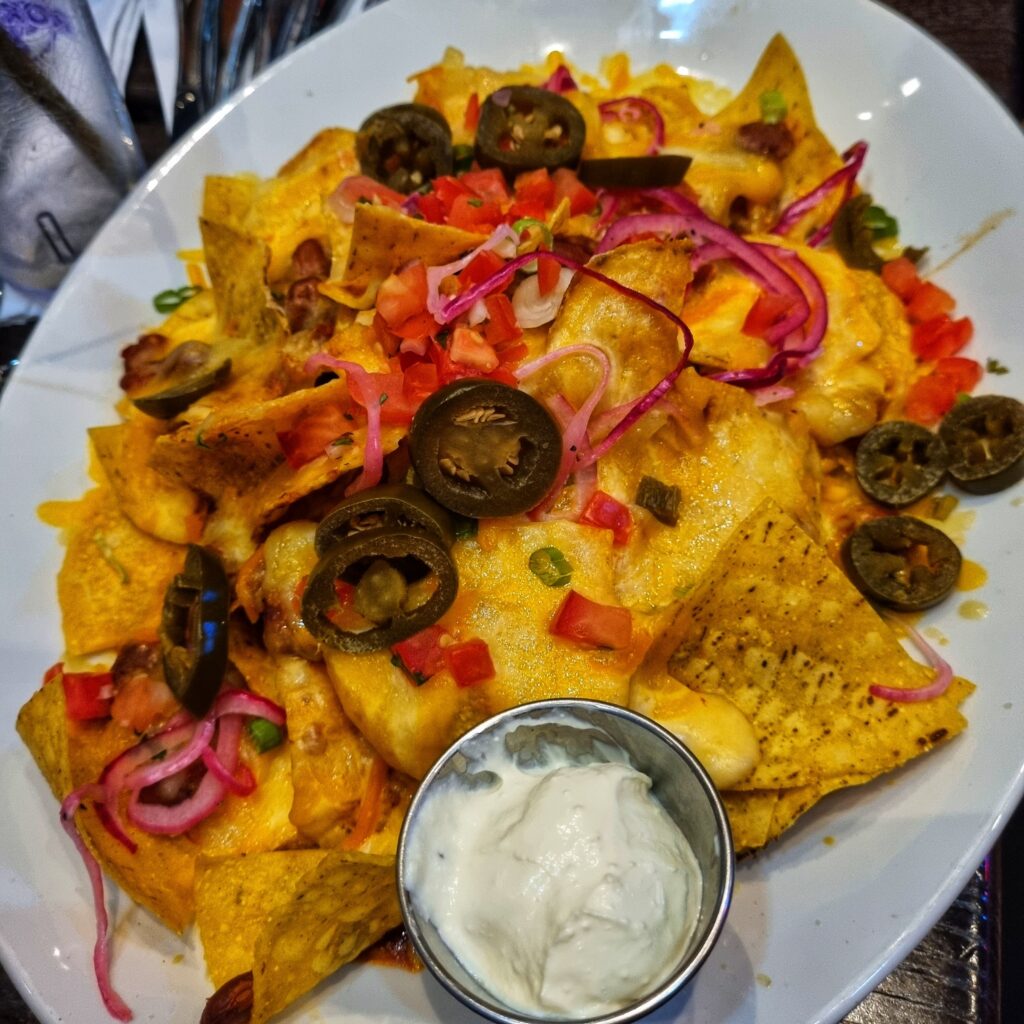 There was also an order of ribs, half of which ended up going home with us, and two orders of a lovely salmon dish, which came with green beans and fries.
From the moment we walked through the door and were waiting to be seated, all through our meal and until we left the restaurant, the staff were wonderful. Very chatty and friendly and seemed very relaxed. Everything came across as effortless, which is wonderful, because it creates a relaxed atmosphere during the meal – something that is needed when dining out with children who don't always sit still.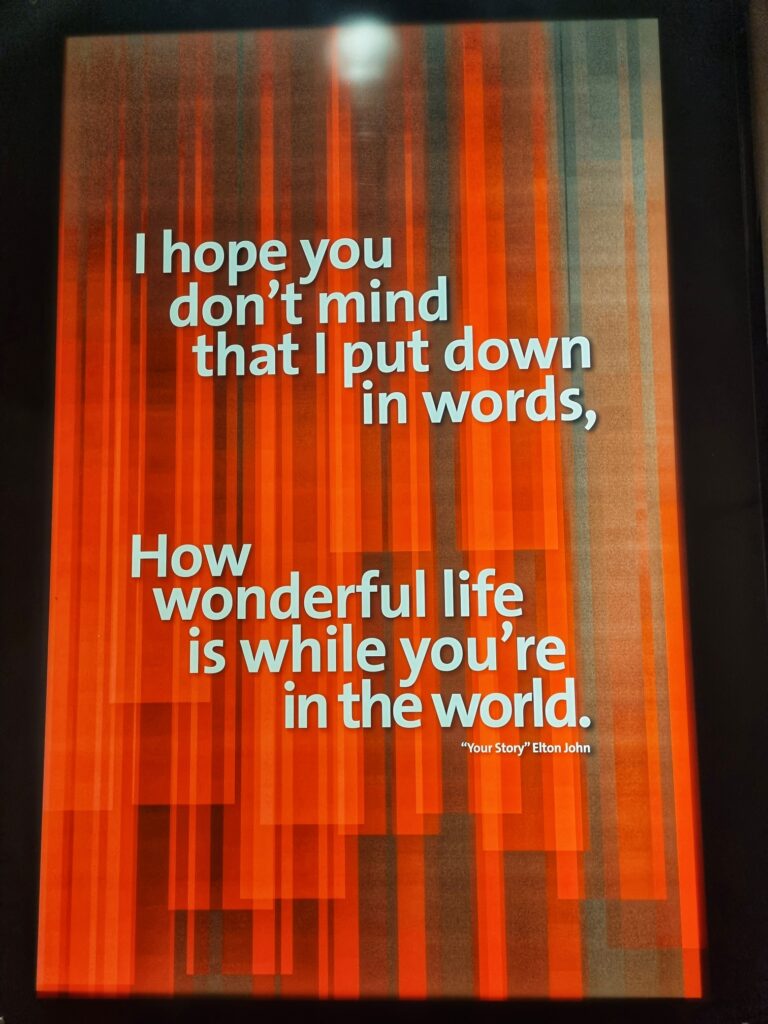 I've often thought that Hard Rock is an exciting place to eat with children as there is so much to look at. The children all loved looking at all the outfits, guitars and drums on display during our visit, as well as reading all the song lyrics each time they went to the toilet!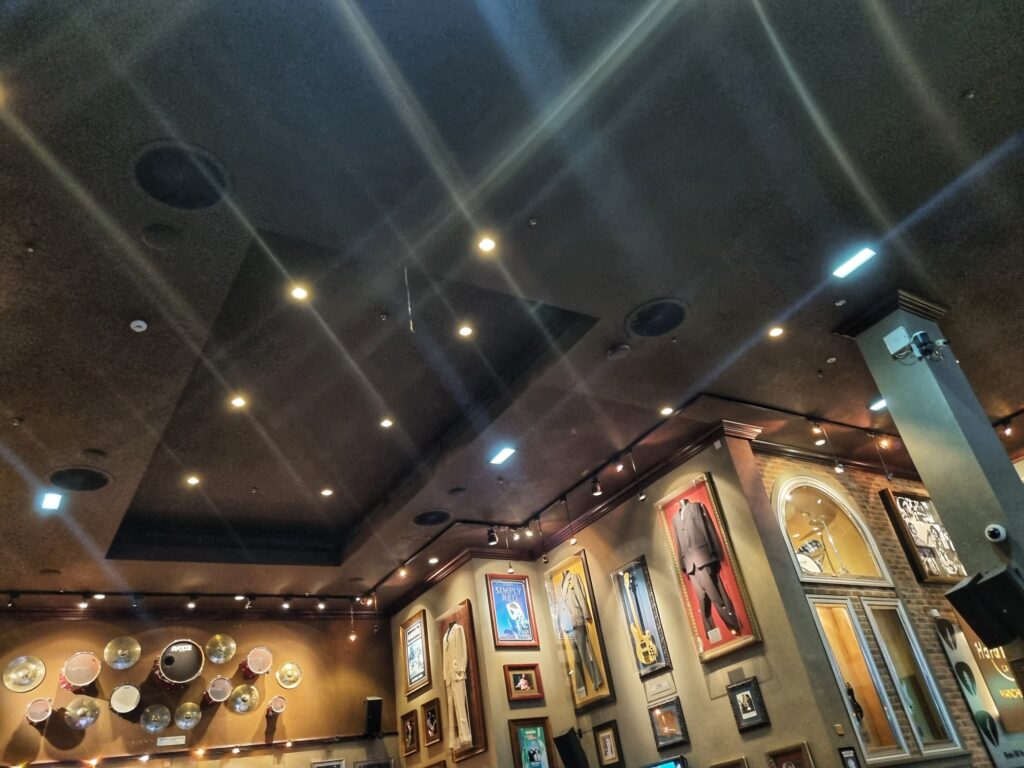 If you live near Manchester, or plan on visiting, Hard Rock would be a great choice for a meal out. The atmosphere is relaxed, the music is good, the staff are delightful and the food delicious!
This is a collaborative article.