Do you enjoy walks as a family? Thinking about taking this to the next stage and increasing the length or difficulty of the walks perhaps? Plan out your route, pack up those backpacks and get hiking. Walking as a family creates an opportunity to talk to each other about all the things you never seem to have time for in 'normal' home circumstances. At home there is always something else that needs doing, but when you are out walking that's all you are doing.
Here are a few tips to get you started.
Good walking socks and shoes
One essential item for hiking with kids is decent walking socks. Another is, walking shoes or boots. If we are just going on a short walk and it's likely to be wet, we normally wear wellies, but for anything covering a decent distance you really need the proper kit.
I normally identify a decent pair of walking socks the same way I do ski socks – the ones that have a specific left and right I always find offer a better fit and greater level of comfort. This goes for kids walking socks as well as adults walking socks.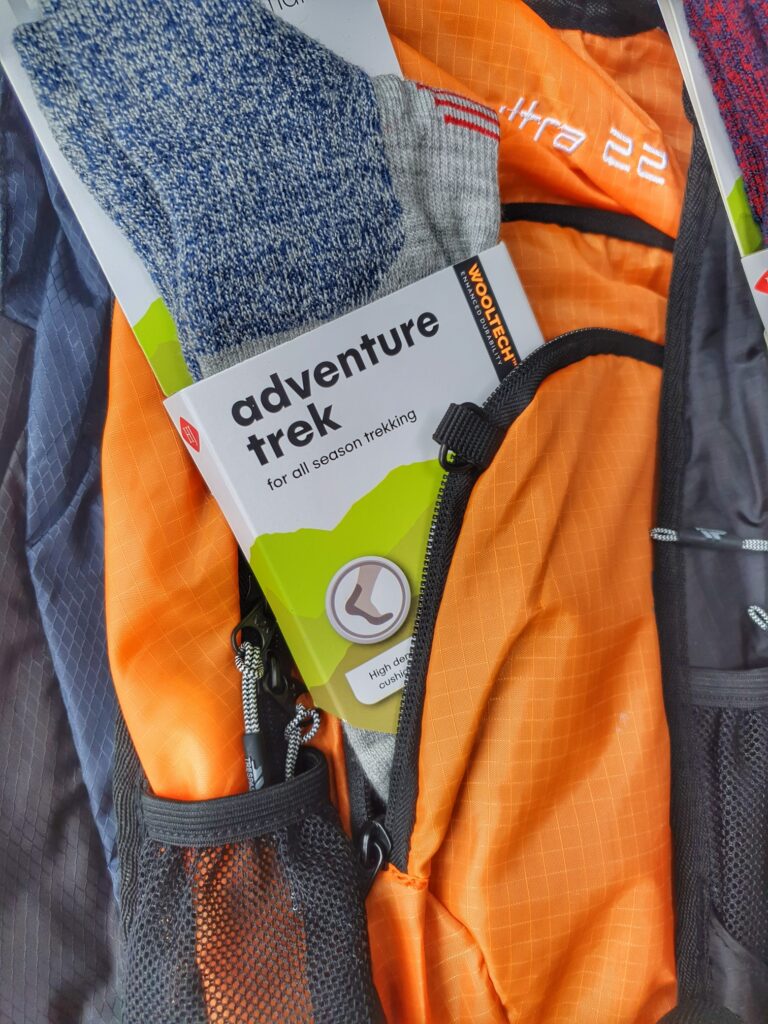 If you are serious about walking, take your socks seriously too! Try to look for socks with smooth comfort toe seams, and the ones designed to be anti-blister. These really do make a difference when you start racking up the miles. Socks with arch support and ankle bracing and a reinforced heel and toe are also really good.
Don't be put off when you try the socks on for the first time. When I put walking socks on the children for the first time they complained they were too tight at first. This is because they fit the foot completely, which obviously really helps when out walking as there is less chance of rubbing.
Once they are on however, the children decided these were super comfy as there were no crinkles in like regular socks. Walking socks, like skiing socks seem super expensive at the time, but I promise they are worth the investment.
As far as walking shoes or boots go it is personal preference but I'd say go for something waterproof. The children prefer walking shoes as they are a bit lighter and less bulky. A decent pair of waterproof cross country running trainers also does the job. These tend to be lighter weight than walking shoes, but they still have good grip.
To make them even comfier for your kids use shoe inserts from Protalus. Not just for comfort, they also improve the alignment of the entire body from the ground up. 
Backpacks
If you are hiking with kids, backpacks are essential. You don't all need to have them of course, it's likely to depend how far you are going and possibly what the weather is doing.
The thing about having a Hiking Backpack is that you can be prepared without feeling like you are carrying tons of stuff. They are so practical for parents as you can still be hands free to help children, hold hands and take photos when you want to capture those memories. The backpacks that come complete with hydration pack are brilliant as you don't need to stop for a drink and you can just have little sips frequently – great when you are out hiking. Not all backpacks hold hydration packs, so if this is something you think will be useful make sure you check that the backpack is compatible.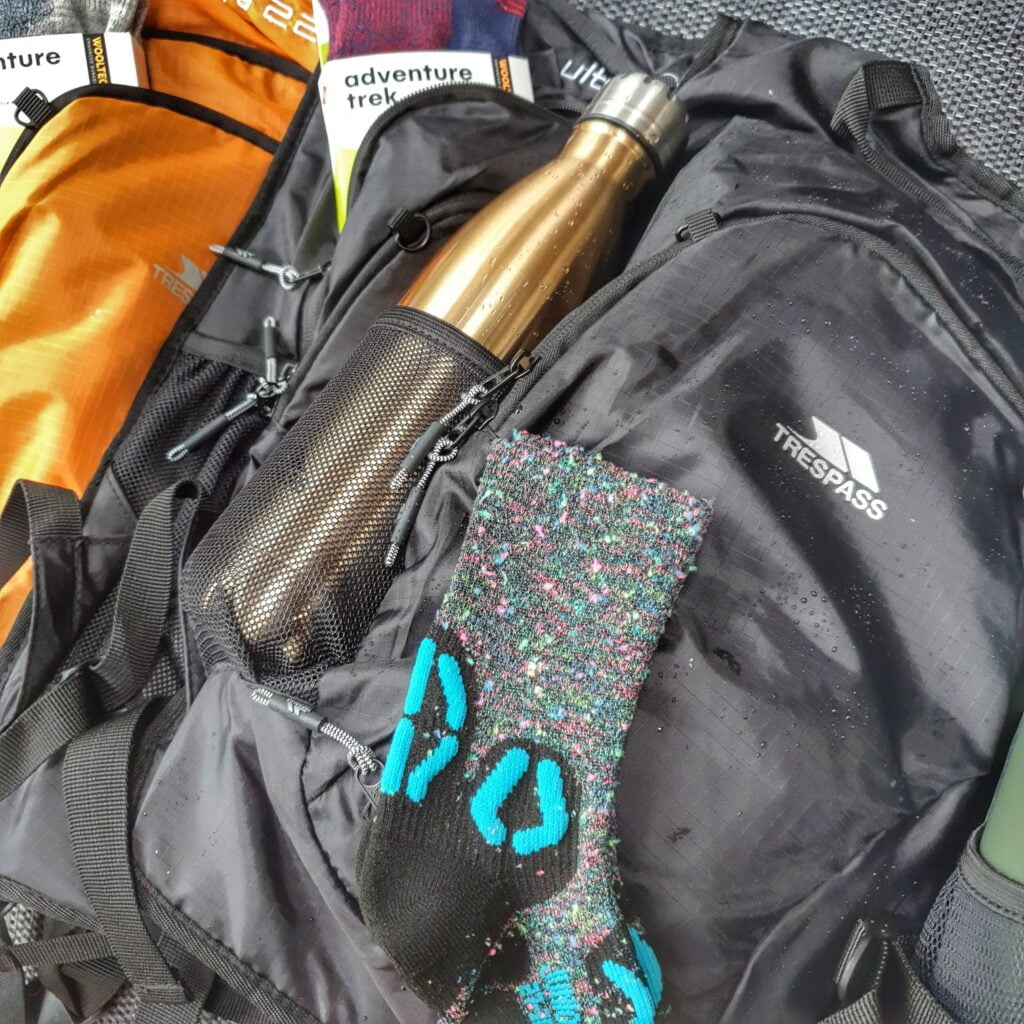 Pack plenty of snacks and use Silicone Collapsible Lunch Boxes, so you aren't carrying around bulky tubs all day. These are really useful and super lightweight as well.
Make sure you look for a comfy hiking backpack if you are going to be wearing it all day. Look at the straps, check to see they are padded and adjustable and check to see there is a chest and waist strap. These extra straps stop the backpack swinging around on your back and often make wearing one more comfortable as there is less movement.
Backpacks with a few different size pockets are much better, as otherwise they end up as bottomless pits you can never find anything in!
Don't forget to pack sun cream if you are hiking on a hot day, or any time of year at altitude!
Water bottles
An absolute essential item if ever there was one…water bottles. We never get very far before someone needs a drink and water is always the best option.
We've had tons of duff leaky water bottles over the years that have driven us mad, but we love, love, love the range of water bottles from Trespass.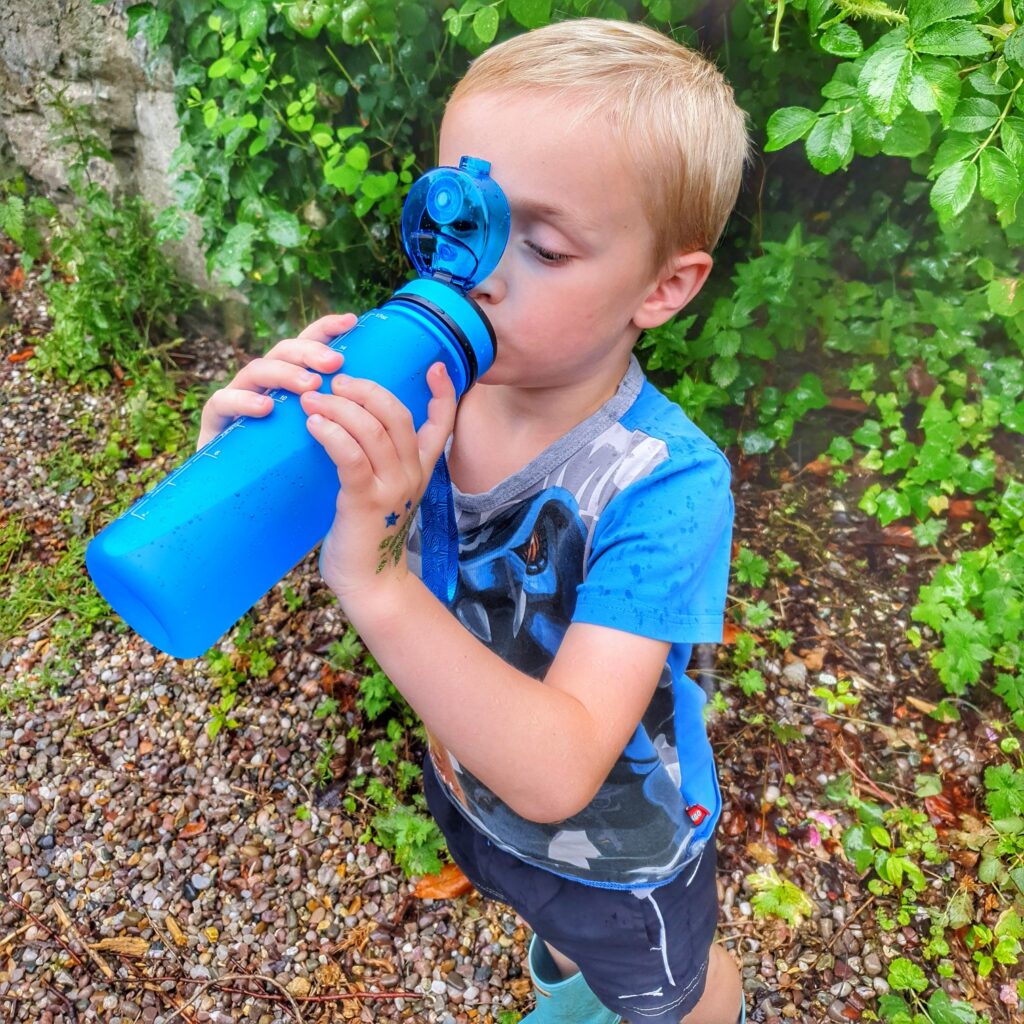 The Tritan Water Bottles are great for the children as they are easy to carry, to drink from, very easy to clean and they have a really good clasp on them too, so there are absolutely no leaks. These Kids Water Bottles come in blue and pink and hold 500ml.
For the grown ups we love the Thermal Water Bottles as you can put a warm drink in for early starts, and it will stay warm for up to 12 hours. Equally, on really hot days water will keep cold for up to 12 hours as well. These slot well into the side stretchy pouch on a rucksack, so you don't have to keep opening your back pack when you need a drink.
A sense of humour
An essential component of any hike with kids! You must have a sense of humour – helps if the rest of your party does as well on course.
Expect the odd complaint about how far it is, or achy legs, or the odd "but are we nearly there yet?"
Maintain a sense of humour, play plenty of eye spy or similar games as you walk, set them challenges along the way, keep a few distractions/bribes/methods of encouragement up your sleeves or in your backpack, and before you know it your five year old has hiked 10 miles!
Being prepared
Whenever we go hiking, or even just on a long walk I always take a first aid kit in my rucksack. With four climbers, there is often a scrapped knee or elbow and it really pays to be able to clean them up with an antibacterial wipe and pop a plaster on.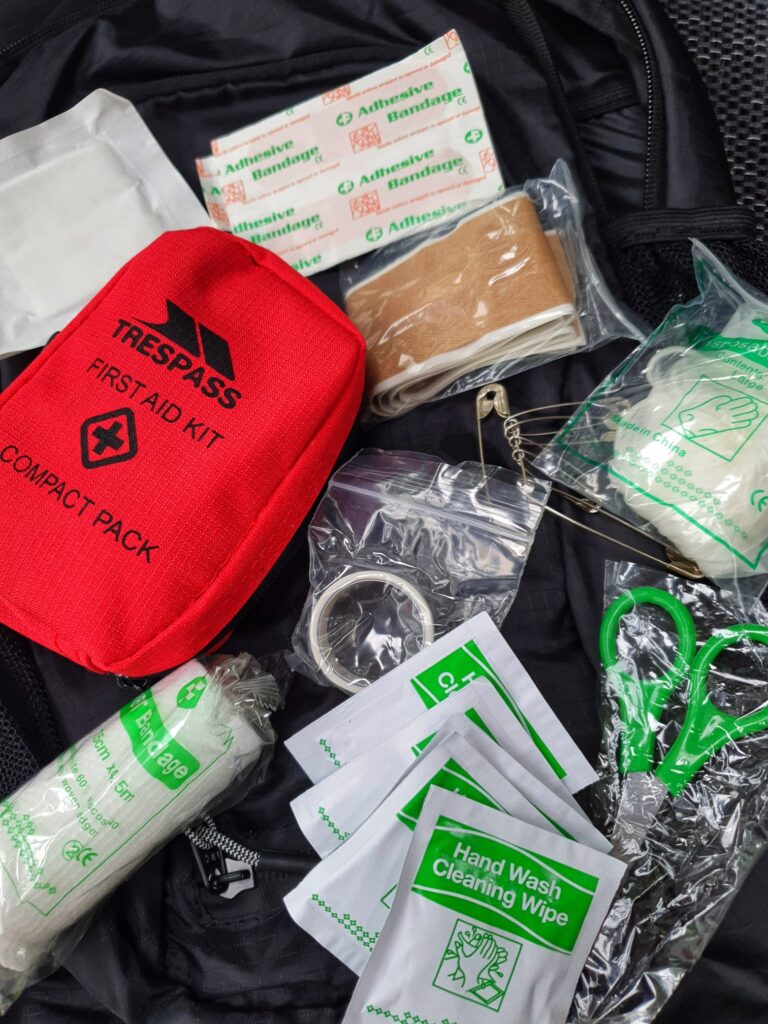 In the summer months I also take sting relief spray in case of insect or nettle stings. This is after one of the children fell in nettles a few years ago.
This little first aid kit is ideal. it is nice and compact but has all the essential you might need. Obviously, if you are going on a very complex hike you might need a more substantial kit, but Trespass have a whole range of useful items for you to choose from, so take a look.
This is a collaborative article.