Relaxation – the state of being free from tension and anxiety
Relaxing isn't always easy is it? When you have children, sometimes it's totally impossible.
Often we make plans to relax and then something else comes up, we have work to finish, or a child or all the children are awake longer than normal, perhaps someone is running a temperature, or has the runs! Perhaps there's a mass spillage that requires attention to avoid even more work later on…or perhaps suddenly someone remembers they need cakes for the school fair or help with that project they only just remembered about? Long story short … the relaxation bit never happens.
Does it still count if they fall asleep on you? This is about as relaxing as it gets.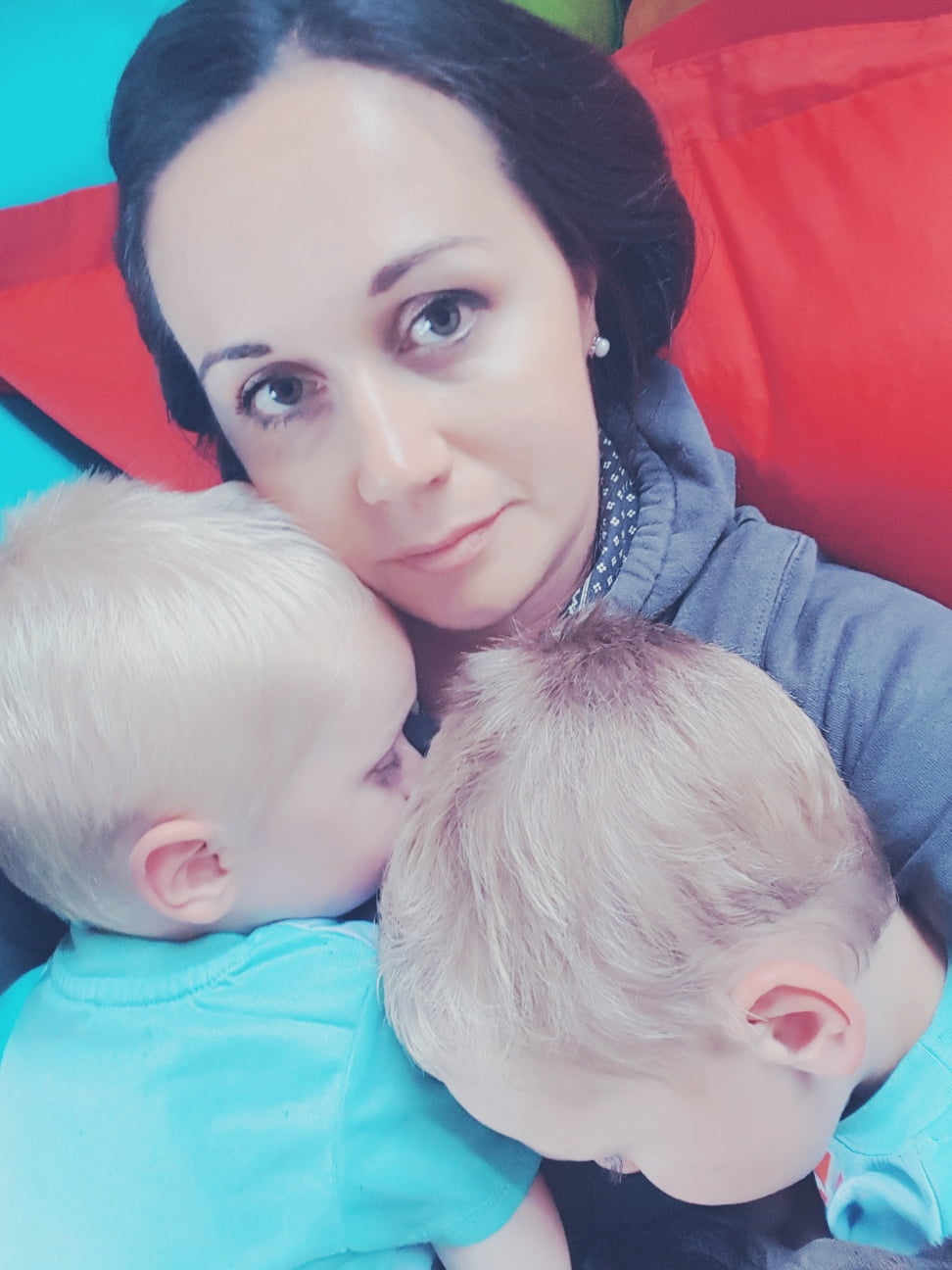 Ditch the plan
Perhaps in that case, the trick is not to plan. To have a few things you can do to help you relax when you can find a few minutes amongst the chaos. The thing is that if you plan and the plan doesn't come off it affects how you feel, because you end up disappointed. At least if you don't plan anything and manage to pull off 15 or 20 minutes you'll be left feeling pleasantly surprised.
Sound like a working theory?
Options
What we find relaxing can differ hugely. Some people find reading relaxing, I don't personally, but if that's your thing take your book with you wherever you go and if you find yourself with a spare 5, 10 or even 15 (I know, dreaming here) minutes then you'll have your book to read.
If you are someone who finds it hard to relax, you might need some help. There are some great apps you can get for your phone for relaxation and meditation which again you can use any time. I quite like the Calm app which is also handy for the children. There are music tracks, stories and relaxation tips. You can use them at bedtime, first thing in the morning or even when you are waiting somewhere, perhaps sat in the car? Just don't play them whilst you are driving, you don't want to nod off!
A bath can be something lots of people find relaxing. Especially when it's filled with bubbles or oils. The main problem I find with a bath is that normally I have a little visitor who wants to climb in too and then suddenly it's not quite so relaxing. If you can find the time, make sure it's worth while.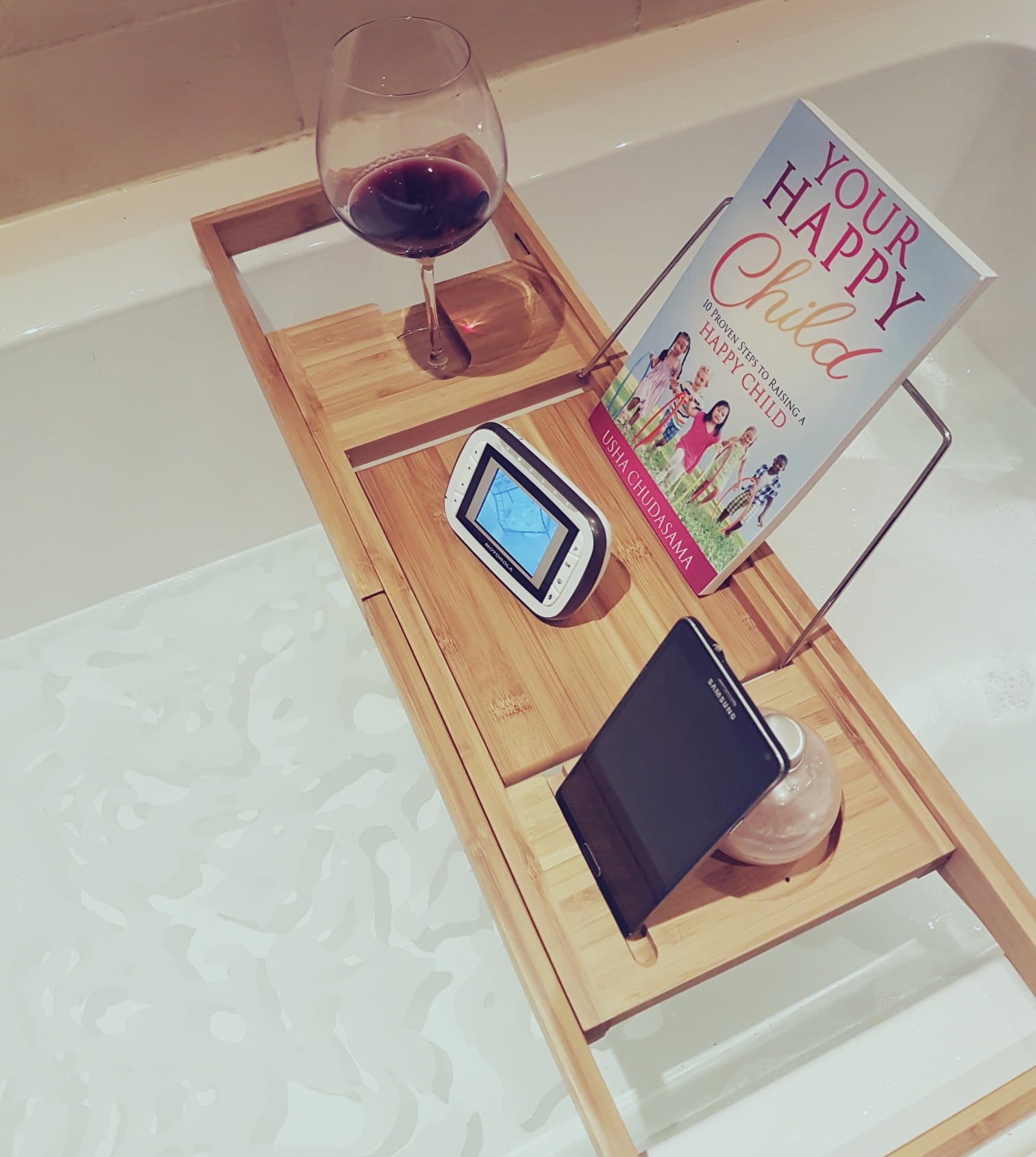 What's your ideal bath? A glass of wine? Catching up on your favourite shows? Reading a book? Perhaps lighting a candle? A bath caddy can make all this possible. No more soggy books, damaged phones and tablets and spilt or smashed wine glasses. Pop one of these across your bath and you can have everything right in front of you.
I'm a little in love with this bamboo bath caddy from Bathroom Takeaway. With a bath caddy everything has it's place, wine, tablet, phone, candle, book – whatever you want in the tub with you. This is certainly made with pampering in mind, and it's extendable, so don't worry what size your bath this.
My favourite feature is the integrated wine holder, and don't worry it takes a range of different styles and sizes of wine glass! If you are going to have a soak, do it in style right? You never know when you'll get the chance again.
If a bath isn't your thing, try and figure out what is and try to work out when that relaxation could take place. It might mean you have to ditch something else, but let's face it, we could always be doing something else couldn't we?
Maybe you'd love to wack on a crazy face mask for 20 mins ? The Skin Republic Collagen Infusion Sheet Mask (£4.99, available from Superdrug) is a good one, it is totally drenched in a powerful anti-ageing serum to help you achieve younger looking skin – and don't we all want that in 20 minutes! Get comfy though as you can't do too much with one of these on. Don't try and eat anything bigger than an olive whilst wearing one – just saying!
Maybe you just need to treat yourself to something and spend a few minutes trying it out? I love a good mascara and the new Nouveau Lashes Enhance Mascara (£18.99) doesn't disappoint. It is suitable for lash extension, LVL and natural eyelashes! The double-sided brush has also been designed to ensure application is as easy as possible and it really is a dream to use, giving great coverage.
Realisation
It's taken me a long time, but I'm finally coming to the realisation that as a parent the to-do list is endless. We could always be doing something else, the list of jobs never gets any shorter and the days never get any longer.
It's so tough to try and fit everything into a day, to cater for everybody else's needs and make sure you've dealt with work commitments and anything else that needs to be done.
On top of all of that we are told we should be drinking copious amounts of water, adopting a good skin regime, body brushing, exercising, eating well etc etc etc – I mean the list is endless isn't it? When do you actually just relax?
However, wherever and whenever we do it, we have to find the time, because really we can't take care of others unless we take care of ourselves can we?