As the weather starts to improve and we begin to think more and more about spending additional time outside in the lighter evenings, many people will be thinking about dusting off that patio furniture. Some might be wondering what state they left it in last Spring/Summer, and hoping it cleans up OK, and others might be on the look out for something new.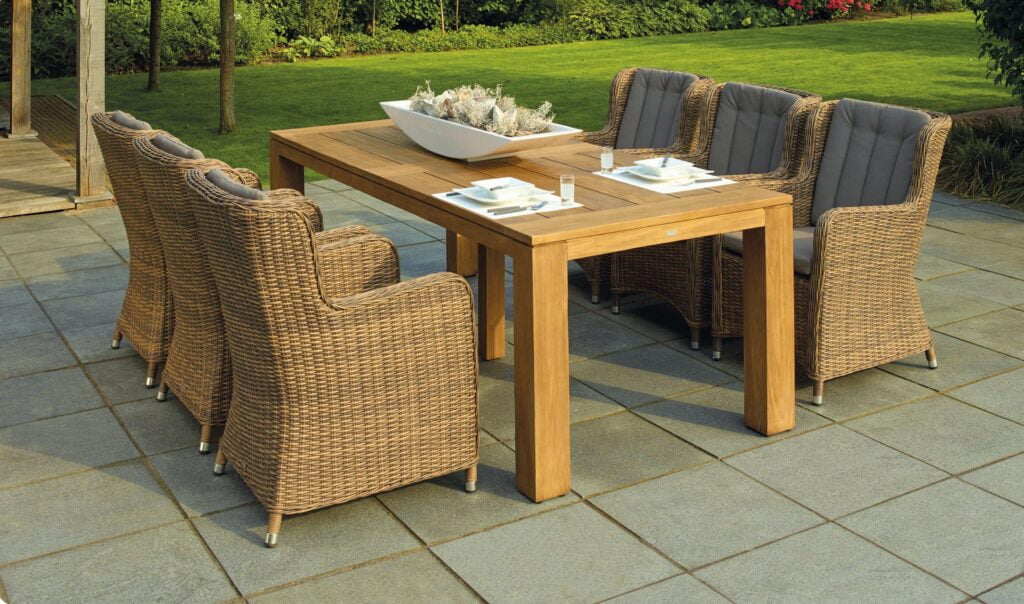 Things to consider
Choosing the ideal garden and patio furniture will depend on lots of things which will be unique to you. For example, the space you have outside; what kinds of surface you want to use the furniture on (patio, grass, artificial grass, gravel and so on); whether the area is covered or not; how many people will be using it; who will be using is; and of course, your budget.
Location
Some garden furniture doesn't do well on grass and some outdoor furniture will sink into gravel. You want the furniture to be stable and not have to be constantly trying to get it level.
If you only have a small back patio for example, you probably don't want to put a massive outdoor table and chairs in that space, otherwise you will struggle to use the space for anything else. What happens when the kids want a water fight, you are trying to teach one of them to ride their bike?
With small spaces, you could go will foldaway furniture, so you only have it out specifically when you want to use it.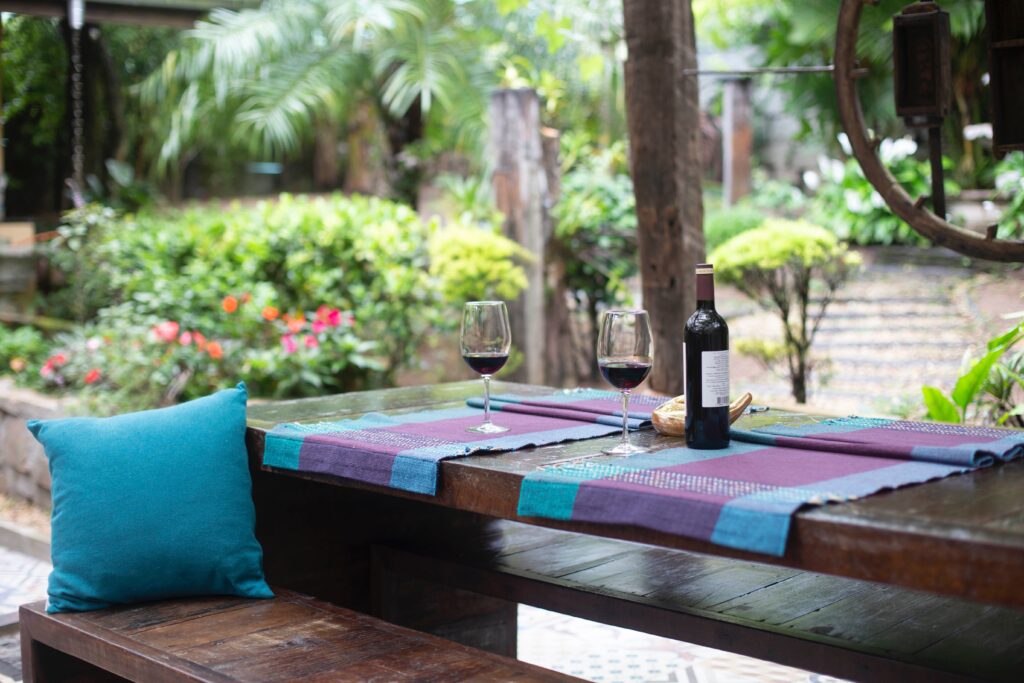 If you are planning on putting furniture directly onto grass, consider the implications for the lawn. You will cause some damage to your lawn by doing this and you will have to move it when you want to mow the grass.
Keep it covered
If your furniture won't be under some sort of outdoor covered area, consider purchasing covers for it. The rain and sunlight can damage outdoor furniture quite quickly, as well as making it necessary to clean it every time you use it. It is much easier to whip off a cover than have to get out the cleaning products and rubber gloves each time.
Who is it for?
How many people are you trying to seat? Are you only thinking about the people who live with you, or are you wanting to allow for guests as well?
Not just this, but are the seats suitable for both children and adults? I remember very vividly being at a garden party with my parents when I was a child and getting trapped inside a garden chair that basically folded up on me because as a child at the time, I wasn't heavy enough for the seat.
We really like the traditional wooden picnic tables for our children. Even toddlers can climb safely on themselves and then still reach the table.
Some garden tables are so high and wide that it can be hard to reach things during meals outdoors in the summer months, one way around this is to consider something from lazysusanfurniture.co.uk garden furniture. Round tables with a Lazy Susan can solve some of these problems and be more sociable with large groups.
Budget
Budget will, of course be a consideration. You don't have to spend a fortune to have lovely outdoor furniture. In one part of our garden we have made a fire pit and used large logs as seats, similar to the image below. This is actually one of my favourite spots, but cost very little to put together.
The best thing to do is decide on your budget, think about what you specifically want and then shop around. make sure you read the reviews of the products. This is especially important if you are spending a lot and ordering a large item. Things like this can be notoriously hard and complicated to send back!