For pet owners, leaving their pet behind while they go on a holiday can be one of the most heart-breaking things to do. Truth be told; actually, it's as if pets have a sixth sense, figuring out the notion that they're going to be left behind. It's not a problem if you have trusted individuals whom you know can give your pet some TLC, but if that's not the case, then that's when planning for a holiday without them can become quite tricky.
If it's really breaking your heart to have to even consider leaving your fur baby behind, the good news is that you can bring them with you on holidays and dog friendly retreats! When you plan well enough, you can still make it possible to have fun while keeping your pet safe and content. Many pet parents have done it, and so can you, too.
Those holiday plans can be off to a good start by reading through below. You'll come across some tried-and-tested trips by families and pet owners on how to plan a pet-friendly holiday.
Check Your Accommodation Choices
Because you will be flying with pets, you have to be more particular about your accommodation choices. Even if you're flying to a pet-friendly destination, not all hotels or resorts actually allow pets. So, make sure to check the pet policies at all of the hotels or resorts on your list. 
With this, you can instantly narrow your options to those that allow pets. Likewise, go through the pet policies of those that allow pets so you can also be certain you can adhere to and follow their policies. 
Research More On The Location
Along with the accommodation choices, you also have to research more on the destinations you're headed off to. You can liken this to travelling with children, where you must ensure that the places you visit are child-friendly.
Otherwise, if it's going to be challenging to tug along your pet with you while walking around and sightseeing, then it can be a big bummer to your trip if you have to leave the dog or cat in the hotel anyway. It's unfamiliar territory for them, so chances are they'll be more agitated in the hotel than if you'd left them in the house instead.
Plan Your Journey In Advance
Taking your pets with you as you travel entails a whole lot of planning. So, map out your journey in advance. Plan every single stop you'll be making, how long you'll be on the road, and what modes of transportation you'll be opting for.
Remember to bring their bowl with you on long road trips and to stop for toilet and water breaks. Like humans, your pet will also need room to stretch their legs and get some fresh air.
Also, be gentle with your pet, especially if will be their first time. It may be better for you to cut the car trips into short journeys. If travelling far isn't a problem for your dog, you don't have to be as concerned.
Pack All Their Essentials
Your pet will relish this opportunity to see new places, meet new people, and perhaps interact with other pets. So, you may count on them to be quite a happy trooper. However, you must do your part as their pet parent to ensure they stay comfortable and meet all their needs.
Start with the basics: their food and water bowl, leash, and a few of their toys. Depending on the law of the country you're taking the pet to, they may also be required to keep on a collar with their ID tag the whole time. In case they get lost, the authorities know how to contact you.
It's worth bringing your pet's clothes, blanket, and a few other extra items if they're used to wearing them. Allocate a portion of your suitcase weight to your pet's needs so you're certain they have all they need.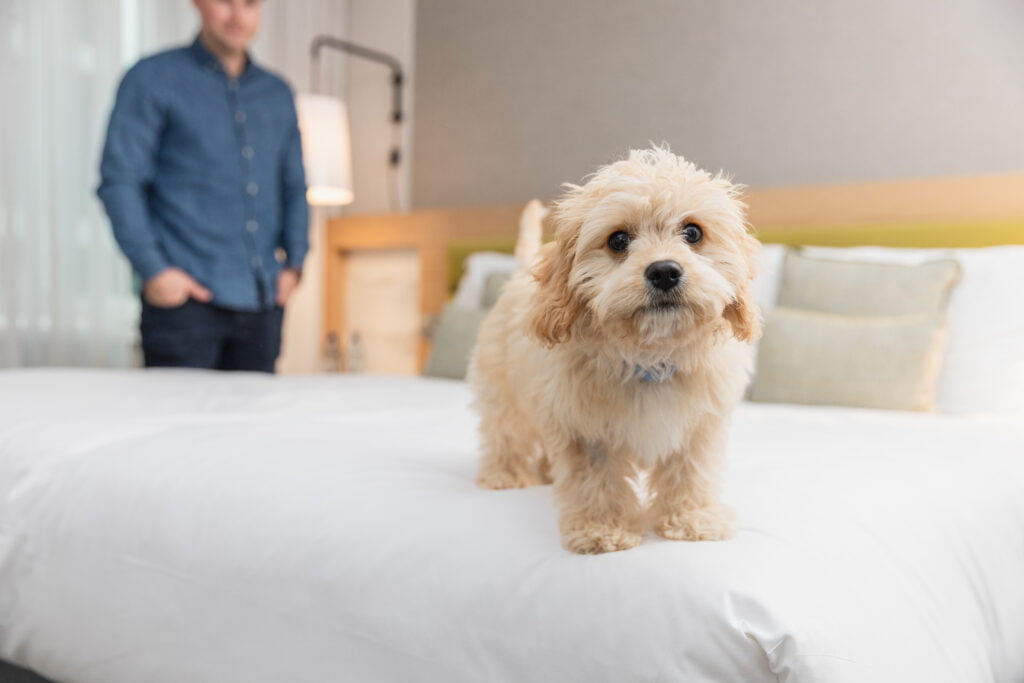 Create A List Of Veterinarians, Just In Case
Before you go on your holiday, it's a prudent course of action to bring your pet for a pre-departure wellness check. During that visit to your trusted local vet, also ask them for contact information of any veterinarian they may personally know if in the country or state you're visiting. If they don't, a quick search through Google will give you information on other reputable veterinarians in that place you're visiting.
Hopefully, you're not going to need a trip to the vet. But, just in case you do, it pays to know whom to call ASAP.
Conclusion
With the tips above, are you now feeling more confident in the possibility of taking your pets with you on holiday? It's a lot to prepare for, that's for sure. But, if the exchange has happy and satisfied pets, all that effort will truly be worth it.
Now you won't feel so bad about seeing new places but leaving your beloved fur baby behind. They can be like the jet-setter that you are, as well.