Unless you've been under a rock, you will know at least some information about gut health and why good gut health is so important. Perhaps you've been adding probiotic drinks to your shopping basket for a while now, or maybe you've been sampling a range of different yoghurts claiming to improve gut health. Perhaps, you've even been taking a probiotic supplement, or giving one to your children. Of course, if anyone in your family has been on antibiotics recently, this will be especially important and probiotics can help reduce the risk of diarrhoea and restore your gut microbiota to a healthy state.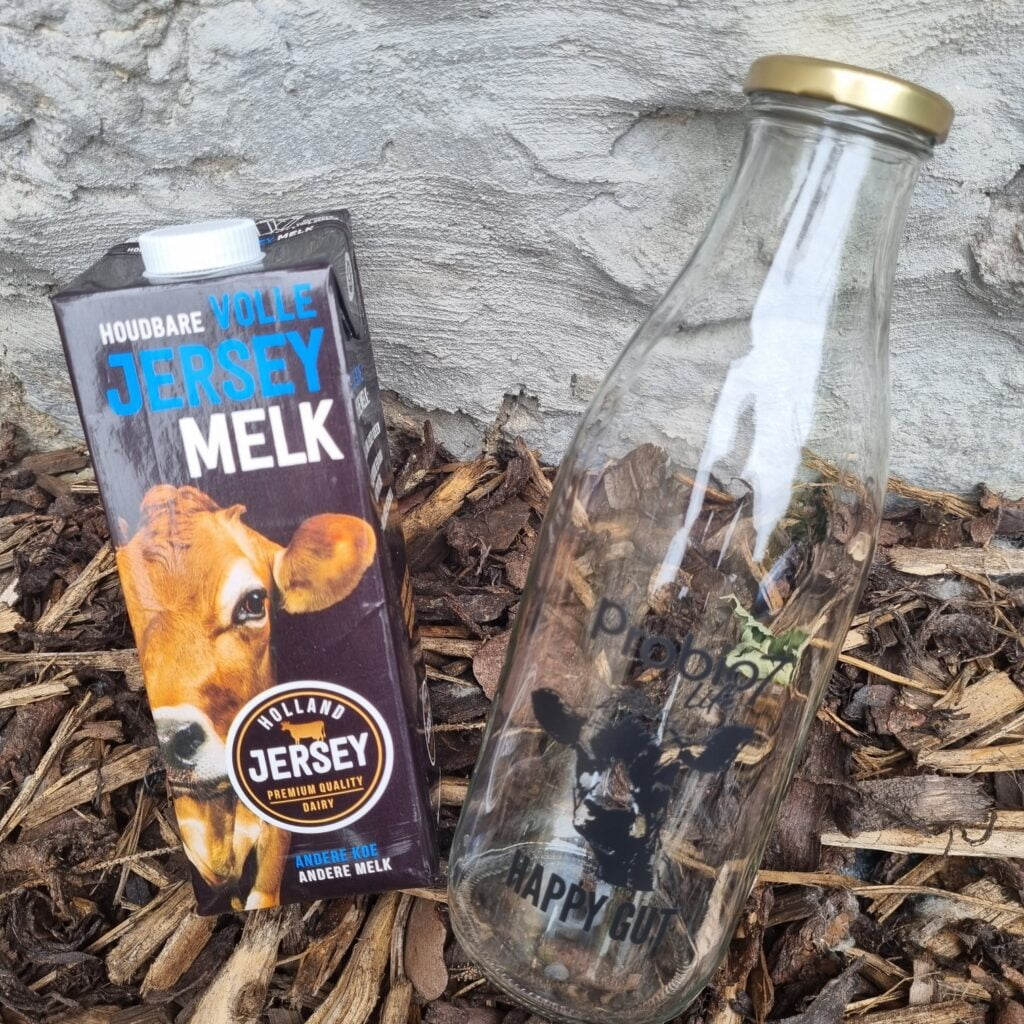 What if you could make your own live yoghurt at home? In the same way that you can bake your own bread in a machine, you can now make your own live yoghurt with the help of the Probio7 Life Yoghurt Making Kit.
Many people are now starting to understand that consuming fermented foods regularly provides an array of health benefits, and with time on our side during lockdowns fermenting foods at home have had a big moment! For those looking to support gut health through diet whilst lowering their ecological footprint, the Probio7 Life may come as a welcome addition to your morning routine.
How is it better than store bought?
Unlike store-bought yogurts and bacteria starter mixes, you know exactly what you're getting. As one of the UK's most trusted friendly bacteria supplement brands, the kit contains Probio7's high-quality Happy Gut bacteria to add to your daily yogurt, ensuring that each serving delivers 6 billion friendly bacteria from 3 well-researched strains, selected specifically to support your gut health.
Jersey milk is the milk used in this live yoghurt production. Jersey milk is rich in calcium, a good source of protein and contains vitamin B2 and B12. Jersey milk also contains a relatively large amount of protein – about 20% more than regular milk. The milk is also predominately A2 protein, which is easier to digest.
This means of live yoghurt production is more sustainable. Only 10% of our plastic waste is recycled. Following that statistic, a family consuming 3x 250ml store-bought yogurts per week could waste nearly 200 seals and lids per year. Probio7's kit comes with ceramic, reusable storage pots, so you can cut down your use of single-use plastics.
In addition to this, Jersey cows have a lower ecological footprint compared to other breeds. This is because they have much more efficient digestive systems. They produce more milk, with 30% less feed, which also means 30% less waste!
How to use the kit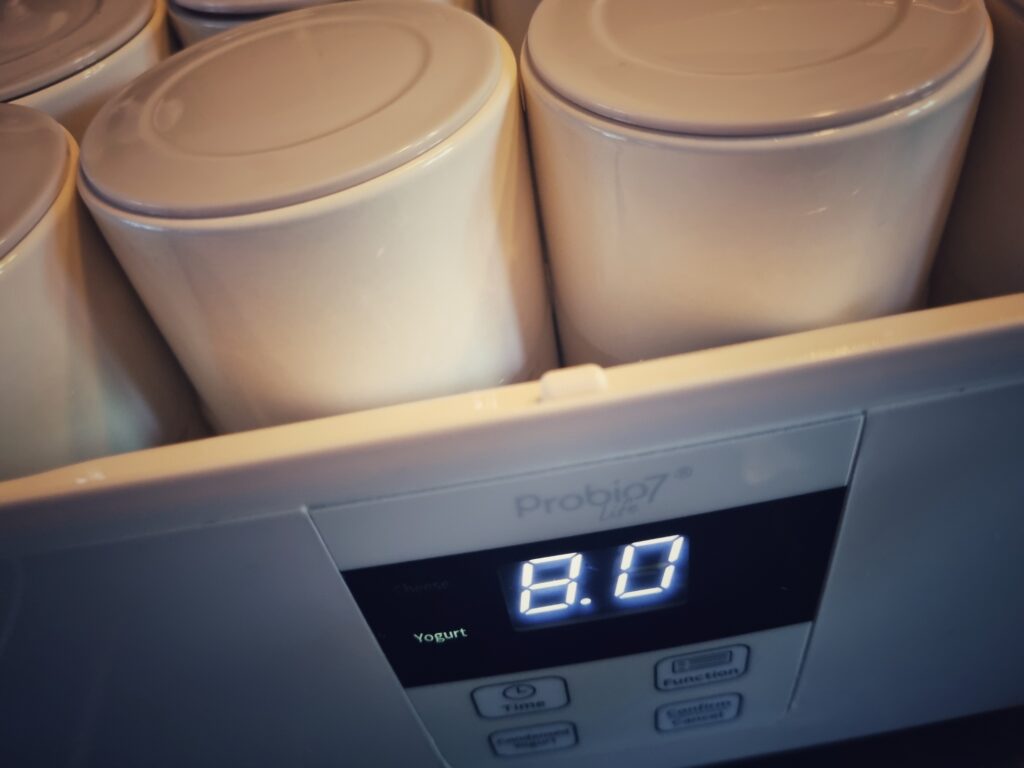 The kit is very easy to set up and use. Here are the simple steps required to make your live yoghurt.
Add 1L of Jersey UHT milk and 1 sachet of Probio7 Happy Gut to your glass mixing bottle. Add the lid, shake it up and transfer evenly to your ceramic pots (decide which size pots your are using beforehand)
Add 400ml of water to your Probio7 Life machine, add your pots. Add the lids to your pots and then close the machine lid
Select the yogurt making function on the machine and you're all set! In 8 hours your yogurt will be ready.
The verdict
Honestly, I loved the process of making the yoghurt. I find cooking and making things in the kitchen quite therapeutic anyway, and this yogurt-making process was no different. It was really easy to do. Not time consuming at all, but a fun process.
Having a couple of different sizes of pots for the yoghurt is really helpful. Personally I love the small pots, but you can chop and change depending on how much space you have in your fridge that day.
With the process taking 8 hours and then requiring a significant amount of refrigeration, this isn't something you can knock together and eat/use straight away. You need to plan this in advance.
My only negative with this kit is the cost of making your own yoghurt. Given the choice, I would always rather make my own everything at home, if that's something I can do. However, with a large family and lots of costs associated with that, you do have to be able to justify the cost of things. Whilst I would prefer not to purchase a store-bought equivalent, if you just looked at the cost, you couldn't justify using the kit. Another way of looking at this is that if you regularly purchase probiotic supplements, as I do, you wouldn't need to if you were consuming this yoghurt on a daily basis, so you could take that off the cost.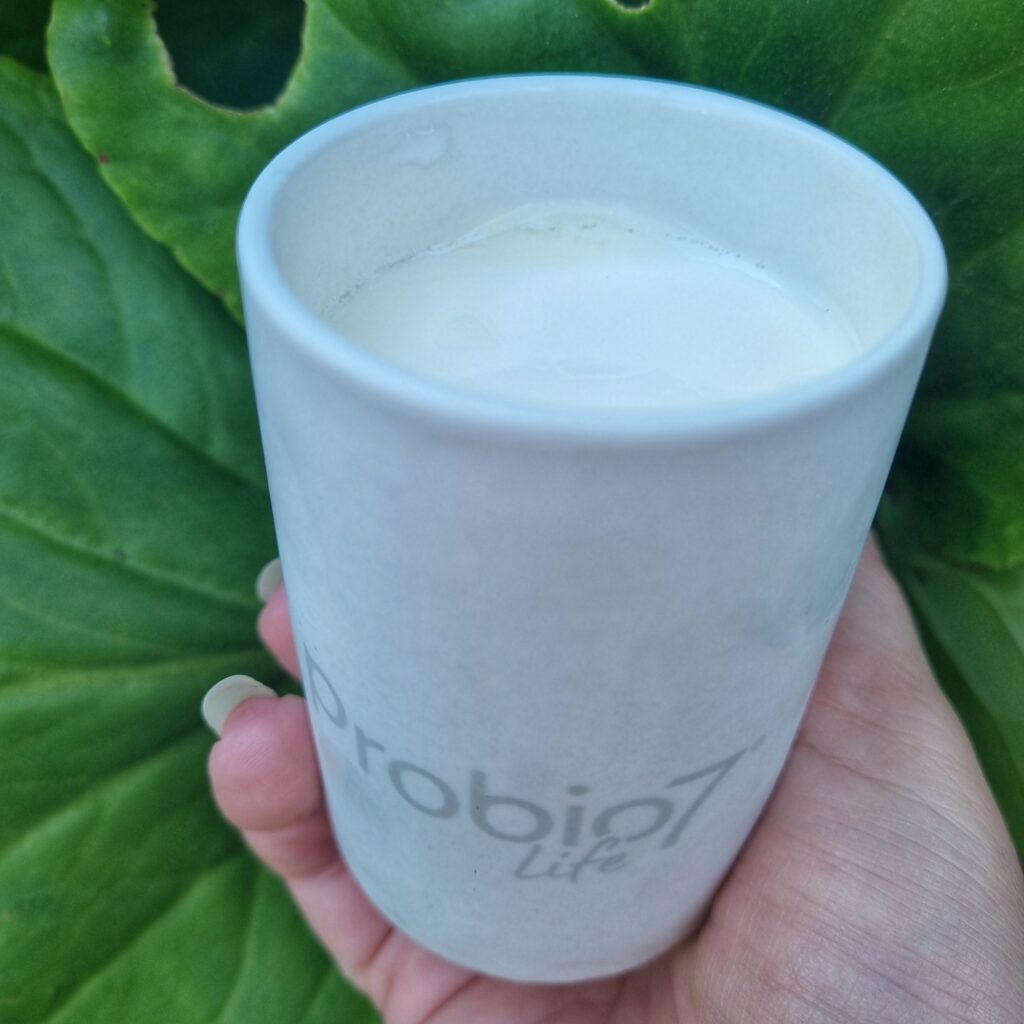 The taste is amazing. We've used it mixed with honey, berries and as a topper on the breakfast pots I make daily. You certainly won't be disappointed on taste and it keeps really well too.
Where can you get the kit?
The Yoghurt Making Kit costs £49.99 and is available from probio7.com. Monthly refills (4x milk and 4x Happy Gut starter) are available for one-time purchase of £25.