As a busy mum in my early 40s I have, for some time been interested in the potential benefits of a collagen supplement.
I've dabbled a bit with these over the last five years or so, trying out different supplements and trying to find one that tasted good, was effective, easy to take on as part of a busy lifestyle and of course, fairly priced.
It's been impossible to find something that ticked all these boxes, so I'd basically stopped taking anything, rather disheartened if I'm honest.
I wasn't impressed with any of the supplements I tried in terms of taking them long term. They were all pretty expensive, mostly tasted awful and some were not particularly practical with regards to their recommended use.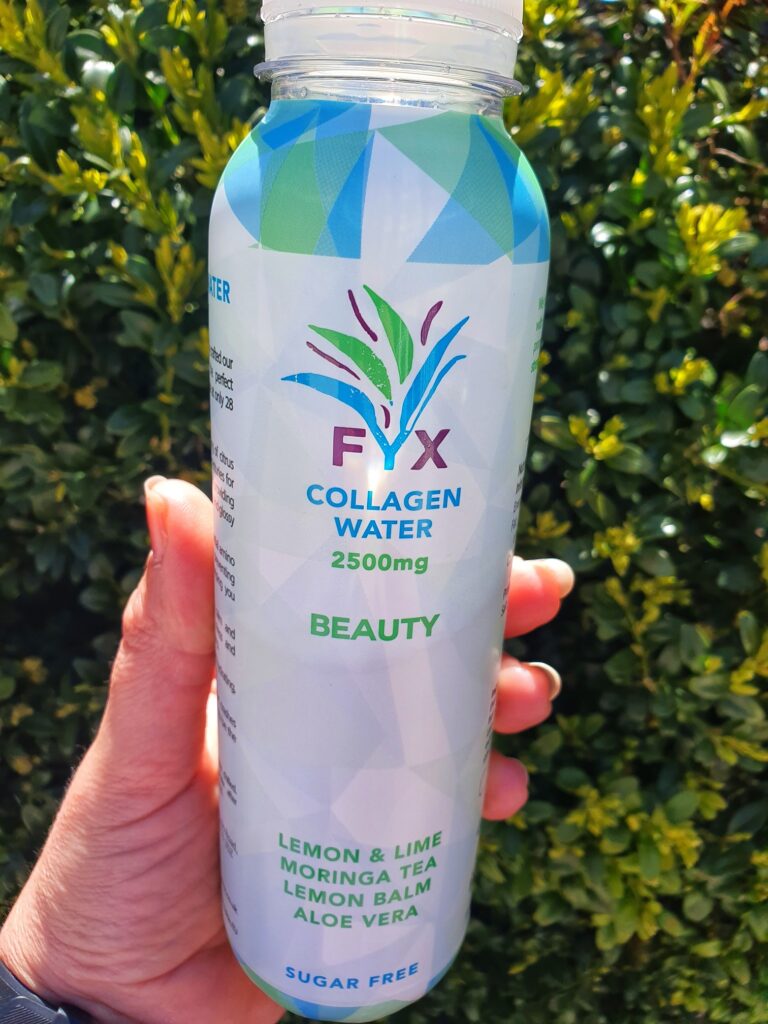 Why do we need collagen?
Collagen is something that is naturally produced in the body. However, when we enter our 20s, our bodies start to produce less collagen and this deteriorates year after year. This has a range of knock -on effects on health as the years pass by.
Collagen is a protein that is an important part of connective tissues in the body. A loss of collagen can cause the skin to lose elasticity, cause stiff joints, an increase in the formation of wrinkles and sagging, and also make the skin vulnerable to being easily damaged.
Given this, there have been a huge number of collagen supplements developed. Some studies show that taking collagen supplements for several months can improve skin elasticity, and therefore improve wrinkles and roughness, as well as reduce the signs of aging. Other studies have shown that taking collagen can increase density in bones weakened with age and can improve joint, back and knee pain.
How can FYX help?
I have recently been introduced to the fantastic duo behind a new brand of Collagen Water. FYX is a new collagen drink designed for anyone interested in sports nutrition, anti-ageing or joint repair.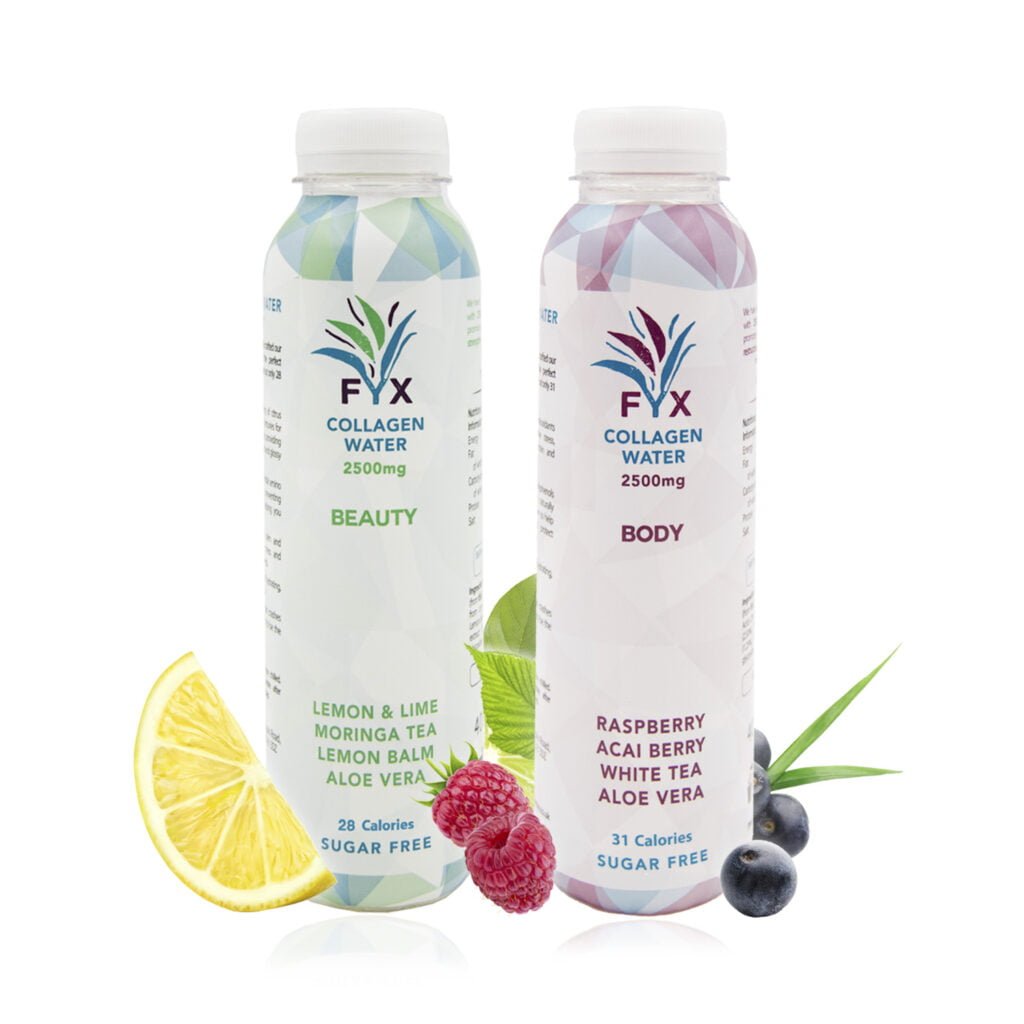 The team have spent years developing their knowledge of collagen and perfecting their product and now it is ready. They use the very best grade of collagen in their flavoured water. Each bottle contains 2500mg of marine Collagen. Whilst many supplements contain more, the body can only consume a certain amount of protein at any one time. Consuming a higher volume of collagen in one dose could disperse into other parts of your body but it it's more likely that your body will be unable to process the higher volume and remove it.
What's great about FYX?
Firstly it is easy to take. It comes ready to drink in a 400ml bottle. Easy to grab from the fridge and go and therefore so easy to combine with a busy lifestyle. There is no faff, no mixing with water, no blending into a smoothie, just chill and enjoy!
It's low calorie at just 31 calories per bottle, it won't have a detrimental impact on any calorie counting you might be doing.
It tastes great – possibly the best thing about it. Zero aftertaste, just like drinking a really nice refreshing flavoured water, no weird coating left in your mouth either.
Has multiple benefits including anti-oxidant properties, anti-ageing properties, muscle repair benefits, and helps to keep skin, nails and hair in top condition.
And…all for less than the price of a fancy coffee!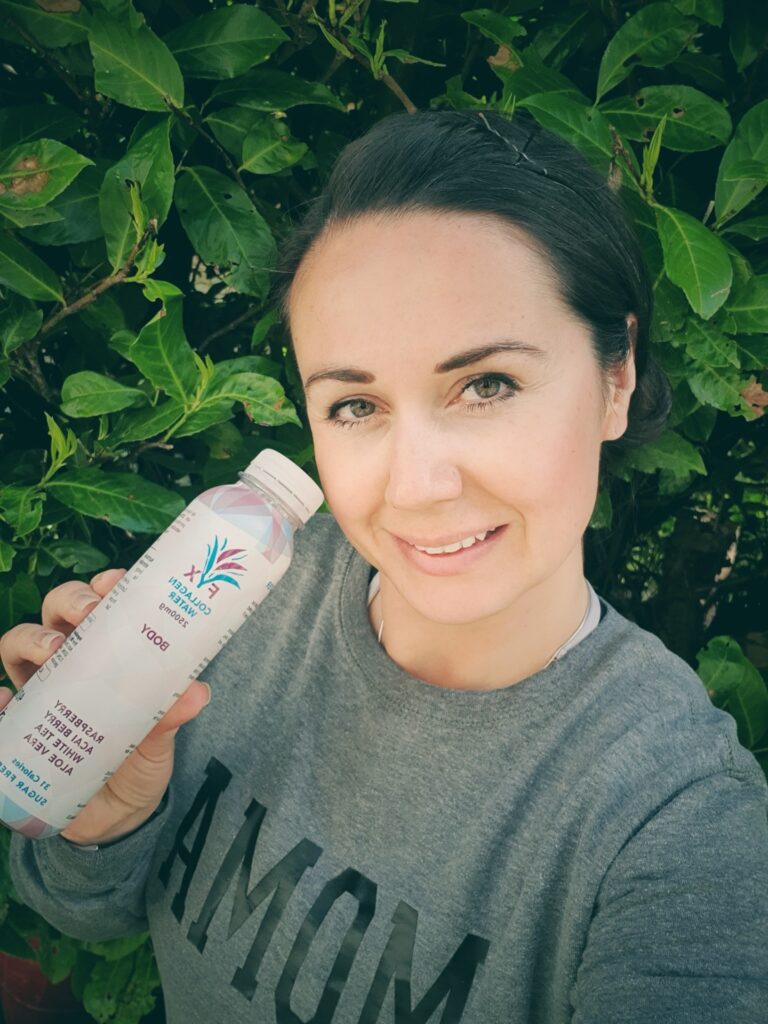 Tell me more
FYX Collagen Water comes in two tasty flavours. BODY – Raspberry, Acai Berry, White Tea and Aloe Vera. BEAUTY – Lemon & Lime, Moringa Tea, Lemon Balm and Aloe Vera.
FYX is just 31 calories a bottle and contains no added sugar or artificial ingredients. It is best served chilled and can be enjoyed anytime of the day. I like to drink the Beauty in the morning and the Body in the afternoon. They also make great hydrating drinks during a workout.
This Collagen Water is basically suitable for anyone, with the exception of anyone with a fish allergy, vegans, anyone who is pregnant or breastfeeding. My teenage daughter has been drinking the Beauty one daily for a few weeks now and she has noticed a difference in the smoothness of her skin and seems to be having less break outs. Personally I suffer with very stiff joints and have done for years. I noticed that after the second week of drinking FYX this has reduced, so I fully intend to keep this new regime up and monitor any further improvements.
Where can I get it?
If this sounds like your kind of collagen supplement you can find out more about FYX over on Instagram and Facebook.
FYX launched on 16th April 2021 – available from www.fyxme.co.uk and soon after in natural food stores, independent health outlets, and gyms.
Each 400ml bottle of FYX has an RRP of £1.99
Win a starter pack
If you'd like to be in with a chance of winning a starter pack of FYX, head over to the competition I'm currently running.