What is a treat? When you tell your children you have a treat for them, what are they thinking it might be? A trip out? A new toy? Sweets? What is a treat for you?
I guess it depends on what you definition of a 'treat' is. For me it's something different, or something you don't have often, or even something you really like that you don't have every day.
The point is that 'treats' don't have to be unhealthy, sugary nonsense. We've recently come across Treat Trunk, the monthly subscription box with a difference.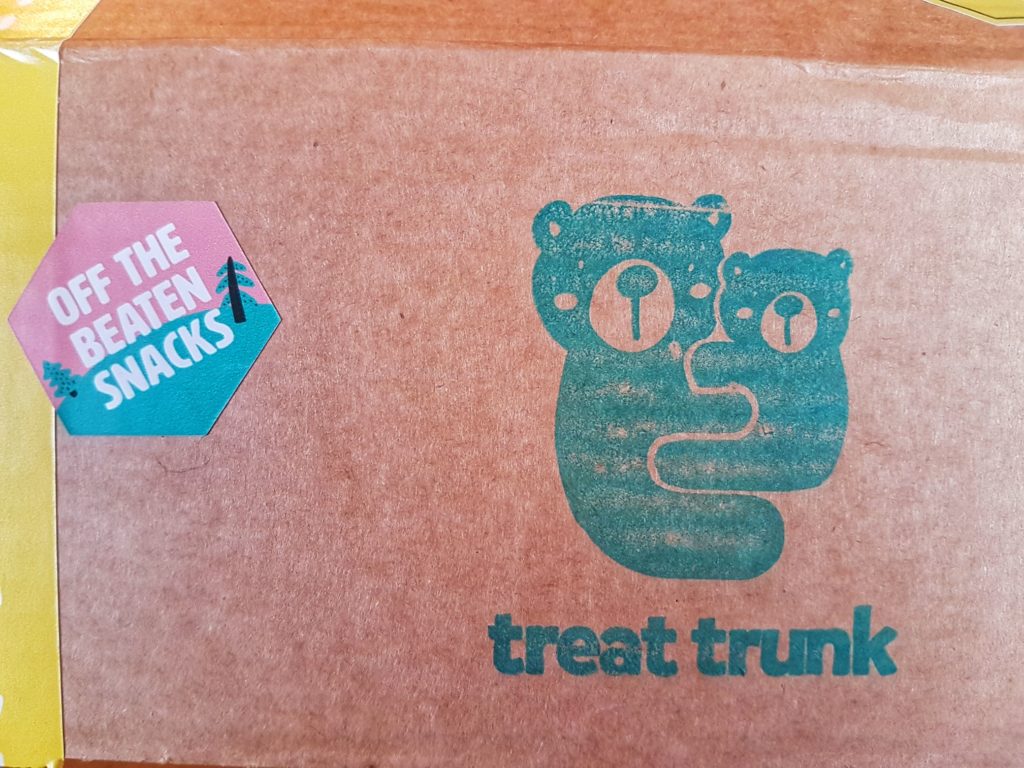 What's it all about?
Treat Trunk was created by one mum on a mission to share her learning and passion for healthy eating. Treat Trunk was created with both children and parents in mind, to bring the family together. Each month a box is sent out with a selection of snacks specifically aimed at both parents and children too.
How does it work?
Each standard Treat Trunk is filled with 20-25 'different', high quality, natural snacks and then delivered directly to your door.
There is also a Treat Trunk 'Mini' with 10-15 healthy, vegan snacks – great for those of you wanting to try out a smaller box first. You can easily switch between the two options by logging into your account.
There are three subscription options that you can sign up for:
Monthly Treat Adventure – 1 Trunk every month (£35.99 a month) 
Quarterly Treat Adventure – 1 Trunk every 3 months (£35.99 every 3 months)
Monthly Mini Treat Adventure – 1 Mini Trunk every month (£19.99 every month)
Subscriptions are easy to amend and cancel so no need to be concerned about awkward explanations or a difficult process if you change your mind! Just head to the My Account section and choose the relevant option.
Maybe you know someone who would like a box as a gift? They also offer one off 'gift' Treat Trunks. These 'gift' Treat Trunks are £23.99 or £39.99 each, come with optional gift wrapping and you'll get 10% off if you are a subscriber already.
Whether you buy a subscription or a gift, you can enter the name(s) of the lucky people who will be enjoying the Trunk, and they will personalise the Trunk. The contents are a secret, but if you need to know anything specific, just drop Treat Trunk a quick email.
What sort of things are inside?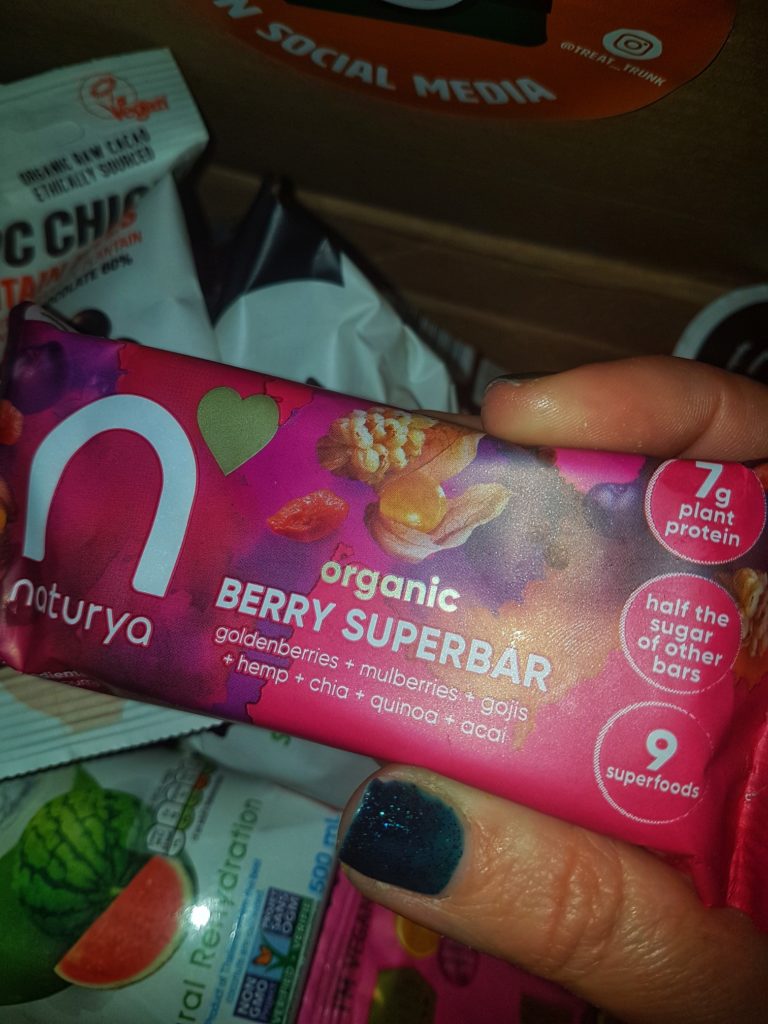 The contents of the trunk varies from month to month, which keeps it interesting, but as an example here are a few of the products inside February's box:
Air Dried Pear Crisps
Natural Soft Liquorice Bears
Choc Chick Plantain Bites
Savoury Porridge
Fruit & Nut Nibbles
Almond Biscotti
Cardamon & Rose Green Tea
Lavender & Pear Green Tea
Mango & Apple Yo Yo
Pineapple Yo Yo
Almond Kale Protein Energy Ball
Coffee & Walnut Fruit and Nut Bar
5-Fruit Salad Bar
Halva with Coconut Syrup
Organic Raw Chocolate
Cacao and Orange and Acai Brownie Bar
Hazelnut Praline Dark Chocolate Bar
Apple & Blacurrant Pure Fruit Shapes
Salted Caramel Fruit & Nut Bar
What did we think?
I have to say this is certainly my kind of subscription box. I love the fact that there is something in the box for every memeber of the family. I also love the fact that the products inside are a bit different, generally not things I could buy in the normal supermarket shop.
I buy the Yo Yo Bears every week as 2/4 of the children love them BUT I can only normally buy the same three flavours, strawberry, raspberry and apple. This box had two flavours I've not seen before.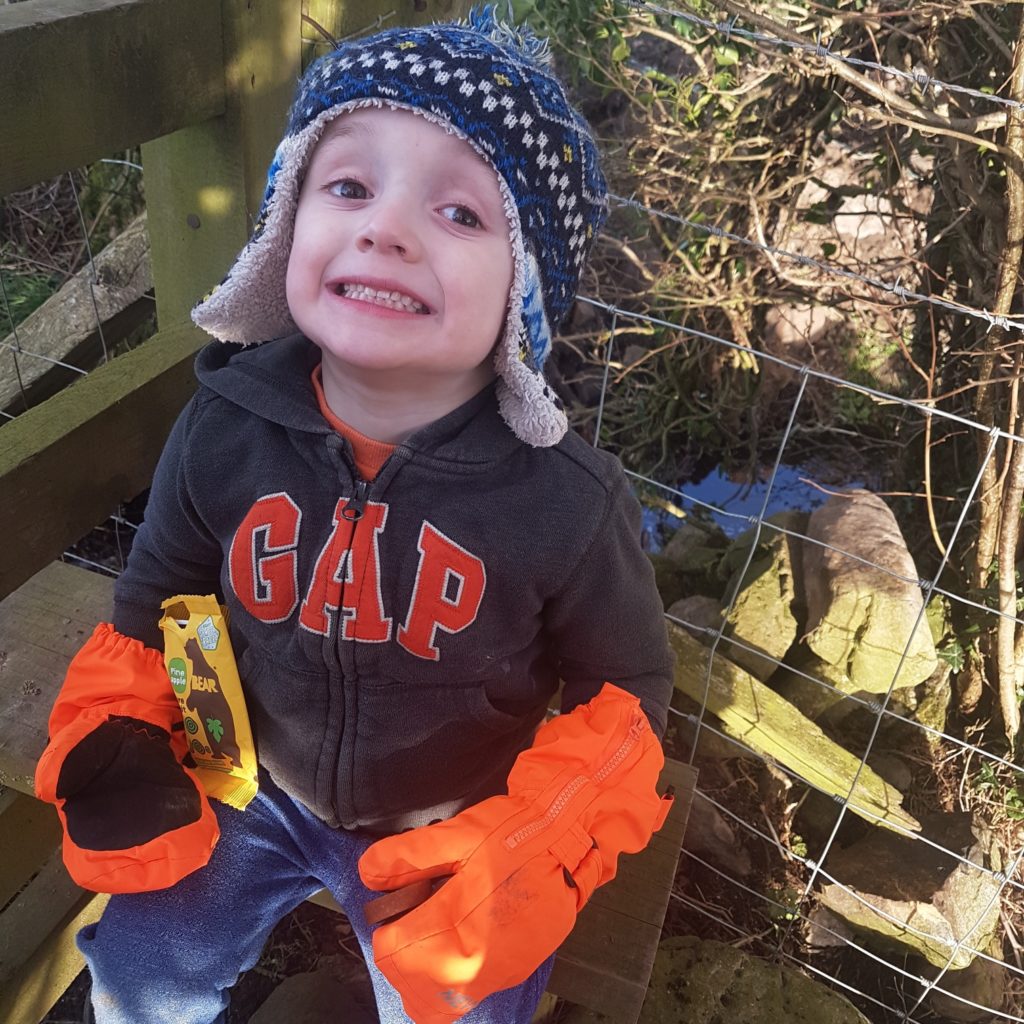 I love the idea of the contents being a surprise. I think that's how subscription boxes should be. I also love the fact you can gift a box – I can think of a few friends who would love one of these as a gift.
I also love the fact that the snacks contain a sensible level of sugar, don't cause any worry to parents are dairy free and also many of them are gluten and wheat free too. Many also contribute to one of your five a day and they are all vegan friendly.
The price is a tricky one. A monthly subscription box would cost £35.99 a month, which sounds expensive BUT, when you look at the quality of the snacks included the price is fair. Snacks of this quality do cost more but what we put into ourselves and our children has huge knock on effects, and I'm not sure you can put a price on that. If you added up how much all these things would cost if you had to source them seperately it would be more than the cost of the Treat Trunk – and who in reality has the time for that anyway?
*We were sent a sample Treak Trunk for the purposes of this review. All opinions are our own*.