It's only a few days now until Father's Day. Have you got all your gifts sorted yet? Need any last minute ideas?
One of the things you can do is to make up a hamper. These are great ideas for birthdays and Christmas as well, so if you are ever stuck for a gift have a think about what sorts of things would go down well in a hamper.
Perhaps you could put together a hamper of sweets and chocolates if they have a sweet tooth?
Perhaps you could put together a box of beers, maybe a selection of different ones to try?
It might be a hamper of cheese and crackers?
It might be everything they need for a movie night in, the latest DVD blockbuster, popcorn, their favourite tipple etc.
It might even be a pamper box, you could include aftershave, moisturiser, shaving cream, hair gel or anything else they use in the bathroom.
Here's an example that includes a range of male grooming products you might want to consider.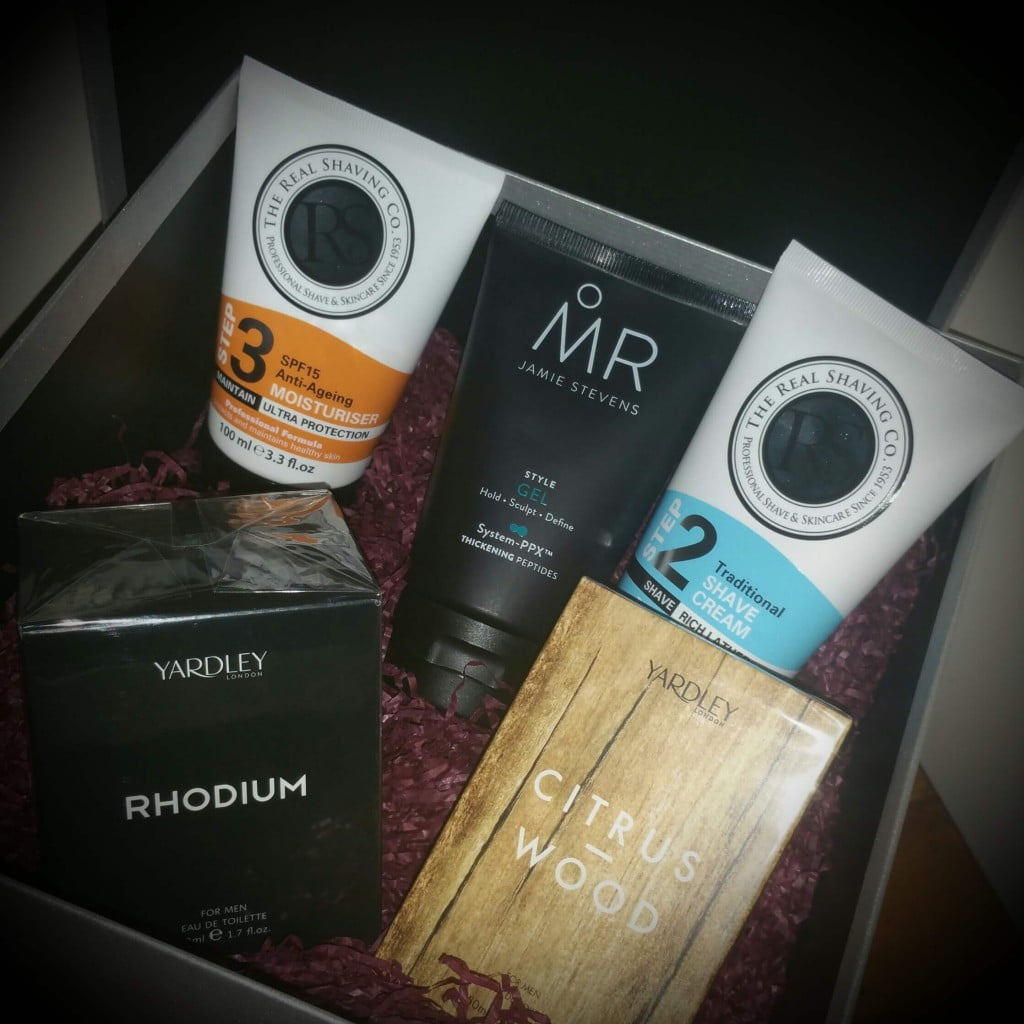 Yardley London's men's fragrance collection is bound to please with scents to suit the sophisticated dad, the urbanite dad, the mod dad and the dapper dad. Whether you're buying for your own father, your children's daddy, or the father figure in your life this Father's Day, Yardley London has a men's fragrance with his name on it. Perhaps a stylish scent fits your daddy cool, or you're looking for an intriguing fragrance for your urbanite father, it's easy to find a thoughtful gift from Yardley London Men's collection.
1770 by Yardley London (£19.99 / 50ml)
Perfect for…The sophisticated dad
Ink by Yardley London (£19.99 / 50ml)
Perfect for…The urbanite dad
Rhodium by Yardley London (£19.99 / 50ml)
Perfect for…The mod dad
Citrus Wood by Yardley London (£19.99 / 50ml)
Perfect for…The dapper dad
The next generation in men's haircare. MR. is the ultimate premium haircare system designed to combat the challenges of thinning hair, whilst being perfectly suitable for all hair types, to keep it strong and healthy.
If your Dad is blessed with a full head of hair but needs a bit of help on the styling front, MR. has a range of Style products that help support the strength and structure of the hair. There's a whole range to choose from including the MR. Paste, Gel and Beard oil.
Style Gel (£10.00): Long lasting flexible hold for style that maintains memory and is humidity resistant for 48 hours.
Style Paste (£10.00): A lightweight, smooth paste that will tame unruly hair while adding texture and definition to your style. Its unique styling system combines microcrystalline waxes with rejuvenating amino acids.
If the hair ship has sailed, but your Dad still has a hirsute face, then the MR. Beard Oil (£10.00) is a great way to show off his best asset and keep it looking groomed.  This hydrating oil moisturises the skin while softening and taming beard hair, it contains anti-oxidant Abyssinian oil to smooth and protect the skins' elasticity and a blend of silicones to condition hair and improve manageability.
Get that special man looking feeling cool and sharp with The Real Shaving Co. It is a globally renowned brand at the forefront of male grooming, offering superior barbershop shave and skincare, since 1953, for impeccably groomed men.
It all began by working alongside some of Britain's finest barbers; together they developed expert, professional products for men, who want that barbershop shave from the comfort of their own home.
SPF 15 Anti-Ageing Moisturiser (£4.99/100ml): which provides a great daily UV protection
Traditional Shave Cream (£3.99/125ml):a creamy shaving wonder product
Make it a special Father's Day, whatever gift you decide to go for.