Living in a rural area we are close to lots of farms and we pass farm traffic several times a day, this might be tractors, trailers and other farm machinery or the animals themselves.
Sheep roam about freely near us, they aren't confined to fields. There are also tons of pheasants, rabbits and of course badgers at night time.
Learning with Schleich
If you haven't heard of Schleich before then do check out their website. If your children are into animals, or dinosaurs in particular, then they are the number one stop for well-made, high quality and realistic figures and toys. They are the most detailed figures I have seen, the attention to detail is really something, making them a great resource for educational play.
These are the types of toys you buy, use for years, clean up and put away for the grandchildren and the great grandchildren – that's the kind of quality I'm talking about.
The educational value in these toys is huge, children can realistically and imaginatively copy the act of looking after the animals in the farmyard.
The Farm World Range
The Farm World range is huge and includes the large farm house, which comes with a whole host of accessories. The attention to detail with the accessories is amazing, from the tiny mouse, to the yard brush, to the mugs and facial detail on the people – all very impressive. It comes complete with fenced paddock and animals.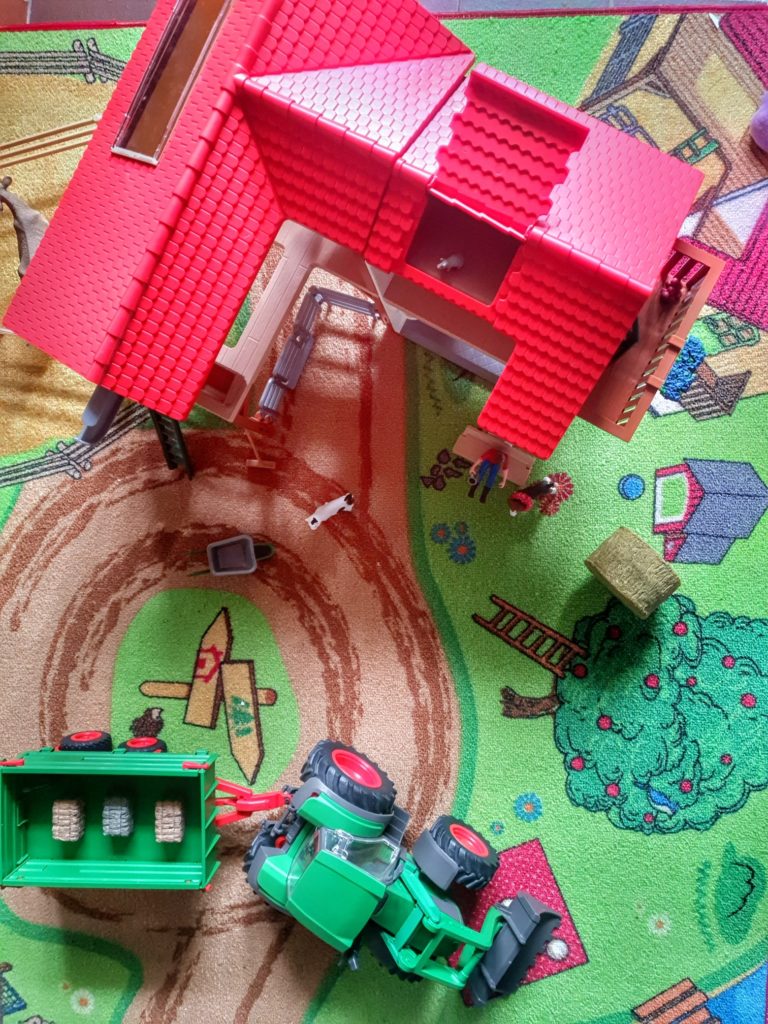 There is a wonderful tractor and trailer set which fits perfectly with the farm. You can load up the trailer with hay bales and transport them to the farm. This comes with a calf and a large round bale. Again, the set is very realistic and encourages children to play and learn at the same time. The windscreen and windows are made of transparent, break-resistant plastic – winner!
The farm playmat, priced at £25.00 is a great addition to the set, or indeed, a lovely stand alone piece to be used with different farm animals or toys your children may already have.
I absolutely love playmats like this. They wear really well, clean up really well and provide hours of creative and imaginative play for children. They really help to set the scene when it comes to small world play, and if you have a tiled or wooden floor they can provide a more comfortable place for children to play.
All these items and many more are available to buy from ARGOS. These are ideal for young children, but, during this period of lockdown also great for encouraging older children to teach younger children through play.
Honestly, you get what you pay for with these toys. The quality is first class and these toys really last.