The autumn term is notorious for bugs and colds. After a long summer, children return to classrooms and share their germs around, taking them home to their families like a new term gift. This year however, well it's 2020, it's no normal year and no normal back to school is it?
After months of lockdown, quarantine and generally not mixing with anyone outside of immediate family, children are back together in classrooms and many adults are now back in the office.
The number of parents I have seen saying their children have been back to school a few days and are now off poorly (not with COVID-19) is huge. There has never been a more important time to give your immune system a boost.
Choosing supplements can be a total minefield. It can be hard sometimes to verify the quality of what you are buying.
What about Liposomal Vitamin C?
YourZooki's unique phospholipid-encapsulation approach uses Liposomes to increase the bioavailability of Vitamin C. Wrapping Vitamin C in 'Liposomes' has been shown to make it over 50% more bioavailable. Simply put, bioavailability is the amount of an ingredient that actually gets absorbed into the body.
YourZooki Vitamin C is the only 100% natural and alcohol free Liposomal Vitamin C on the market. The 1000mg sachets are also vegan, dairy, soy and gluten-free.
Adults can take a sachet daily, or less frequently as a boost. Children 14 and over can take the same dose. Children under the age of 13 do not need a full sachet, and if they have too much it may temporarily upset their stomach. To manage how much to give to children, YourZooki recommend mixing with a small amount of water, adding it to yoghurt or giving it them off a teaspoon. They recommend ages 4 – 8 have up to one teaspoon daily and children 8 – 13 have half a sachet.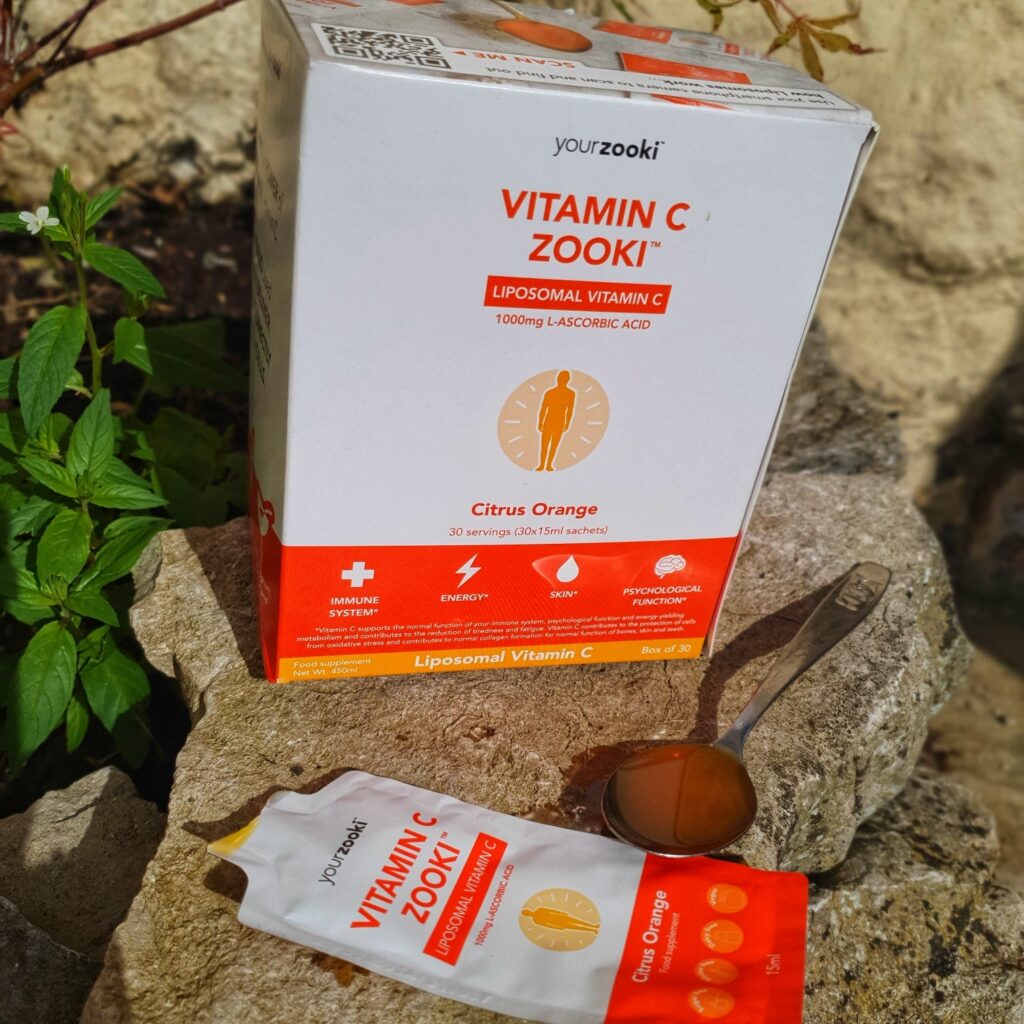 This is so easy to take, add to water or juice, great on top of porridge or just straight from the sachet.
What are the benefits?
Benefits of taking YourZooki Vitamin C include: supporting Immune health, reducing fatigue, helping collagen synthesis, protects against oxidative stress, increased iron absorption, promoting healthy gums, teeth, cartilage, blood vessels, bones & nervous system, and the regeneration of Vitamin E.
Why is Liposomal Vitamin C the most effective?
Liposomes protect Vitamin C from the harsh environment of the gastrointestinal tract.
Liposomes make it easier for our cells to absorb Vitamin C in that window of opportunity, after the initial blood spike.
By surrounding Vitamin C in a phospholipid bi-layer, the same thing that surrounds our cells, we can speed up the rate at which our cells absorb Vitamin C from the blood.
Liposomes easily merge with our cell membranes, crucially by-passing the traditional protein channels our cells use to absorb Vitamin C which act as bottlenecks for cellular absorption.
Top three reasons people take Vitamin C
To support the immune system and deal with stress, illness & inflammation. 
To contribute to the reduction of tiredness & fatigue and maintain normal psychological function
To contribute to collagen production and reduce the signs of ageing, along with strengthening nails & hair. 
Support during COVID-19
YourZooki is also gifting frontline workers care packs to help support their immune systems. The Liposomal Vitamin C brand has responded to the crisis by delivering over 9000 care packages to Nurses, Police Officers and Delivery Drivers. 
Where can you get it?
Retailers include Amazon, John Bell & Croyden, QVC, Harrods, Wholefoods, Selfridges, Revital, Planet Organic, As Nature intended – as well as a range of independent pharmacies & health stores across the UK.