It is hard for golf to shake its image as a sport for the elite upper classes. 'Golf' conjures up stereotypes of older gentleman sipping champagne on a gloriously maintained (and exclusive) course in the middle of the countryside.
However, golf is starting to open its doors to those from a variety of backgrounds, and ages, and is promoting inclusivity through the offering of a number of deals to beginner golfers, students and seniors.
Over the last 10 years, it seems that golf has become significantly more accessible and affordable for children and their parents than ever before. With golf clubs and charities, such as the Golf Foundation, committed to giving children and young people the opportunity to experience golf and the benefits it has to offer.
For instance, the vast majority of golf clubs now actively seek to attract junior members and support their development through investment in building more short courses and driving ranges, which are often the perfect starting point for young golfers.
For many parents, getting their children out of the house during school holidays and the weekends can be a chore, when there are other more appealing distractions such as a PlayStation or Xbox.
Introducing your child to golf doesn't have to be boring. Instead of taking your child to a daunting 18-hole golf course, opt for shorter alternatives to give them a snippet of what it could be like. The introduction of crazy golf courses scattered up and down the country, and even footgolf becoming increasingly popular, there are a number of ways to get your kids into golf without setting off squeals and tears. Here are some tips to help youngsters get into the sport:
Keep it short
If you don't have a local golf course that is catered to youngsters, there is no reason you can't use an adult course. However, it is important to remember that children can get bored, and the last thing they want to do is complete a full 18-hole course, that lasts five hours, upon introduction. The key to keeping your children entertained is to keep the game short.
Equip them with the right equipment
It can be difficult to find 'the one' when starting out in golf, as they are often too long, too stiff or too heavy. There are a wide variety of variations of what you can use on the golf course, which are suitable for different needs, such as these golf drivers for beginners. It is important to ensure before starting a game that your child has the right club relative to their height and stamina, so they can maximise their swing to the best of their ability and have the most fun. Make sure you look out for the best golf driver.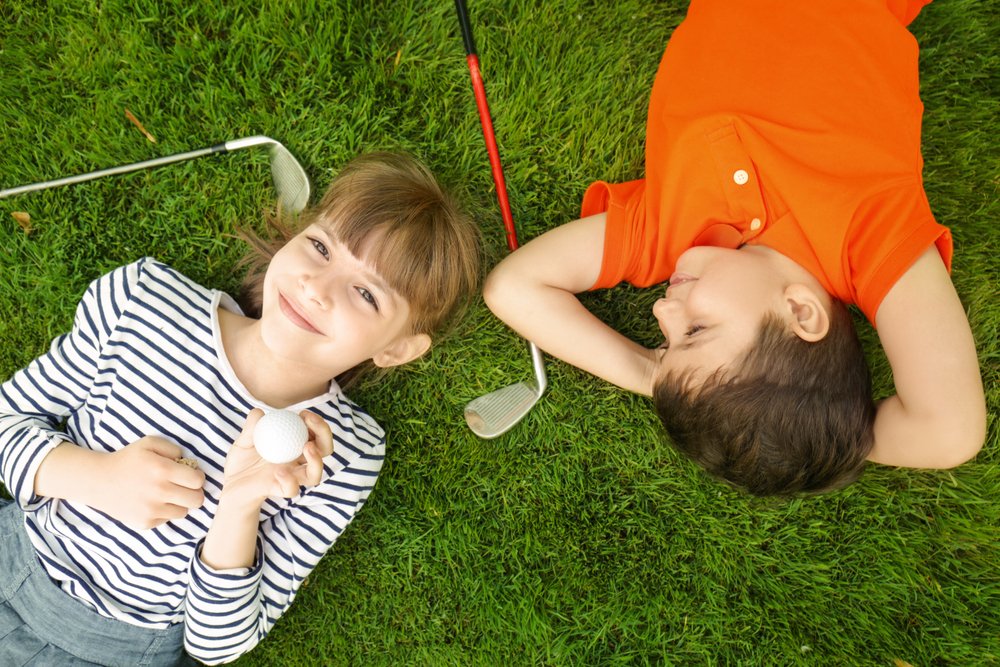 Be patient
The key to anything in life is practice. Children are notoriously better at gripping a sport from a young age, as their attention to detail and perfection is significantly better. When introducing your child to a sport, such as golf, give them enough time to practice to get the most out of activity and reach their full potential.
Keep it fun
Although sport is seen as a serious sport to an adult, to a child it's just another sport to try. It is crucial not to overcomplicate and make it seem difficult, otherwise your child may lose interest quickly.
Give your child plenty of praise, even if their shot wasn't perfect, to help encourage and motivate them to get better. Once you play with your children for longer, the more honest you can be with them – but remember, just relax and have fun, not every child will be the next Tiger Woods so don't pressurise your child to be.
Speak in their language
Children need to understand an idea before they can attempt it. When guiding your child around the course, you must learn to be patient as you explain to them how to play the game in a way they can clearly understand, relative to their age, instead of using complex and confusing terminology.