There are loads of online avenues where people can make money. There are some people who do this full time with huge success. There are others who use it to supplement their income and then there are the unfortunate ones who have been drawn into one or more online scams thinking/hoping it would help them and the reality was quite different.
As with anything, always look carefully at the source of your information and be very wary about giving out your personal details too soon, or without reason.
Whilst there might be the odd huge success story that stands out for you and you want to do the same, why not take it easy and start off small. Perhaps adopting the 'something is better than nothing' approach, especially where minimal effort is required.
In the run up to Christmas, lots of families like to hear about what they can do to save money. Perhaps you are looking for a discount code for that special toy your little one really wants – because there is no point paying full price if you can get a discount is there?
Perhaps, you like saving up gift cards to use as gifts for Christmas or birthdays, or indeed to purchase presents for others?
If you are short on time but would benefit from either of these then Qmee might be of interest to you.
We all know that in today's economy, an extra bit of cash can go a long way. From a trip to the local coffee shop, to a new nail polish, simple daily purchases are part of our lives and can quickly add up. You can't move very far without spending money these days, so wouldn't it be great to add a little to your piggy bank to help with everyday expenses?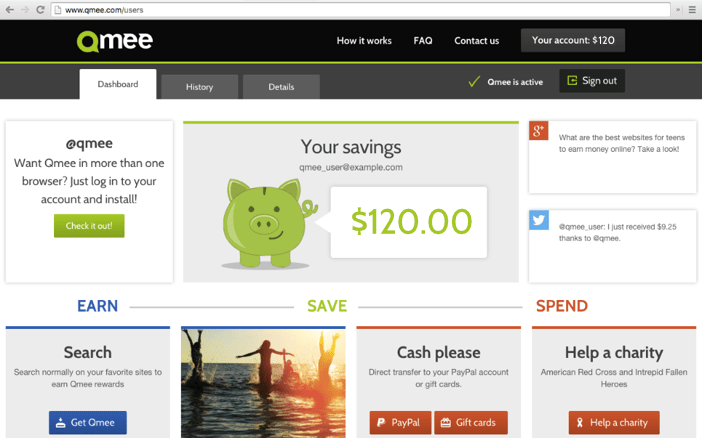 Well with Qmee, you can do just that! Qmee is your personal online shopping companion that puts money back in your wallet! Good right? That's what we like to hear!
So what is Qmee? Basically it is an online shopping tool allowing you to earn cash rewards, gain access to great offers and money saving deals, that can help you manage everyday expenses. It is a clever bit of tech that works quietly in the background as you go about your daily online affairs – ideal for anyone who performs lots of online searches and shopping.
One you've installed the Qmee tool, an easy two second job, you don't have to do anything, just sit back, relax and get cash rewards and money saving deals straight to you. Qmee works in the background and will only show results when it is relevant, so you'll get paid or save money by just doing what you usually do online. Perfect for those tight on time. Go to www.qmee.com, register and install to become part of the club and watch your cash grow in your online piggy bank.
Once you are part of the Qmee club, you'll get cash rewards and save money for shopping on your favorite sites and engaging with your favorite brands. As well as keyword search results with cash rewards you'll also see results in your Qmee sidebar that provide you with discount codes, and automatic price comparisons as well, to help you save as much money as possible when shopping online. This can also be a massive time saver. I don't know if you've ever hunted for a discount code for something specific and been frustrated by the number of dead ends you reach before you hit upon one that will actually work, is valid for that specific product and still in date – here you don't have to go to different sites, Qmee does all the legwork for you and is the perfect one-stop shop for online savings and cash rewards.
For anyone that does have a bit more time and is looking to make a little more online, as an extra bonus, Qmee has just launched their surveys. You'll  be given the chance to earn extra rewards by sharing your thoughts and answering surveys. You'll get paid on every one you complete, so now there are even more ways to make money online. Even if you only have a few minutes here and there it can all add up.
Just collect your cash rewards in your Qmee piggybank and cash out via PayPal at any time, or treat yourself to a gift card or even help a charity – the choice is yours!
In addition to the cash you collect through searching, Qmee will reward you with $1 in your piggybank for every referral you make when that person becomes a Qmee user. Worth a go if you know a few people that might be interested.
It might not seem like a lot at first but extra cash here and there can add up, so why not get something out of searching and shopping online if you're going to be doing it anyway? It really pays to shop and search online with Qmee.
To learn more, you can watch this video on Qmee, or visit the website to try it for yourself.