The mini chefs have been in the kitchen making some free from things recently.
We have been making a few things from the Sukrin range of free from products. I've been overall really impressed with these products, mainly because they are low-carb, all-natural, free-from whole foods, mixes and sugar alternatives – making baking tasty but healthy.
Free from bread is a nightmare to buy – it is expensive and in the main tastes rubbish and often falls apart. We really enjoyed baking the Sukrin Sunflower and Pumpkin Bread, but at £4.45 per mix, it isn't the sort of bread you could have all the time.
It does seem however that you get what you pay for though as this is the best free from bread we have had in a long time.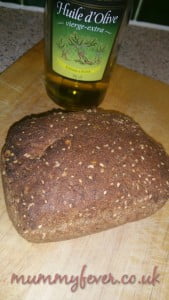 We had some fun making a cake in a cup, but despite following the instructions we managed to explode it in the microwave! Well it was a new take on sensory play at least!
Probably my favourite items from the Sukrin range are the sugar alternatives. These can be used in cooking and baking or even just in drinks or on cereal.
The brown sugar alternative works really well in red onion marmalade – just reduce red onions, balsamic vinegar and Sukrin Gold over a medium heat and you will create a yummy red onion marmalade.
Do you use free from products in your cooking?