No matter how hard you look, you'll probably struggle to find a child that doesn't have a sweet tooth. While a sweet tooth doesn't necessarily mean that your child is consuming too much sugar, it's important to be mindful of just how much you include in their everyday diet.
Research has found that each year the average child consumes a grand total of 400 biscuits, over 120 cakes, buns and pastries, 100 portions of sweets, and 70 chocolate bars – all washed down with over 150 sugary juice drinks or cans of fizzy pop. Understandably, all of this sugar takes its toll on their health both in the short and long term.
There's a major health initiative taking place that's aiming to persuade parents to drastically decrease how much sugar their kids consume, whether that be in sweet snacks or fizzy drinks.  With the Easter bunny having just visited, now is the perfect time to educate parents on the amount of sugar in everyone's favourite Easter treats.
Thankfully, the necessary research was done for us by Simply Education. They found that the Easter treat with the highest percentage of sugar was, in fact, a portion (35g) of Cadbury Mini Eggs. This only proves that even the smallest chocolates can be sugary offenders.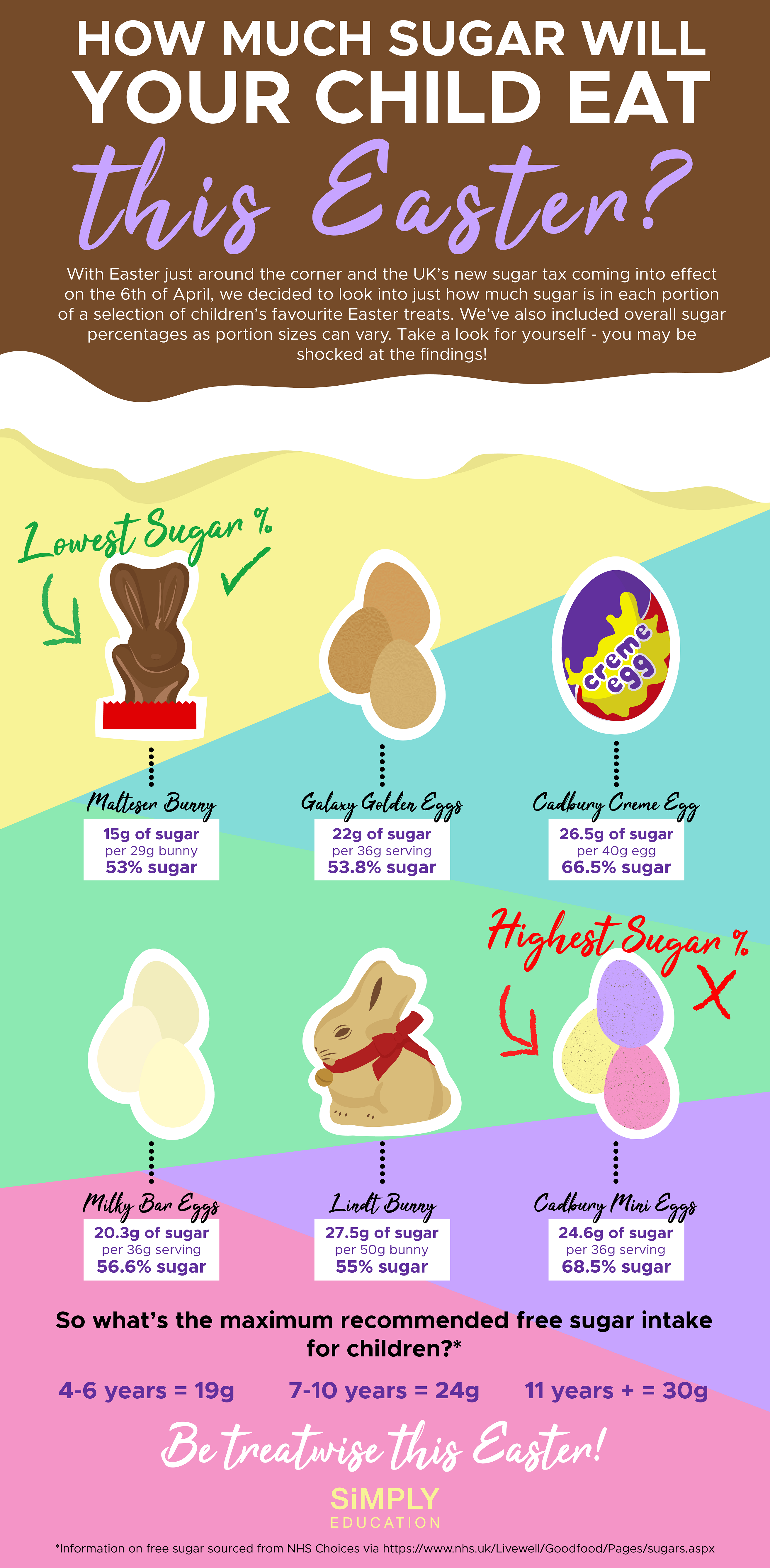 Another major culprit was the sweet we always associate with this time of year – the Cadbury Creme Egg. One of these has 26.5g of sugar, equalling 66.5% of sugar. This is huge considering that health experts recommend children between the ages of 4-6 years should stick to no more than 19g sugar per day. Older children get a little more leeway, at 24g for 7-10-year-olds and 11 years plus capped at 30g.
You'd be surprised at how much sugar is in your own favourite sugary snack. That's why professionals are now recommending that you and your children stick to snacks that are no more than 100 calories and, as a guide, have a maximum of two of these per day. Treat yourself this Easter holiday, but remember to be mindful of what you go for.
Are there any surprises here, or did you already know what had the most and least sugar in?