I love natural skincare. I've always loved making my own body scrubs, face scrubs and hair masks. The hair masks have never quite turned out how I intended but the scrubs are always a winner and during lockdown became really useful.
I'm also a massive fan of green tea and other herbal teas too. I love turmeric tea, ginger tea, honey and lemon tea, apple and cinnamon and even peppermint. After a recent issue with my back, turmeric tea has been really helpful with reducing the inflammation and helping things improve naturally.
My favourite skincare products aside from body scrubs are body oils and face oils, so I was thrilled to recently discover a brand called Tea & Tonic, who not only sell delicious herbal teas, but also incredible skincare products too. Have you heard of them?
Tea & Tonic, are a 100% natural skincare and wellness brand that helps you to discover the secrets to your brightest skin and self. I would say they are aimed at the luxury end of the wellness product market so they might not be for everyone, but if you are looking for a lovely gift for a friend perhaps or a treat for yourself take a look.
Adaptogens and their benefits
The most interesting thing I have discovered about Tea & Tonic products is the adaptogens they contain, basically super herbs that can adapt to the needs of the body. I am truly fascinated by the concept of food and herbs as medicine, in particular the ability of plants to reduce inflammation in the body and the knock-on health benefits that has.
Stress imbalance impacts the functioning of our skin, body and mind, and more specifically it impacts our cortisol and sebum production to digestive system, blood sugar levels, sleep and even through to stamina and cognitive processing! Stress can have so many negative impacts on the body and mind.
These adaptogens are unique non-toxic herbs that literally help our body adapt to varying stresses by re-balancing and improving our resilience. In turn they can aid sleep, energy, relaxation, reduce anxiety, improve memory, general alertness, physical performance and more!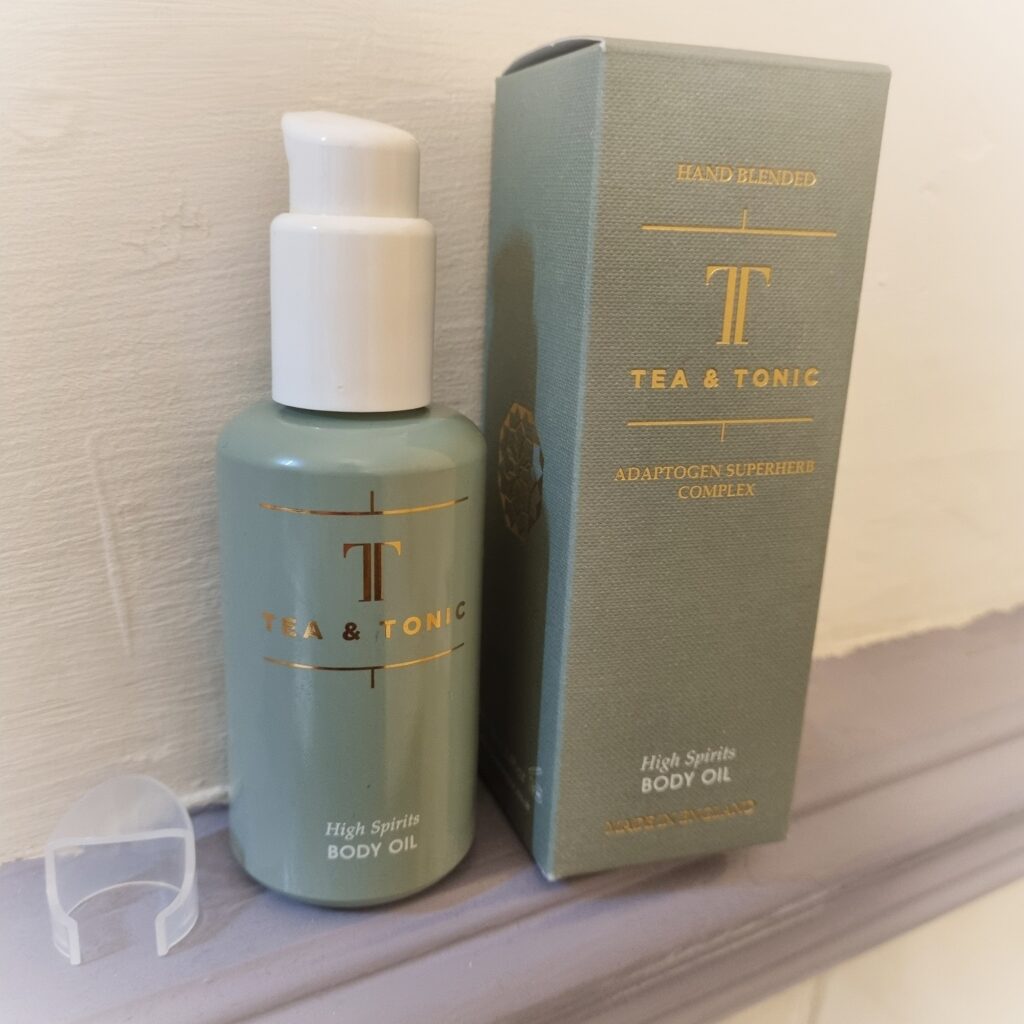 Holistically balance dry, oily or sensitive skin. All of the products sold at Tea & Tonic are hand blended, sustainably sourced, cruelty free and most of them are vegan too!
With a range of teas to drink and oils for the body, you can adopt both an inside out and outside in approach to stress reduction and improved wellness with Tea & Tonic.
The teas taste delish and you can feel the goodness soothing you body, whilst the body oil smells out of this world. Just breathing it in induces a feeling of calm.