When the weather is warm, the children love nothing more than a water fight. When it's warm enough to get the water guns out, they don't hesitate. We've had a range of water shooters over the years and always try to have a bit of a variety when it comes to the type of soakers we have, as some are more suited to younger children and some to older children.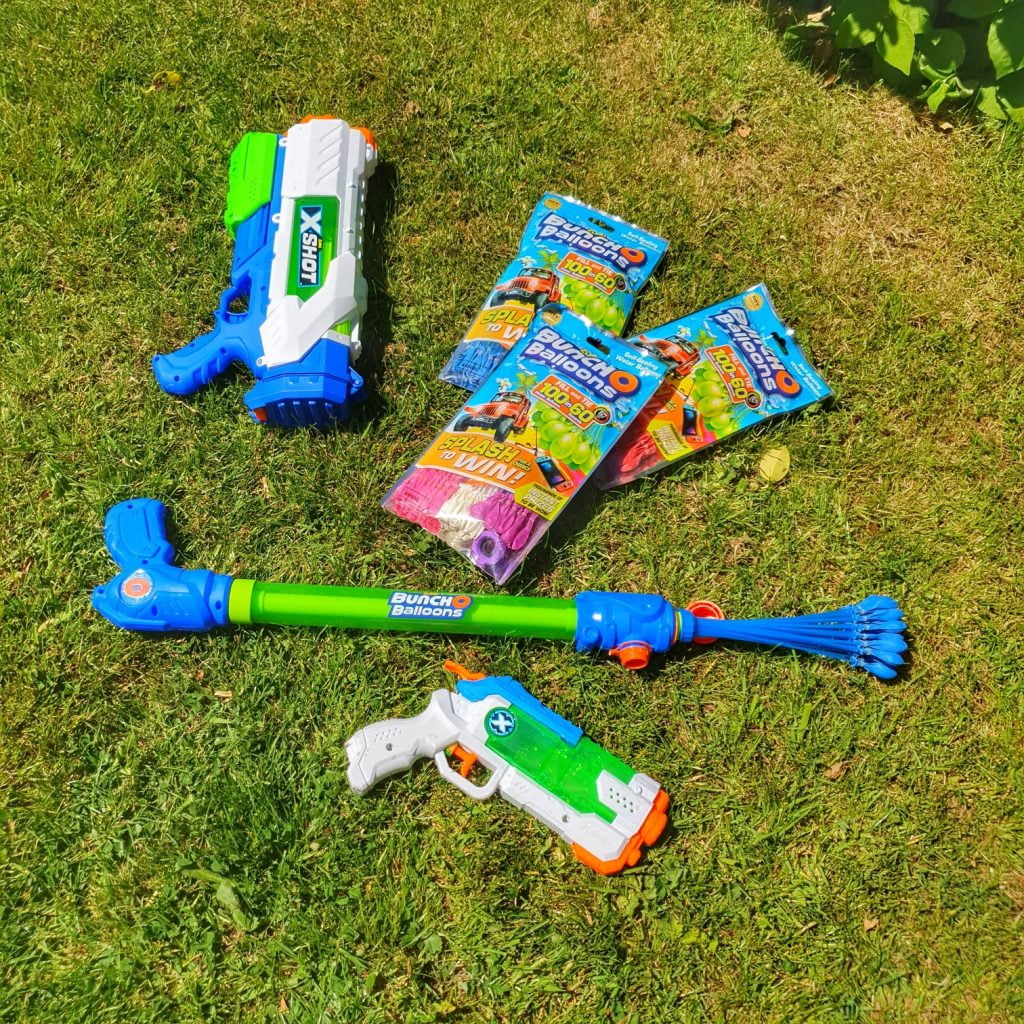 There is nothing more frustrating for a young child trying to join in a water fight than a water shooter that they can't pull the trigger on. Likewise, for an older child, a water gun that trickles out or uses the water in one go, requiring constant refills can also be a bit frustrating.
We've recently been introduced to Zuru BunchOBalloons and Zuru XShot, not a make we've previously tried.
What we've been playing with
We've been trying out a range of water blasters and self-sealing water balloons, which the children have loved. They tested out the water balloons on me and were very disappointed when they bounced off and splashed on the grass, leaving me dry!
Here's a bit more detail about the specific products, but there are tons of games you can play with water balloons – check them out here.
3 x Bunch O Balloons 100 Rapid-Filling Self-Sealing Water Balloons (3 Pack) (rrp: £9.99)
I will let you into a little secret. I've always hated water balloons. Mainly because they take ages to fill, I always end up filling them, and then they take seconds to pop and then the fun is over.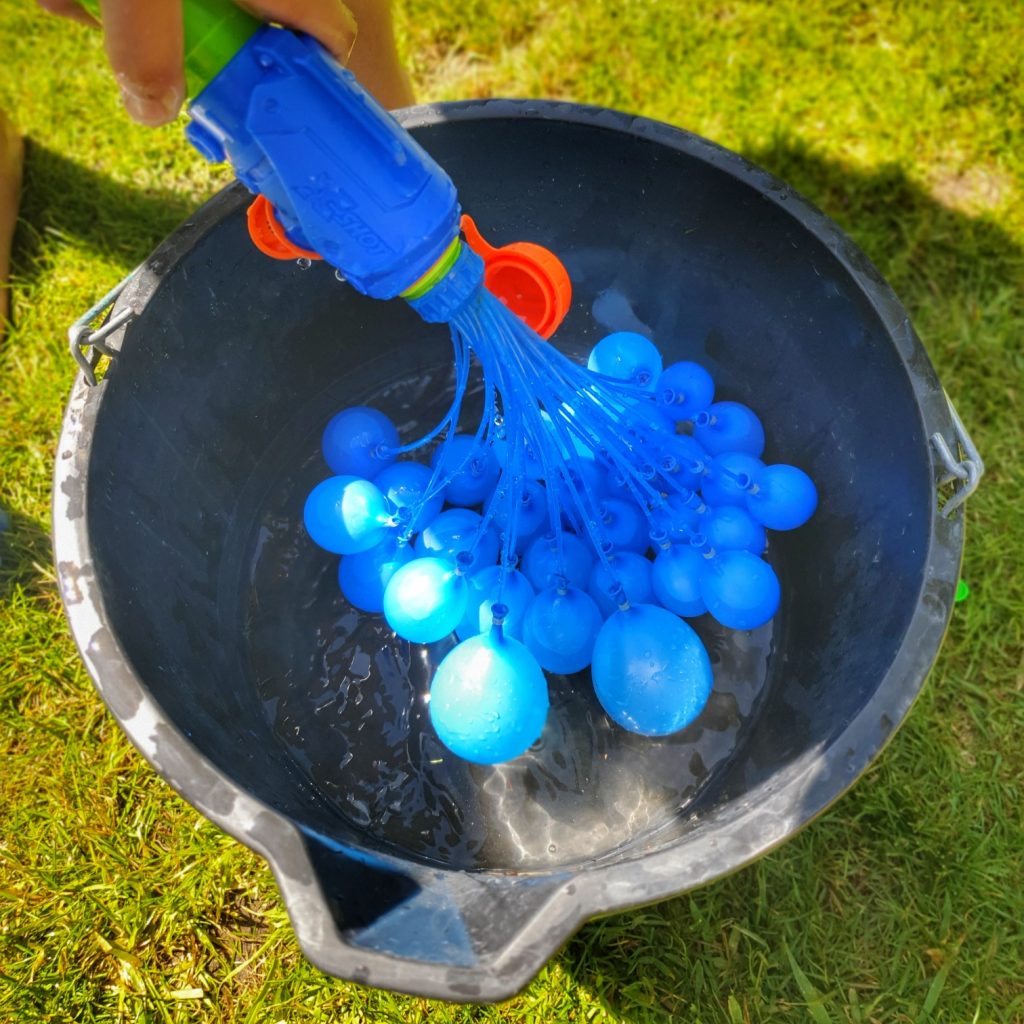 So… I was pretty excited to see how these beauties worked and if they made the process any less painful! Fill and tie 100 water balloons in less than 60 seconds with these sensational self-tying water balloons! With innovative O-Ring technology and 'Rapid Fill' capabilities, say goodbye to the stress and mess of filling individual water balloons and say hello to never ending splash out loud fun! Simply connect, fill and make hundreds of water balloons with no hand-tying.
We tried these on the tap and they were hard work still. However, connect the Bunch O Balloons Water Filler/Soaker and your water balloon life transforms…I'm not even kidding! This dangerous combo is sure to take water fights to the next level! Using the pump you can fill up your Bunch O Balloons at any location.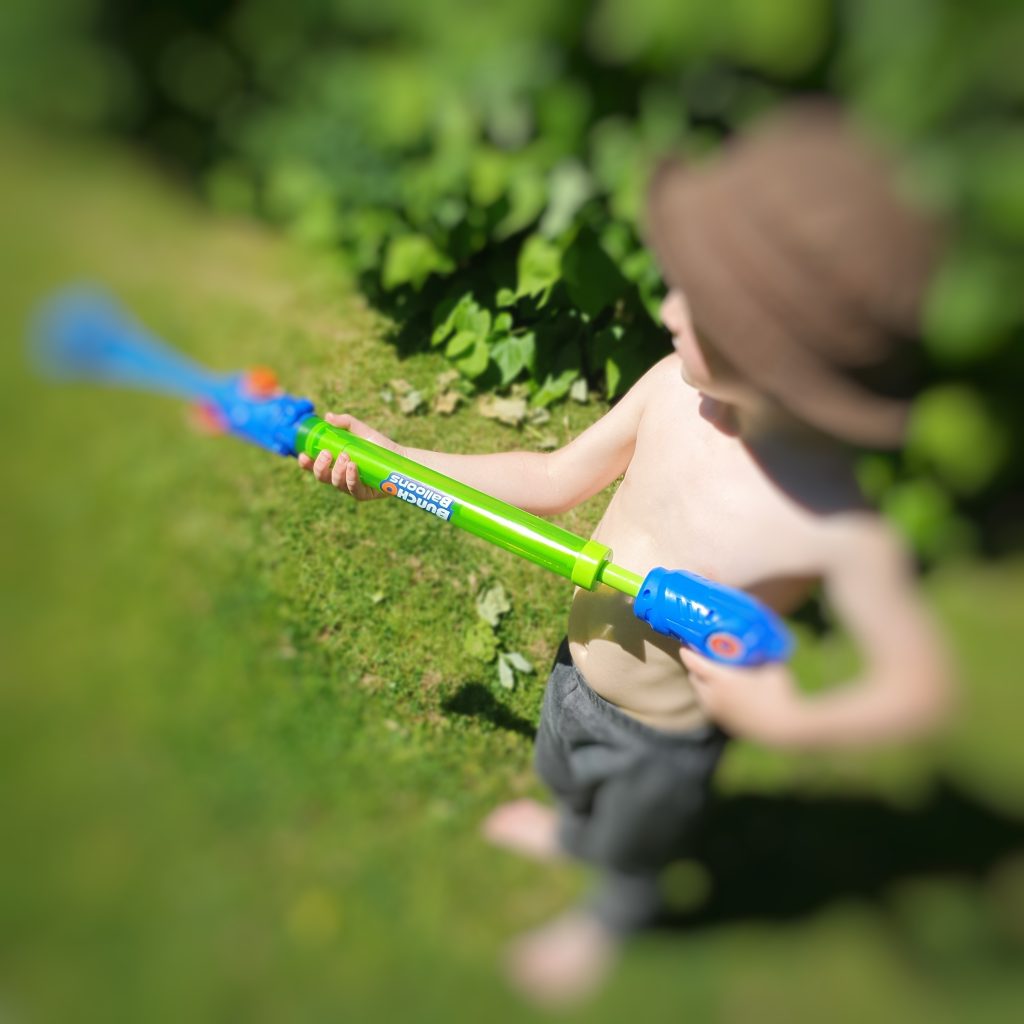 We found that dunking it in a bucket worked the best! SO. VERY. COOL. I mean, where has this been all my parenting life? Can you imagine the sheer joy at not having to stand at an outdoor tap filling and tying water balloons? When they are all out of water balloons, the fight doesn't have to end either! Fill up the Hydro Blaster and drench your target from almost 30ft away! Water fights just got way more extreme!
X-Shot Water Warfare Micro Fast-Fill Water Blaster (rrp: £10.00)
This was very impressive for a small and fairly low value water soaker. Perfect for younger children as the trigger isn't too stiff and they can easily refill it on their own.
X-SHOT Micro Fast-Fill allows you to refill your blaster in just 1 second and get back to the water blasting action long before your opponents. Just dunk, pull the hammer, fill and release the hammer to seal the blaster. It shoots up to 26ft/8m and you can fill it anywhere, because, let's be honest…a fast-fill is everything…who has time to hang around waiting to re-load?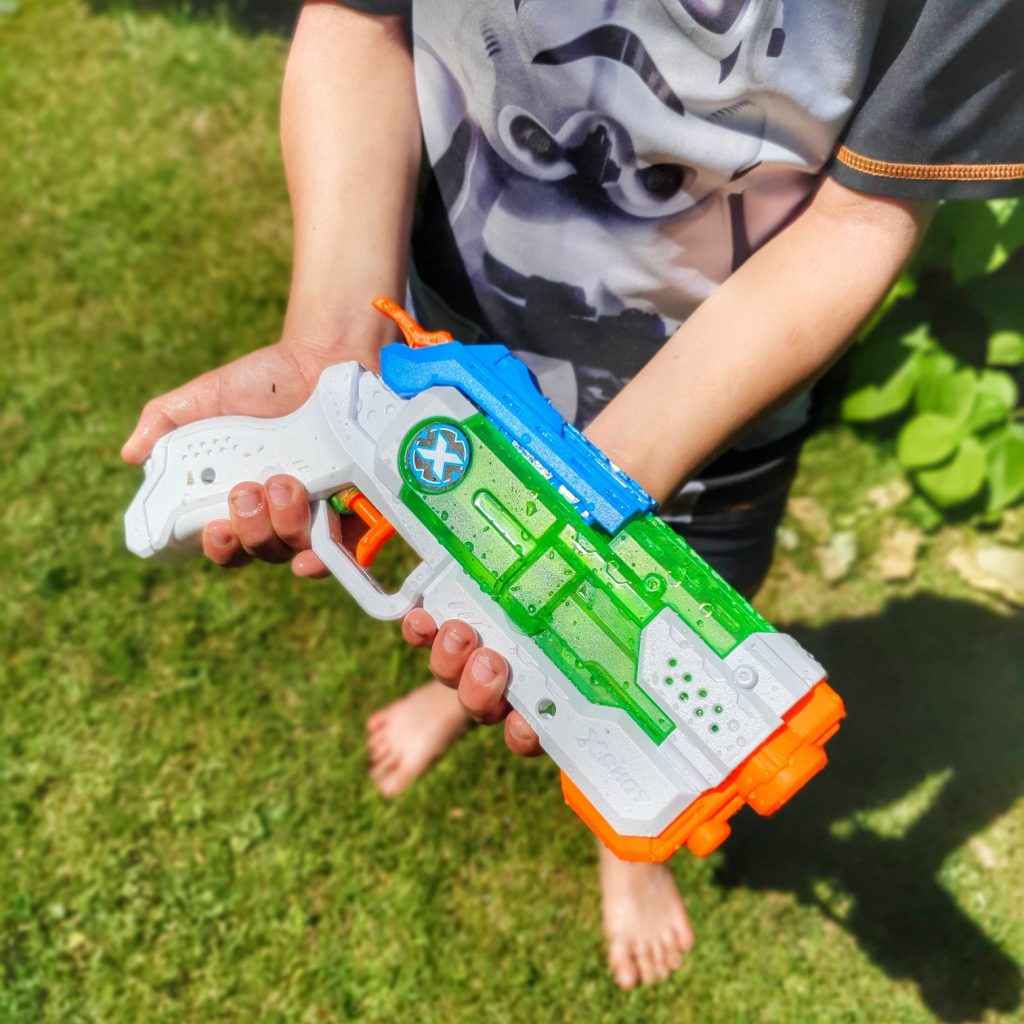 X-Shot Water Warfare Fast-Fill Water Blaster (rrp: £12.99)
For older children, the X-SHOT Fast-Fill is really good! It allows you to refill your blaster in 1 second, like the smaller shooter and get back to the water blasting action. Just dunk, fill and close with rapid sealing technology. It shoots up to 30ft/10m and you can fill it anywhere.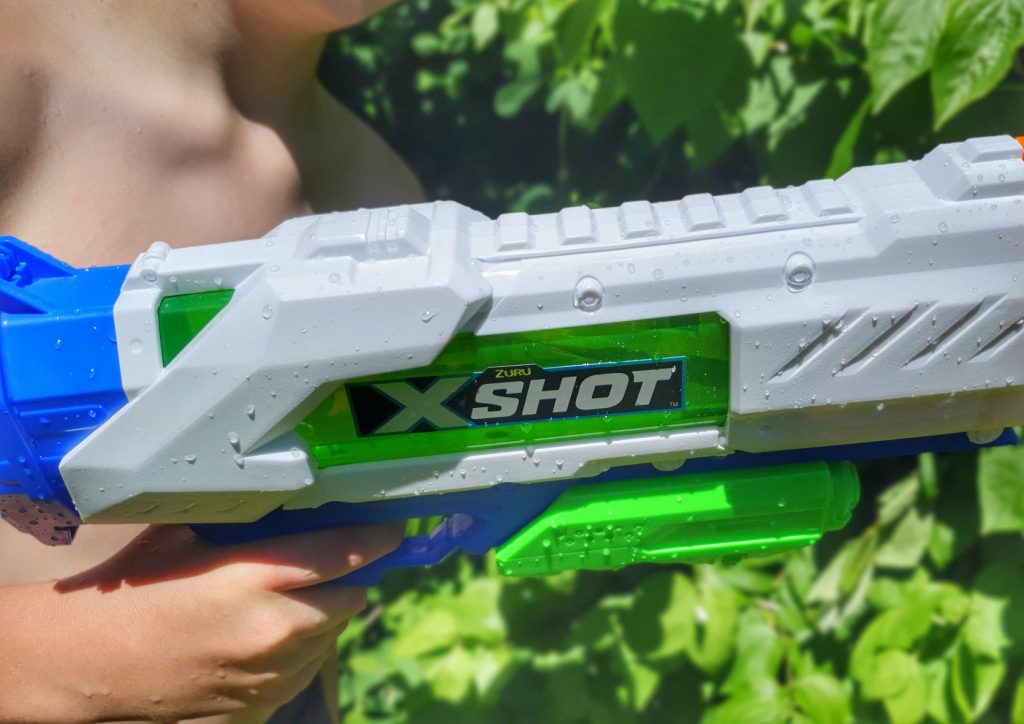 When it's time to tidy up
The water balloons are 100% recyclable and there is a brilliant Terracycle partnership in place – one of the world's recycling leaders for hard-to-recycle waste – to recycle them after use. You can find out more over on their website!
We had a speed game to see who could pick up the most pieces in the least amount of time. They look worse than they actually are.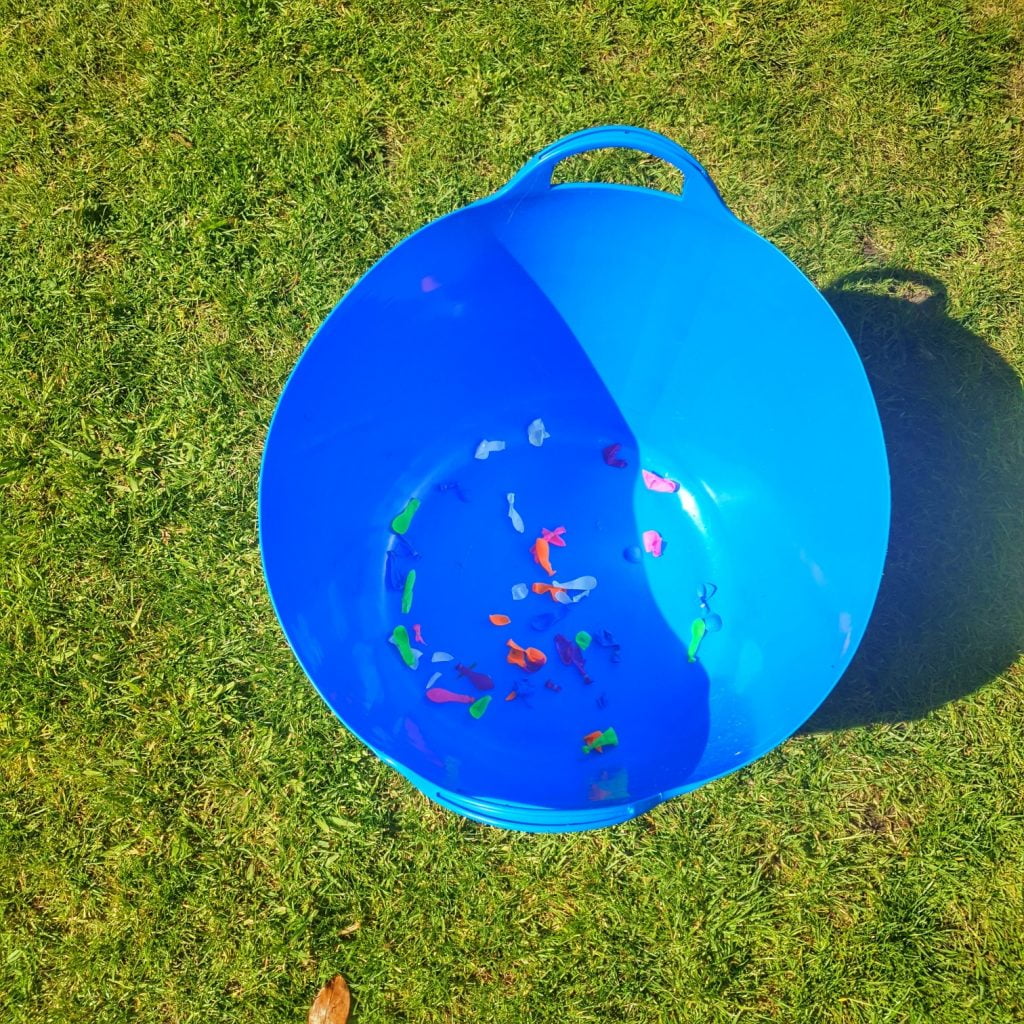 Where can you buy these
If you fancy having some backyard fun of your own, these are available at Argos, The Entertainer, Smyths – we've been so lucky with the weather so far in lockdown, I'm really hoping the children get lots more enjoyment out of these over the coming weeks.
Getting outside for us during lockdown has been really important. We feel very lucky to have a garden and some outdoor space to run around in. So if you do have a garden, make the most of it, especially when the sun is shining.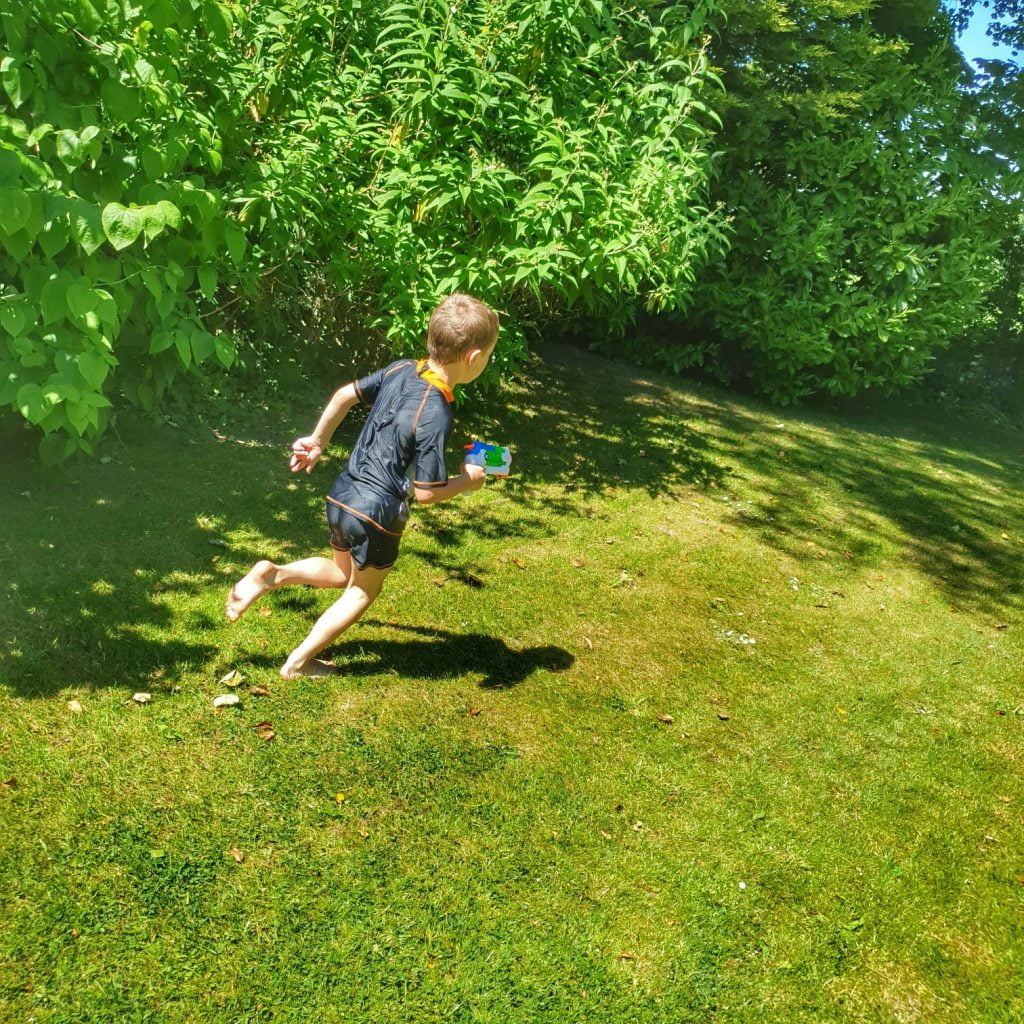 This is a collaborative article.