This is a collaborative article. This item was gifted for the purposes of a review.
I always say that Playmobil always brings back some pretty good childhood memories for me. I remember having the pirate set bought for me as a birthday gift and I absolutely loved it. I looked after it really well, which meant that my little brother played with it years later too.
We have been trying out the Playmobil Zoo range recently. It's a fantastic range, which you can build on over time. For example, you could add to this over time, gradually expanding the zoo section by section.
The Large City Zoo is huge and comes with all sorts, this is the main part of the range, which can then be added to with various other elements. The main zoo set is priced at £59.99. This is similar to other large construction kids, and whilst it seems like a lot of money, these are the kinds of toys that last generations.
This set includes: figures: 2 men, 2 women, 1 girl, 1 boy Animals: 1 giraffe, 1 baby giraffe, 2 penguins, 4 baby penguins, 1 pelican, 4 pegs, 1 mole, 1 butterfly, 1 mouse Accessories: 1 entrance gate with stairway and observation platform with 2 flags and information board, 2 observation path elements, 2 small rocks with tree trunk, 1 large rock with tree, 2 demarcation elements moat with water plants and glass wall, 1 green area with tree and pole with giraffe feeding basket, 1 penguin rock large with slide, 1 penguin rock small, 1 bicycle, 1 hand cart, 3 children's shoulder bags, 1 handbag, 1 camera, 1 telescope, 1 cash register table, 1 cash register, 1 balloon stand with 4 balloons, 1 newspaper stand, 1 scoreboard with clock, 4 site maps, 3 boxes, 6 postcards, 3 ice packs, 4 bottles, 4 donuts, 1 large bucket with food insert, 1 large bucket, 2 wooden buckets small, 1 water insert for wooden bucket, 1 basket, 1 feed insert for basket, 1 bucket with spigot, 4 patties, 1 giraffe dung, 3 plant pots with plants, 1 shovel, 1 pitchfork, 2 greens, 1 cap, 1 peaked cap.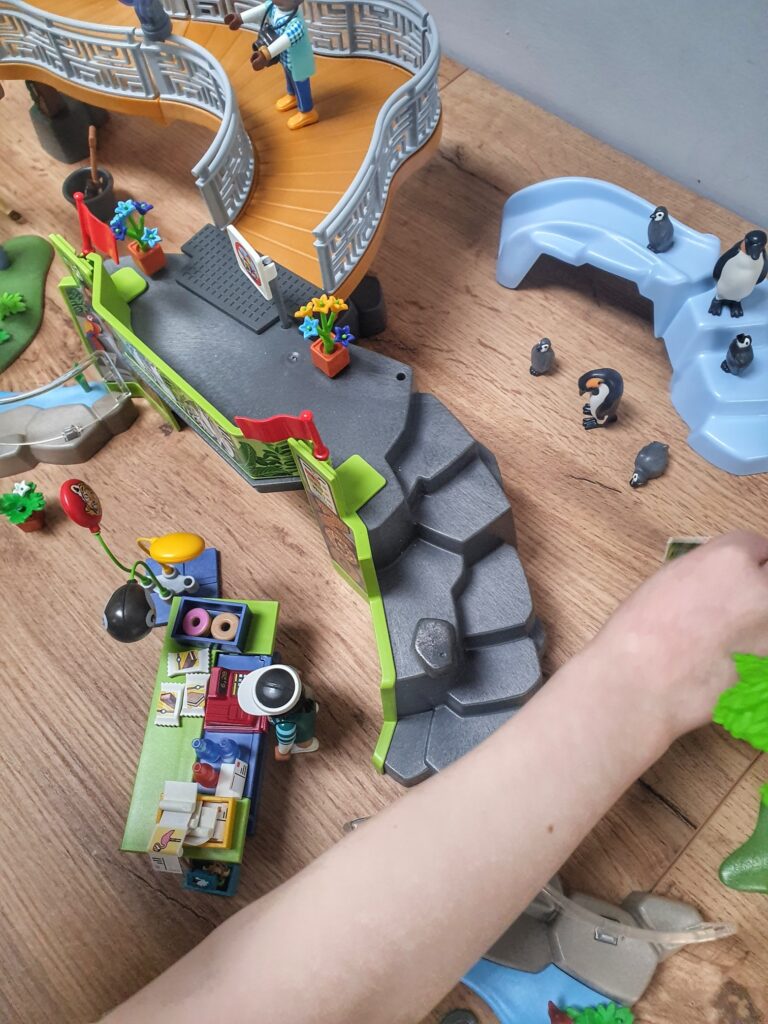 There are lots of parts to the set. The only thing I find hard about Playmobil, is that there doesn't seem any system to the way the parts are grouped together in bags. You really need to tip out all of the bags to get started and just hunt for the bits you need. This obviously gets easier the more you build, but it would make much more sense to group the pieces and number the bags.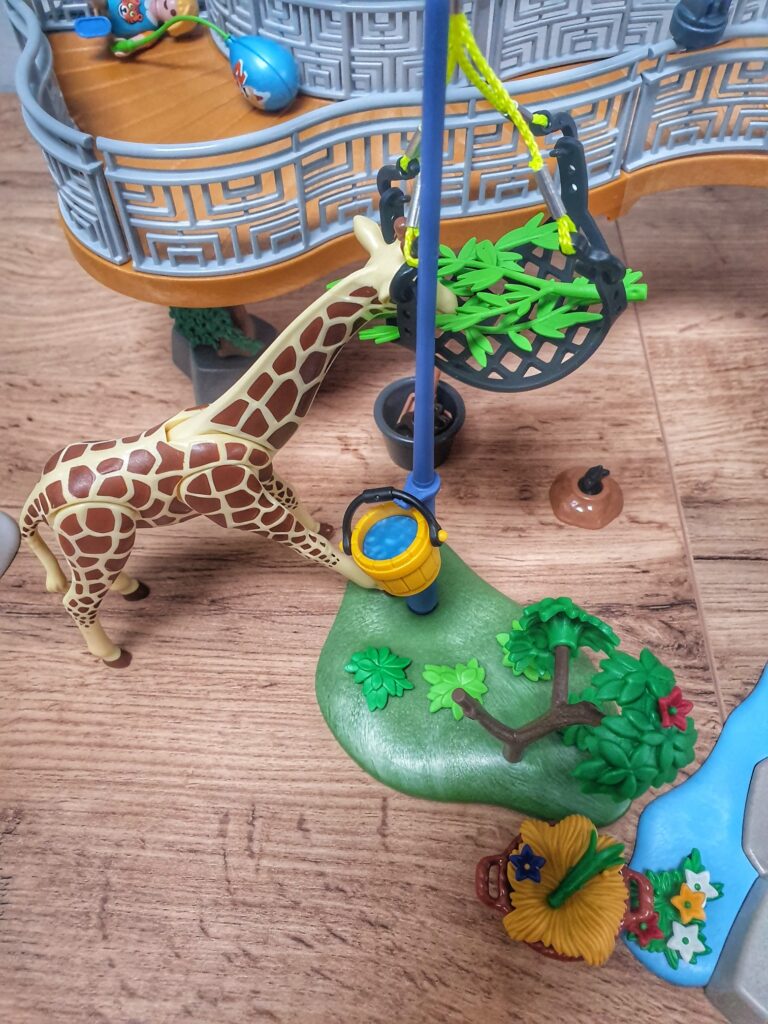 There are literally tons of extension packs available for the Playmobil Zoo. You can select your child's favourite zoo animas to add. There is a Lion Enclosure, an Elephant Habitat, a Turtle with Babies, Rhino with a Calf, a Polar Bear Family and so many more to choose from.
We tried out the Hippo and Calf and the Meercat Colony, both great additions to the Large City Zoo. These come fully assembled, so children can play with them straight away. The Hippo kit is £12.99 and the Meerkats are £6.99.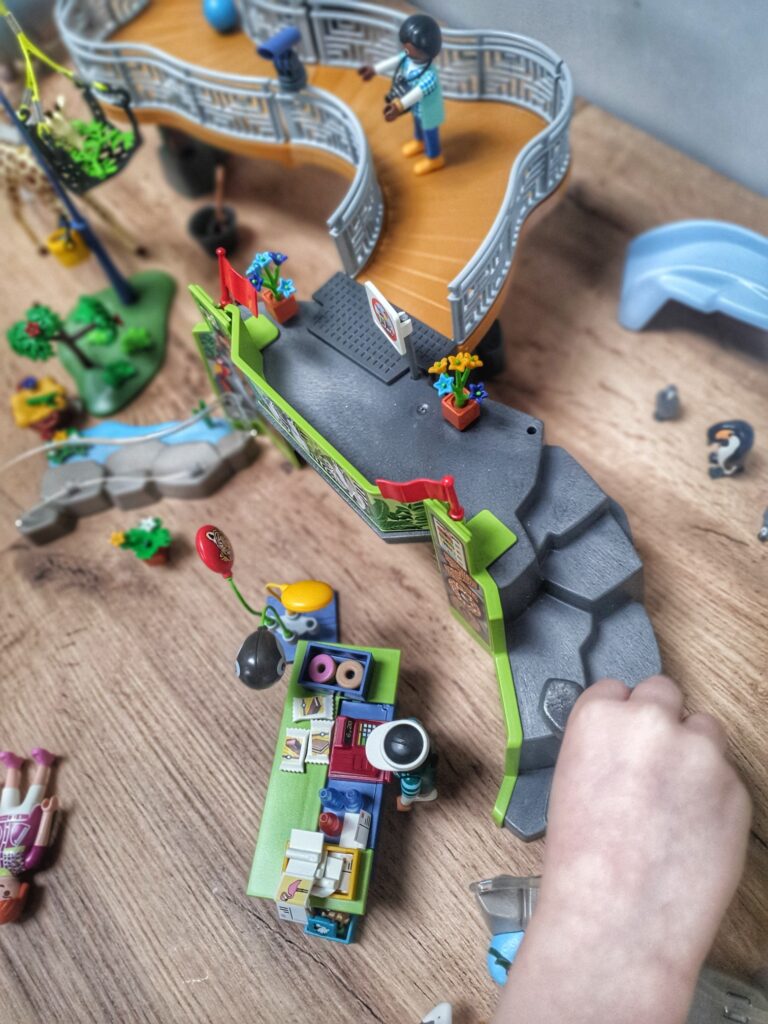 We also tried out The Petting Zoo, which is a lovely add on to the main zoo. This is currently priced at £39.99. The animals are so cute, we loved the turtles and the baby goat.
If you have a child who loves animals and trips to the zoo (remember those?) then this is the set for them. Some help will be required finding the pieces and assembling them, depending on the age of the child.