Black Friday is coming, some stores have already started their sales, each year this seems to get earlier and earlier. What's your approach to Black Friday deals? Personally I think you have to hunt out the bargains and pay attention to what the prices are normally. Don't get distracted by a fancy poster or advert – just make sure it is actually a bargain and not just claiming to be! If you look closely there are some great deals to be had, but don't be caught out thinking it's a major bargain, only to discover later to got £2.99 off the actual price!
Save more with my money pocket
Have you heard of my money pocket? Over 90,000 shoppers currently use this site to shop with thousands of brands throughout the UK to get discount codes and cashback deals every time they buy. Sounds good right? There's more – they are completely free to use, never charge any fees to shoppers, and getting cashback is as simple as spending 30 seconds creating an account and then clicking through to your favourite brands from the mymoneypocket.co.uk site.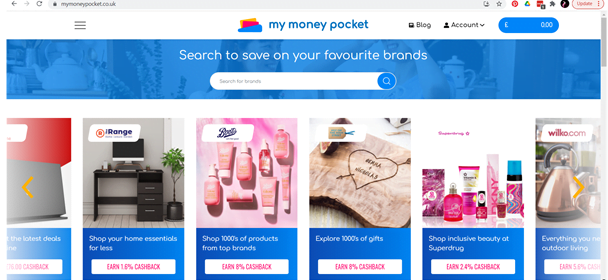 I've never actually used a cashback site consistently before. I know some people love them, but quite honestly, I've always found them a bit of a faff.
With my money pocket registration takes two minutes and then you are up and running, no fuss. I placed an order for some Christmas gifts from Sports Direct this morning via the site and it was very straightforward. The cashback should be in my account within 7 days. It's a no brainer really.
The other thing I wasn't keen on with the other cashback sites I've tried in the past was that often the shop I wanted to buy from wasn't even listed on the site, it was just the massive stores.
One of the things that has really impressed me is that my money pocket has a real variety of shops on their site that you can earn cashback from, or make some great savings.
As an example Card Factory, who are brilliant for discounted cards, wrap, balloons and more, Approved Food, who sell surplus food and drink and other discounted items, and then online shops like CleanCo, who sell the best non-alcoholic spirits you'll ever taste. It's far from just the massive brands, so perfect for buying Christmas gifts and ideal if you actively want to steer away from the huge brands. You can even earn cashback on sites like eBay and Etsy – I'm obsessed with Etsy at the moment, so I'm thrilled about this.
Black Friday
If you are hoping to pick up some bargains in the Black Friday sales, make the most out of these savings and get some cashback on top of your purchases, making those bargains even better value.
Most of the Black Friday sales start on Friday 26th November this year, but keep your eyes open because some brands start earlier. Make a list of all the things you are hoping to find, so you can be organised about it and don't get distracted.
If, like me you regularly shop online, this free, money-saving site, is ideal. With discount codes and cashback at over 4,500 brands, you will certainly be able to make some savings.
There is lots planned from my money pocket this Black Friday, so you can get the best deals and discounts that this Black Friday has to offer!

Giveaways
Over on social media my money pocket are working with brands to offer a giveaway each week during the Black Friday and Christmas period, so join in and see what you can win. You can find them on Facebook, Twitter and Instagram.
What are you waiting for?
Want to start saving money NOW? Sign up today in just a couple of minutes.
Join the site and then find a brand that you're interested in, click through to their site from my money pocket and then make a purchase. The brand pays my money pocket for sending the paying customer to them, and they also make money through on-site advertising. my money pocket share the profits with you as cashback. You can also combine cashback with any discount codes you find on the site to compound your savings.
Do let me know how you get on and what savings you make!
This is a collaborative article.