It's always nice to discover new beauty heroes, especially during the summer months. I thought I'd share a few of my discoveries this summer. Do let me know if you've tried any of these before and what you thought of them.
Beauty Hygiene
One of the things most of us don't do often enough is clean our make up brushes and other make up and beauty tools. If, like me, you can't remember when you last cleaned them, it's time to get cleaning!
The new beauty hygiene range from Beauty Hygiene Plus is set to be a 'game-changer' as it includes everything you need to keep your makeup products and beauty tools as safe and germ and virus free as possible. The products are quick and easy to use with no fuss and eliminate 99.9% of bacteria and viruses within two minutes of application.
Makeup and makeup tools are a breeding ground for bacteria and
fungus that could be harbouring 'nasties' from E-coli to ringworm along with viruses such as herpes and conjunctivitis caused from cross-contamination and unhygienic use and storage.
The range consists of four antibacterial and antiviral products: Quick Dry Brush Cleaning Spray, Quick Dry Makeup Sanitising Mist, Quick Dry Beauty Tools Sanitising Spray and Deep Cleanse Sponge & Brush Wash.
Each product has its own unique individual formulation, for specific use on makeup, makeup brushes, beauty tools such as tweezers and eyelash curlers and makeup sponges and powder puffs. Together, the distinctly different products, create a simple and effective user-friendly system for taking care of daily makeup and beauty hygiene.
Beauty Hygiene Plus is on a mission to drive awareness as to why makeup
hygiene is so important, and wants to help beauty consumers to create new, more healthy daily beauty hygiene habits.
The Beauty Hygiene Essentials (4 x 50ml, £20.00– currently reduced to £15.00) is so handy and so easy to use, giving you full peace of mind that you are banishing any nasty bugs from your make up tools.
Hair Care
One of the things I get asked about a lot is what shampoo I use. With hair my length, I've got through a lot of shampoo and conditioner over the years. In all honesty though, there's not one brand of shampoo and conditioner I could say to you is THE BEST.
There are plenty that don't work for my hair at all and lots that I don't like, but I'm always fairly flexible to trying new brands. This is especially true if brands are ethically sourced.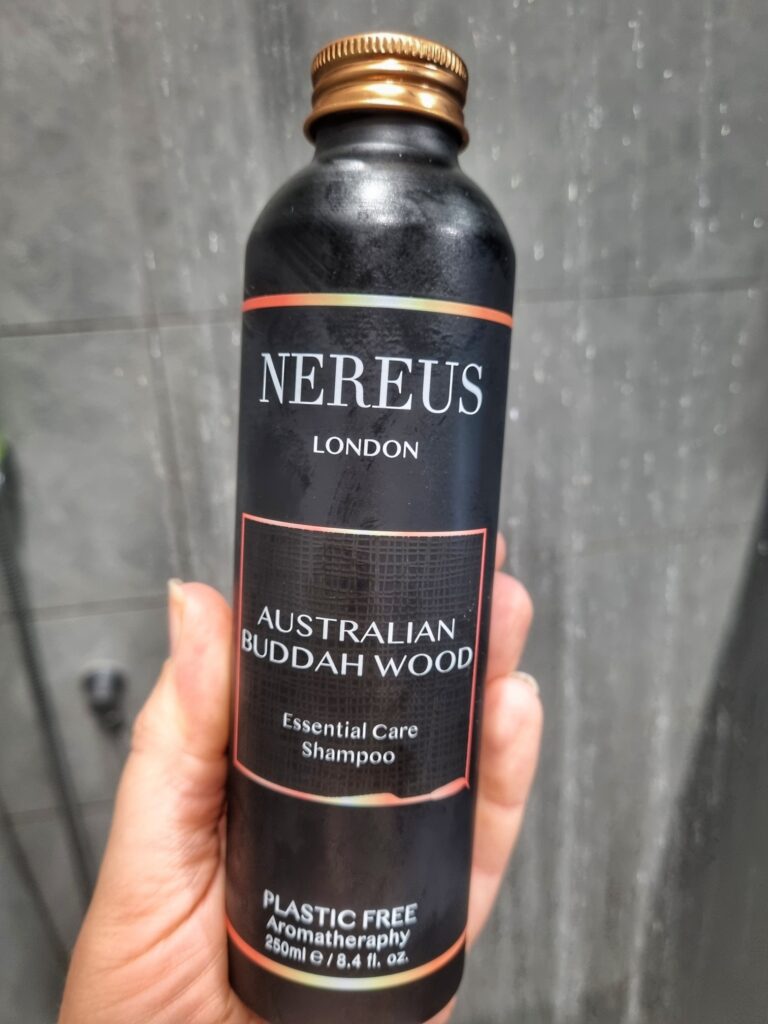 One of the brands I've tried recently is Nereus. Nereus is a vegan and ethically sourced company. Their entire range of beauty products are not only plastic-free but ethically sourced. For every bottle sold, Nereus also helps to remove 1kg of plastic from the ocean with every bottle sold through their partnership with plastic bank.
Pack: Plastic-Free, Made from Infinitely recyclable Aluminium
Label: Plastic-Free, Made from wood pulp, biodegradable (Industrial and Home)
Cap: Plastic-Free, Made from Infinitely recyclable Aluminium with food grade seal.
I'm jut so impressed with this brand, plus, the smell it leaves on your hair is out of this word. The smell lasted the whole of the day after I had washed it and each time one of the children brushed passed me they commented how nice my hair smelt.
This fragrance was inspired by the Italian Riviera – a stunningly beautiful part of the world. The surrounding sea, mountains, and citrus farms provide a fresh, crisp sensation that they've managed to capture with Buddha Wood and Bergamot Oil.
They use these fragrances in both the shampoo and conditioner, though with slightly different formulations. The conditioner contains less oil, which means you can leave it in for longer and allow the fragrance to release slowly and gently.
Washing your hair is a total sensory experience with this shampoo and conditioner – I love it!
I've also been trying out the After the Rain Shampoo and Conditioner, from Arran, made in Scotland. This also smells amazing and leaves hair super soft.
Due to the continued popularity of its signature scent After the Rain, home and body care brand ARRAN Sense of Scotland has launched a new shampoo and conditioner featuring the same refreshing fragrance.

Blending notes of sandalwood, rose and lime, After the Rain was crafted by the brand's expert perfumers to emulate the feeling of an Arran garden after a rain shower. A light, invigorating and energising fragrance it continues to be a best seller year after year, and now in a shampoo and conditioner form – it's a heady scent.
With hair fragrance an emerging trend within the beauty industry, ARRAN's expert product development team has worked hard to extend the same long-lasting fragrance found in its shower gel and body lotion to this new shampoo and conditioner.

It's not just about the perfume though! All of ARRAN's hair care products are made with a rich, decadent formula enriched with essential oils for extra moisture. Similarly, lockdown and staying at home has resulted in more people choosing to focus on healthier habits for their hair, meaning there was a real gap in the market.
They say after the rain, comes the sun and that's so true of ARRAN's shampoo and conditioner ranges. Containing Pro-Vitamin B5 they will help to lock in moisture, nourish the scalp and leave hair feeling bright, shiny and positively glowing.

You can get the same fresh feeling from head to toe with the whole range of products including:
After the Rain shower gel – £16
After the Rain body lotion – £16
After the Rain boxed saddle soap – £9
After the Rain discovery set – £10
After the Rain Eau de Toilette – £42.50
After the Rain Rollerball – £15

Glow up
Patchy tans are normally the story of my life during a UK summer, and this year was no exception. I've ended up with tanned arms, back and front in the shape of a vest top and tanned feet – ideal right?
I'm always so wary of fake tan. I like the idea of being golden all over but I never feel like I have the time or inclination to invest in trying to get an even tan all over that doesn't make me look like that tango man from the adverts. Anyone else?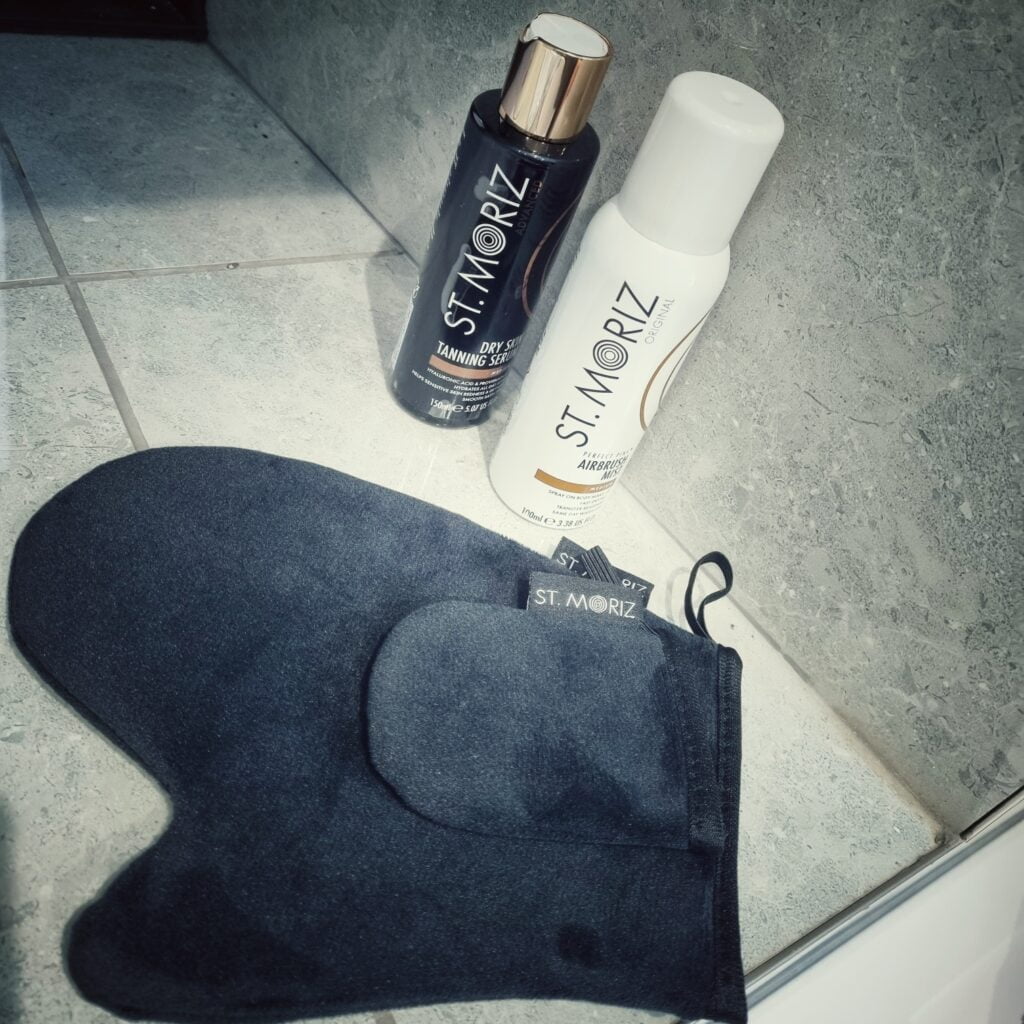 Anyway, I recently tried out the Dry Skin Serum and the Airbrush Leg Mist from St. Moritz.
Dry Skin Tanning Serum is a silky, lightweight serum that glides on smoothly with an instant light glow, which gradually builds and maintains a streak-free flawless tan on both your face and body. It is packed with Vitamin B5 to lock in moisture to hydrate your skin, leaving you with a softer more even skin tone. Vitamin B5 even helps to reduce redness and dryness caused by sensitive skin. This is suitable for all skin types. I used it my mixing with a spot of my regular moisturiser, just to make the colour a little less intense.
The Airbrush Instant Leg Mist says it gives you perfects your pins with a natural, water resistant tan. It's a super fine, light weight mist that's said to be easy to apply, streak free and fast drying. It washes off with warm soapy water, so if you make a mistake it's easily fixed. I struggled with the application of this a bit. I always follow the instructions for the knees but still end up with dark patches.
What have been your beauty heroes this summer?