We seem to have had some better weather so far this week which has been nice. This has meant that I have been able to take the babies outside for their home learning sessions.
We did our music and animal learning sacks outside this week which they really enjoyed and my littlest man sat beautifully for ages exploring the different instruments and animals. He was so happy sat in the sunshine. All the animals were taken out of the sac, inspected and put back in by him – very cute.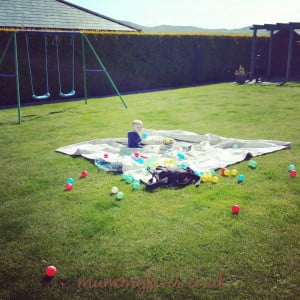 It was nice to be out in the fresh air and it added a new dimension to their learning, including singing on the monkey bars! Of course, what else do you do on the monkey bars in the sunshine?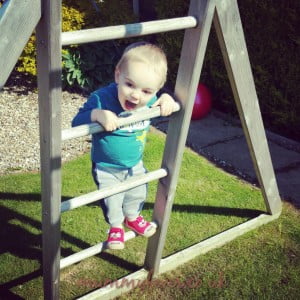 I am hoping the weather stays like this so we can continue our sessions outside. They were able to remain engaged much longer outside. We also played with a big bag of balls and used this as an opportunity to work on colours and counting. "Three" still seems to be the favourite number but "five" and "ten" are also popular now!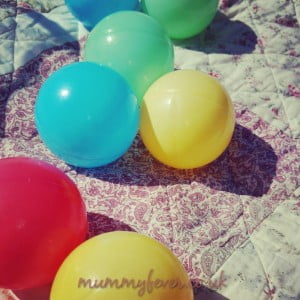 The big kids often have outdoor lessons at school and they also take part in things like forest school. There are a number of benefits to outdoor learning:
It supports the development of healthy and active lifestyles by offering children opportunities for physical activity, freedom and movement, and promoting a sense of well-being.
It gives children contact with the natural world and offers them experiences that are unique to outdoors, such as direct contact with the weather and the seasons.
Playing and learning outside also helps children to understand and respect nature, the environment and the interdependence of humans, animals, plants, and lifecycles – check out our articles on "We're going on a nature trail" for more ideas and tips.
Outdoor play supports children's problem-solving skills and nurtures their creativity, as well as providing rich opportunities for their developing imagination, inventiveness and resourcefulness.
Very young children learn predominantly through their sensory and physical experiences which supports brain development – check out our articles on sensory play for more tips on appealing to the senses.
Anyone who takes children outside regularly sees the enjoyment, and sense of wonder and excitement that is generated when children actively engage with their environment.
Have you been outside much this week with the children? Do your older children have outdoor learning sessions at school?