If you are a regular reader of the blog you may have been following our series on large family cars. Some of the cars we have looked at include the Mitsubishi Outlander, The Ford Grand Tourneo Connect, the Volkswagen Sharan, the Seat Alhambra and the Ford Galaxy.
More recently we've been looking at the new Volvo XC90, a 7-seater all-terrain family car perfect for families who love adventure.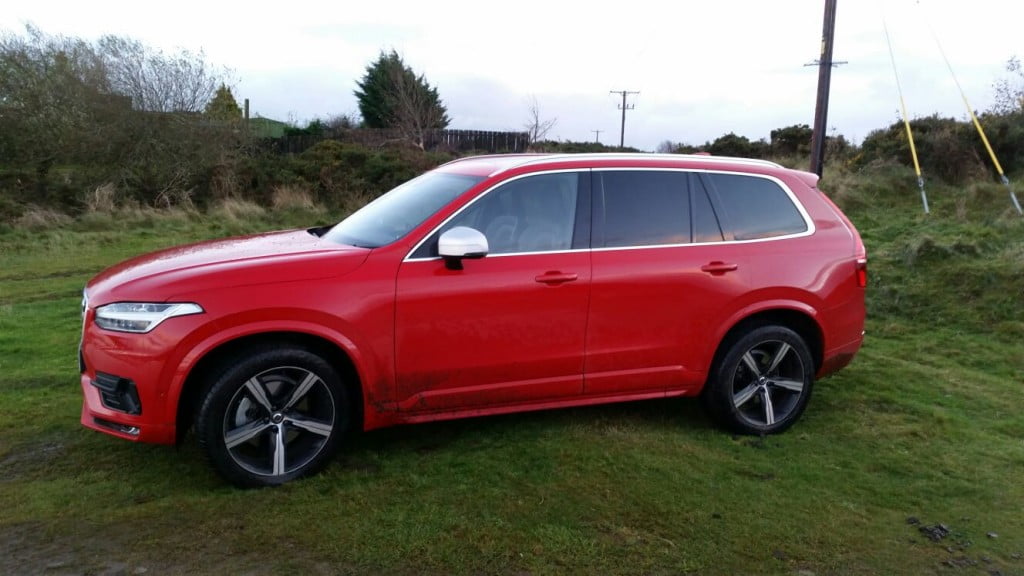 I have to say that I instantly fell in love with this car but thought that we might not find it as practical as our Seat Alhambra.
Fitted as standard to every XC90:
Sensus Connect – allows you to access a range of web apps and browse the internet; includes Connected Service Booking, which enables the car to pre-book itself for a convenient service appointment at your chosen Volvo dealership
Sensus Navigation – full European mapping with traffic information and lifetime map updates
Nine-inch centre console touch screen
Volvo On Call with app – available for your smartphone, smartwatch or iPad, this enables you to control various car functions remotely, and also acts as an emergency and tracking service
Voice-control system
City Safety – includes pedestrian, cyclist and large animal detection, and front collision warning with fully automatic emergency braking, including at junctions (a world first)
Pilot Assist and Adaptive Cruise Control – this semi-autonomous drive technology takes care of the steering (up to 80mph), accelerator and brake inputs required to keep the car within lane markings and at the desired cruising speed
Run-off road protection – automatically tightens the front seatbelts should the car inadvertently leave the road, while front seat frames with a collapsible section (a world first) reduce vertical forces to help prevent spinal injuries
LED headlights with active high beam
Two-zone climate control with 'Cleanzone' air-quality system
Power-operated tailgate with handsfree opening
Keyless entry and engine starting
Eight-inch active TFT crystal driver's information display
Seven seats – three second-row individual folding seats with fore/aft adjustment and two third-row individual folding seats
Leather-faced upholstery
Heated front seats
19-inch alloy wheels

Pros
It's a great size for a large family
The height of the cabin affords amazing visibility
Good stability, especially on country lanes and slippy roads
The heated windscreen was a massive advantage for quick school run departures, no need to scrape the ice away, it was defrosted in seconds
The quality of the build was very high with an impressive finish all over the car
The console was large and easy to operate and read
The ability to connect your phone and have your messages read out was very useful – a great car for any multi-tasking mum
Very good visibility of the children in the back of the car without additional mirrors
Even with all seven seats in use there was still a decent sized boot that could take a pushchair, a guitar and several school bags
Despite being a large car it was very easy to drive and manoeuvre
Excellent turning circle in tight spaces, makes for easy school run and general day-to-day driving situations
Very comfortable, it doesn't matter where you sit in this car you are overwhelmed by how comfortable it is, you can tell that Volvo place a lot of focus on the comfort aspect of the development of the car
Fantastic sensor system for parking
Easy and enjoyable to drive
There is an overwhelming feeling of being safe inside this car
Lots of different seating options for families, especially if you only need six seats as you can fold seats down, consult car seat experts if you are unsure

Cons
Not as much leg room in the third row as some large family cars like the Seat Alhambra for example
Poor fuel consumption – but no worse than other similar cars
There are so many automatic systems and gadgets and gismos that it would take a long time to work out how to operate them all and sometimes they could be a little disconcerting e.g. the pilot assist where it takes control of the steering, although of course you don't have to use those settings
Bulky to park, difficult when getting children out, compared to family cars with sliding doors
Although bigger than most similar cars, the middle seat on the second row is not full size and therefore cannot take a baby seat
Overall thoughts
After putting the Volvo XC90 through its paces and trying it out with our family of six, I am still as in love with it as when it arrived. There are certainly downsides, the main ones for us being no sliding doors and the poor fuel consumption compared to our current car. However, in general this car really worked for us and there were massive advantages of the Volvo XC90- given where we live. We have plenty of snow here, narrow country roads and lanes and the Volvo is perfect for this. The comfort factor is also the best we've seen in a large family car as well. Overall, we'd absolutely consider one of these.
Don't just take my word for it though – check out what the children thought. Would you lease a Volvo XC90 or buy one even?