Summer is not over yet but many of us are looking forward to Fall or Autumn, depending on the part of the world you are from. There are so many reasons to love this cosy season, it's one of my favourites. The fall temperature is perfect as it is neither too hot nor too cold. There is just something magical about this sweater weather that gives us the warm fuzzy feeling. Who doesn't love pumpkin spice lattes, walking on a crisp morning, the changing colours of the leaves and many more.
This time of year also means lots of layering with jackets, flannel shirts, sweaters and cardigans to keep warm. With all the bulky clothes and puffy jackets, just how does one look good without compromising on comfort? It can be rather challenging to show off a sculpted figure under those layers but with the right shapewear, you can make your fall outfit look flawless on you.
These shaping garments will allow you to wear your favourite outfits even though the temperature has dropped. For example, you can still wear a mini dress in late summer with the best body shaper underneath for that extra bit of warmth. Do not let the weather determine your outfit and deter you from wearing what you love. So go ahead and plan your fall/autumn wardrobe.
Best Shapewear To Incorporate Into The Latest Fall Trend 2022
Below are some of the best shapewear items for Fall 2022 that will pair well with some of the latest trends. These modern shapewear pieces from Sculptshe are designed to sculpt, smooth, slims and offer optimum support when you are slaying your autumn wardrobe.
Catsuit and Bodysuit
A catsuit is one of the ultimate conversation pieces and it is taking the front seat again this fall. The onesie trend is taking the all-in-one dressing up a notch. You will likely see catsuits in knitted to sheer and leather options. In order to pull off this look, a full bodysuit will get the job done underneath. A bodysuit will enhance the bust, minimised the waist and firm the rear and legs. This open bust body shaper has a double layer compression panel on the tummy for targeted tummy and waist control. It provides shaping and contouring from the breast all the way through the ankle. Its open bust design allows you to wear your own and offer under boob support to give the breasts a lift.
Back To Basics Tank and All Day Seamless Tank Top
The basic tank is one of fall's most simple trend.  While this is far from new and not that ground-breaking, the tank top has become a favourite among the fashion crowd, with celebrities and style influencers wearing them with every bottom imaginable. Less is definitely more when it comes this fall wardrobe staple. If you want to get yourself a tank top, you may like this seamless tank top that is fitted but not constricting. This compression top will hug your curves in all the right places and goes with anything. Just wear it on its own with a maxi skirt, denim or wear it as a bottom layer with a sweater over it.
Tailored Mini Skirts and High Waisted Panty
Tailored pieces have been showing up on runways and that include mini skirts too. The above the knee hemlines are paired with blazers, making it a cool workwear ensemble for office goers. To support this trend, wear a high waisted shaper panty brief that will shape your curves while taming the tummy and defining the rear with not visible panty lines. It has spiral steel bones that prevents rolling down,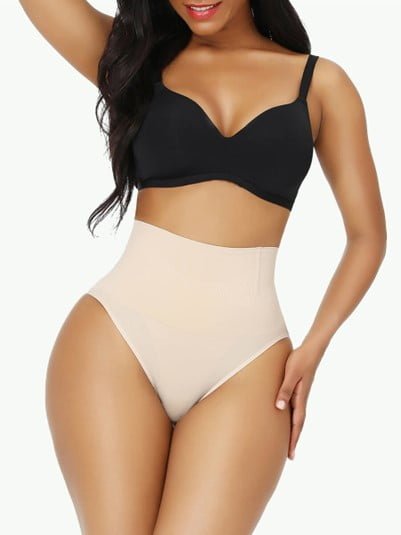 Abstract Sweater and Full Body Shaper
Nothing says fall better than cosy sweaters. For this season, sweaters with asymmetrical hems and edgy cut-outs have been spotted on the runways and also the backs of celebrities like Hailey Baldwin, Bella Hadid and Hailey Bieber. Combine it with backless shapewear like this body sculpt shapewear that supports and contours your waist, hips and thighs. The low back makes it an ideal choice for sweaters with cut-outs at the back. This shaper has an elastic layer of fabric on the midsection for targeted and enhanced tummy control. The adjustable shoulder straps offer a comfortable fit.