I always have a little smile to myself when a trend comes around again. As a tween and teen I remember my mum commenting on all the things that were not 'new' as she saw them, but rather rehashed versions of things from the past or pure revivals. I remember her saying "it's funny how these things come around".
Fast forward to me having a teenage daughter myself and the same is true. The choker trend from a few years back, remember that? I told my daughter at the time how into these I was as a teen, which of course she thought was hilarious at the time. It's hard for our children to imagine us as tweens and teens I think.
Then the platform trainers made a revival and I had to laugh. I didn't own a pair of these at the time as I thought they were ridiculous, but a friend of mine was obsessed with Ginger Spice and had a pair of white platform trainers that she loved. She wore them all the time and they brought her joy, so that's the main thing!
Now, well now have come the cargo pants or 'combat trousers' and everywhere you look teens look as if they've stepped out of an All Saints video! Remember All Saints? I mean they were responsible for cargos being trendy weren't they?
This trend, if I'm honest, I'm really happy to see back. I loved wearing these when I was a teen, either with a cropped top or a vest top. They were so comfy and casual and I had several pairs in different colours. It was always a style I felt very happy in and very myself. Anyone else?
Seeing these on my daughter these days is a joy. She's loving this style and there are some great cargos around at the moment, including a large selection over at Femme Luxe. Do go and check them out!
Femme Luxe believe that cargos are a staple in everyone's wardrobe and they've got a massive selection to choose from in all colours and a range of sizes, to back this up. The Stone Button Up Double Pocket Cargo Trousers featured above, have an oversized straight leg look with pocket detail. These pants are perfect for both a casual or dressy look. Team with a mini bag and some strappy heels for a bottomless brunch with the girls or some chunky trainers and a bomber jacket for some essential retail therapy. These ones are available in sizes 6-12. I think they could even be worn in the warmer weather with a pair of sandals or sliders even – what do you think?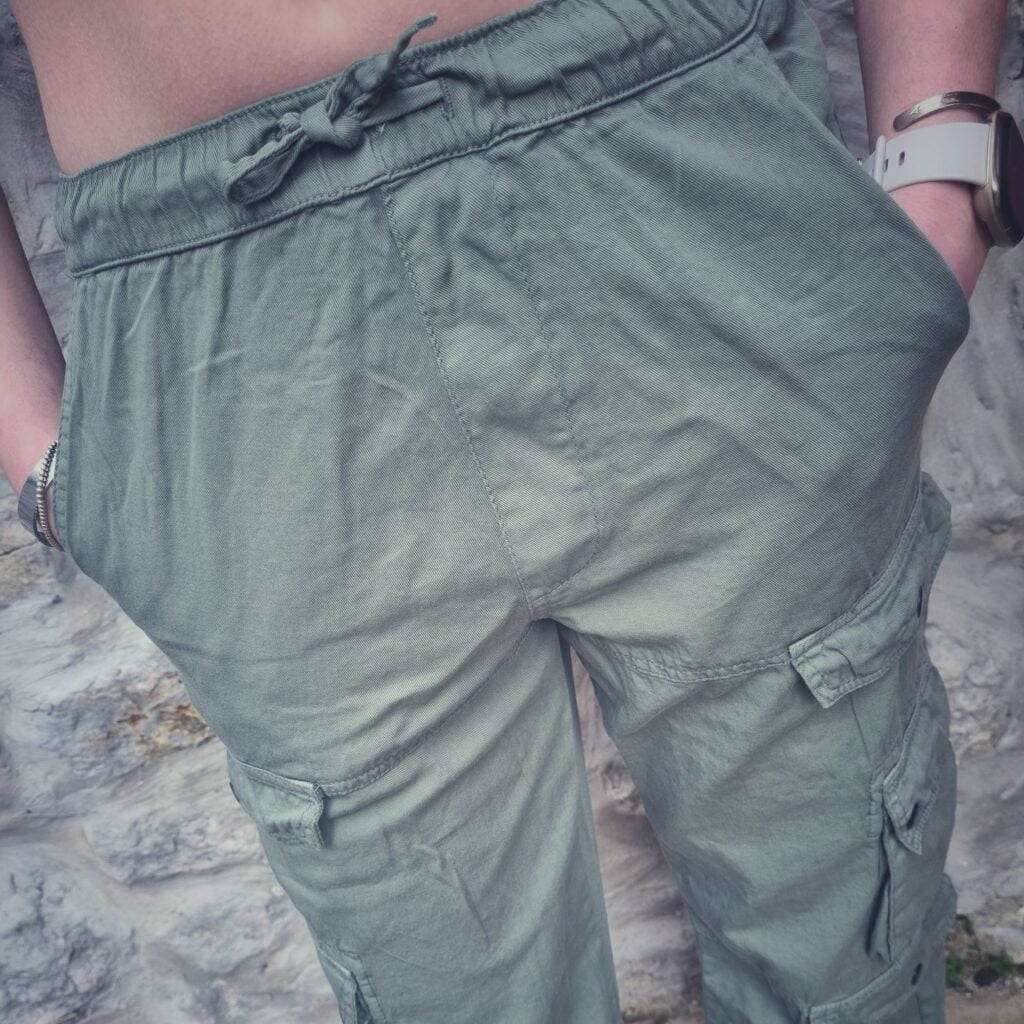 These Khaki Drawstring Pocket Cargo Trousers are quite different to the ones listed above. They sit lower down on the hips, the fabric is thinner and less rigid, and they have a more relaxed waist. These feel like more of a spring/summer cargo but my daughter has been wearing them over the winter but with a fleece over the cropped top for some added warmth.
These cargos feature a drawstring waist, multiple pockets and straight leg. Style them with a tee, black gilet and chunky trainers for an urban vibe. Try pairing these trending trousers with the Amy PU Underwire Corset Top to score some style points. These are also available in sizes 6 – 12.
There are tons of other cargos on the Femme Luxe site to choose from, if you don't fancy trying these out. There are around 30 colour options in total, and a range of full length and cropped styles to choose from. Some styles are quite fitted and give a very tailored look, whilst others are baggy and ooze comfort. The choice is yours, but there's certainly a pair for every occasion.
How do you feel about cargos? Are you glad this trend is back? Do you own a pair of cargos? Perhaps like me you did the first time around? What about other fashion trends, which ones were you happy to see and which ones should, in your opinion have remained in the past like the platform trainers? Do let me know in a comment below.
*This is a collaborative article*