Our second city stop on our epic Trans-Canadian road trip was Niagara. Niagara Falls was a bucket list place of mine, so I am so glad we made the slight detour before we began to drive across Canada. I mean…just look at it!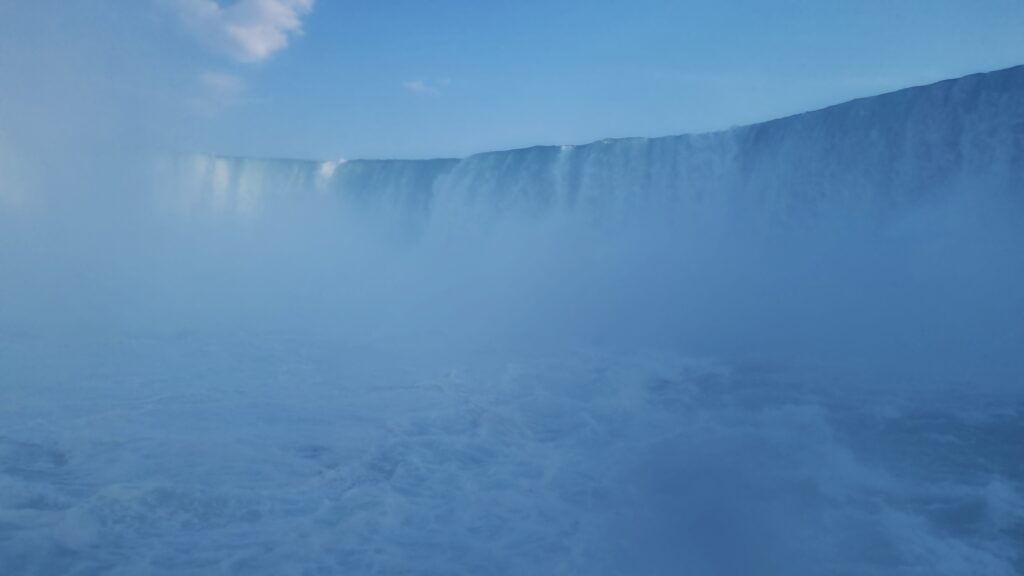 Now, I know that the standard activity for Niagara Falls is the Maid Of the Mist (USA side) or the Voyage to the Falls (Canada side), where you get up close and personal with these falls and get drenched in the process. As you will read, we did that, don't worry, but Niagara Falls is so much more than that.
There are tons of things to do in Niagara Falls with children, I have included some of them below. Do take the time to see the falls from all angles – you won't be disappointed.
Voyage to the Falls Boat Trip
This was one of the first things we booked in preparation for our trip as we didn't want to miss it. There were lots of people but it didn't seem overcrowded. The queue flowed well. You can just turn up for tickets, but I would advise booking in advance so you can plan better.
This was everything we hoped it would be and more. It was truly incredible being that close to the falls. The roar of the water, the spray from the water…everything. The children loved it and so did we.
The trip states it takes 20 minutes, which doesn't sound long. To be honest it felt like longer than this. You get a good amount of time to see the falls and take photos. It was incredibly hot and humid the day we visited, so we were glad of the spray.
You will pay adult ticket price for anyone over the age of 13. Age 2 and under are free. It is $32.75 for adults and $22.75 for children.
Hike Niagara Glen
Niagara Glen was a wonderful stop off as we arrived in Niagara Falls. There is a large pay and display car park, toilets and an information centre.
There is also an incredible view from the top which is well worth a look! Just look at the colour of the water – it's truly stunning!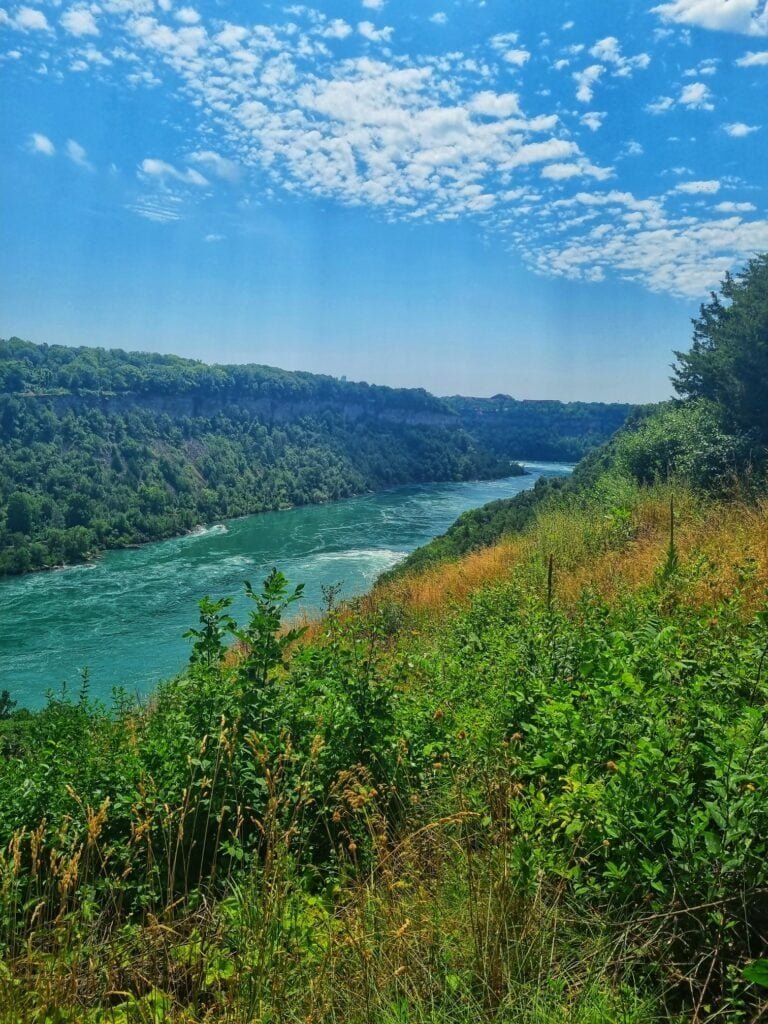 From there we walked down a steep staircase to join the walking trails. There were a range of hiking trails depending on how long you had available. The terrain was mixed, some easy and some tricky. These trails are not pushchair friendly, so if you are hiking with little ones, take them in a carrier.
There were some great views of the river along the way and it was a wonderful place to explore. Do stop off if you get a chance, but make sure you cover yourself in bug spray beforehand.
See the Fireworks
There's nothing quite like the sight of exploding fireworks over the brink of Niagara Falls to make your trip a memorable one. You can catch Canada's longest-running spectacular fireworks series throughout the summer and during the Winter Festival of Lights, and select other holidays throughout the year.
In the summer, you can watch the fireworks every night at 10pm.
Get an Ice Cream
There are some yummy ice cream parlours in Niagara Falls. You just have to eat them quickly before they slide onto the floor!
Journey Behind the Falls
One of my favourite things in Niagara Falls was The Journey Behind the Falls. We booked this in advance, then swapped the vouchers we had booked for tickets in the gift shop near the start of the zipline. There was no queue at all, we just walked straight into the the attraction.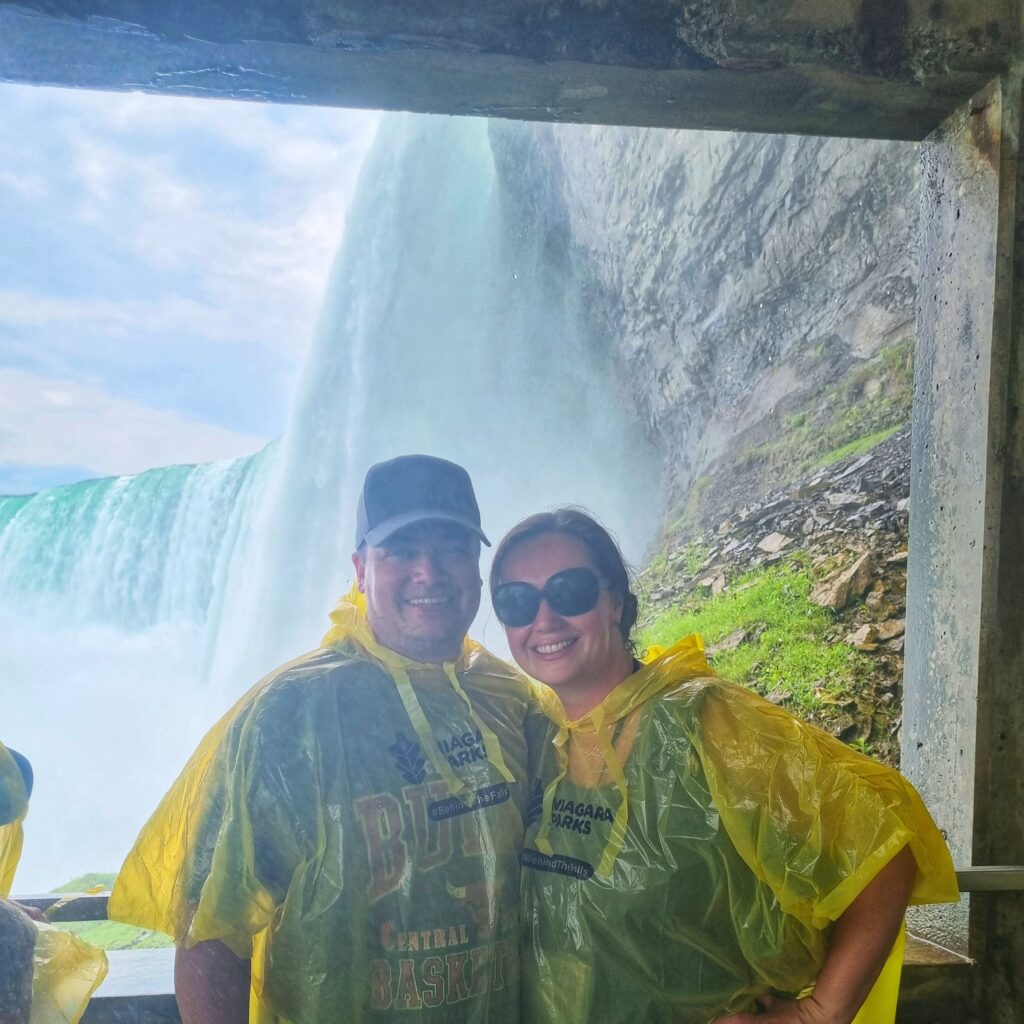 This attraction offers yet another perspective of the falls. You walk in tunnels behind the falls about a quarter of the way across. There are various viewing places and platforms along the way. The noise from the water is incredible and it's amazing to be that physically close to the waterfalls.
To get here you take a leisurely walk along the river. The walk is flat and in parts you get a lovely cooling spray from the falls. As we walked back towards the centre of Niagara there was an amazing rainbow across the falls. it's a truly stunning view from the top and one I won't forget in a hurry.
Zip Line To the Falls
One of the things we booked in advance was the Zipline to the Falls. This was an early birthday present for our daughter. This was probably the longest queue we had whilst in Niagara. It didn't look like much of a queue but there are so few people going at once, it just takes a while to get through everyone.
As with the boats, I would advise booking this in advance. The safety checks are incredibly thorough and you get yet another perspective of the falls.
Spectators can stand right underneath to watch, but maybe go of and get a drink or an ice cream whilst others in your party queue. As you could be waiting a while.
Each harness has a pocket in the back for any bags or things you have with you.
Walk to the USA
We had this idea that it would be really fun to walk to the USA whilst we were at Niagara. If you plan to do this you will need your passports and your ARRIVE CAN app with your completed information.
It's well worth making the effort, as the view from the bridge gives you a totally different perspective. The children thought it was really funny that they were in the USA here, whilst I was still in Canada taking the photo.
The bridge you cross is called Rainbow Bridge and you can easily walk there. It was less than 10 minutes walk from the centre of Niagara.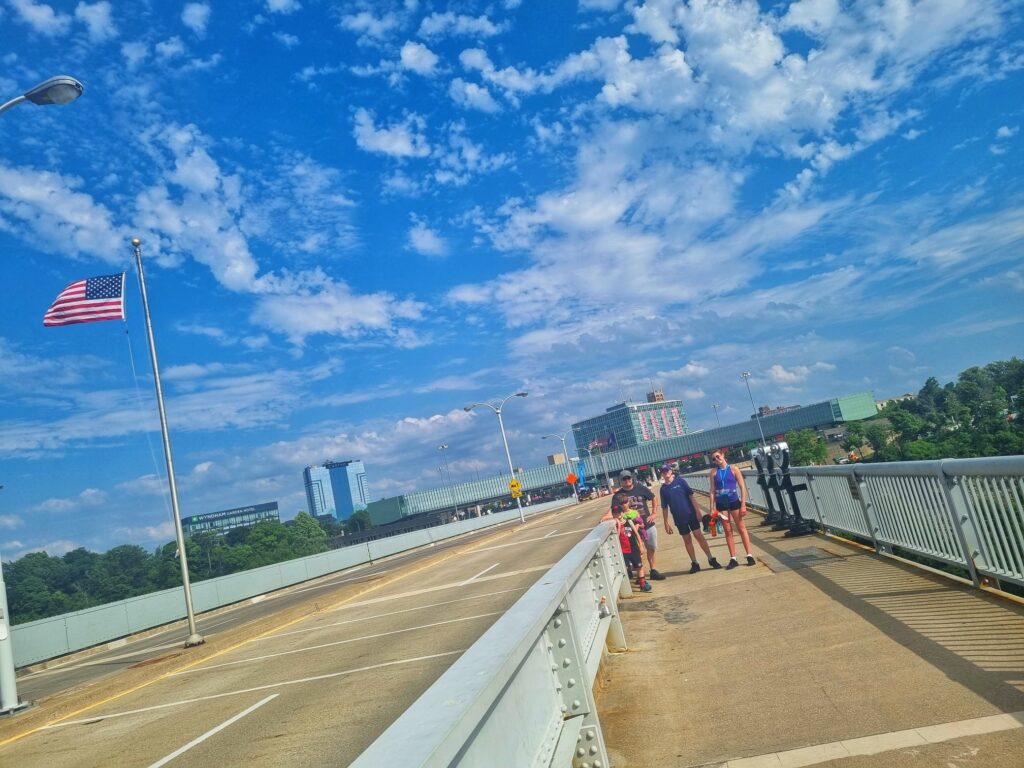 One thing to consider is that currently with regards to ARRIVE CAN, you will need to update this before you pass back into Canada. We were not aware of this, so were sent back outside initially. The officer kept repeating "when did you arrive in Canada and how did you arrive?" Rather than answering the date of our arrival in Canada and by plane, the 'correct' answer was "today, by foot". It seems crazy when he'd just watched us walk from Canada, across a bridge and turn around and come back, but they are the rules, so make sure you are prepared.
Dinosaur Crazy Golf
We didn't have time for crazy golf in the end, but I had researched this as a possible thing to do, so if you are there with children, especially dinosaur fans, it might be a good way to spend some time.
This is one of the Clifton Hill attractions and is called Dinosaur Adventure Golf. You can just pay for that, or you can purchase a Clifton Hill Pass and include other activities too.
Have a meal at the Rainforest Cafe
We absolutely love the Rainforest Cafe. We've been twice before, once in London and once in Disneyland Paris, with the older two, but the little boys had never been, so we decided to eat there whilst in Niagara Falls.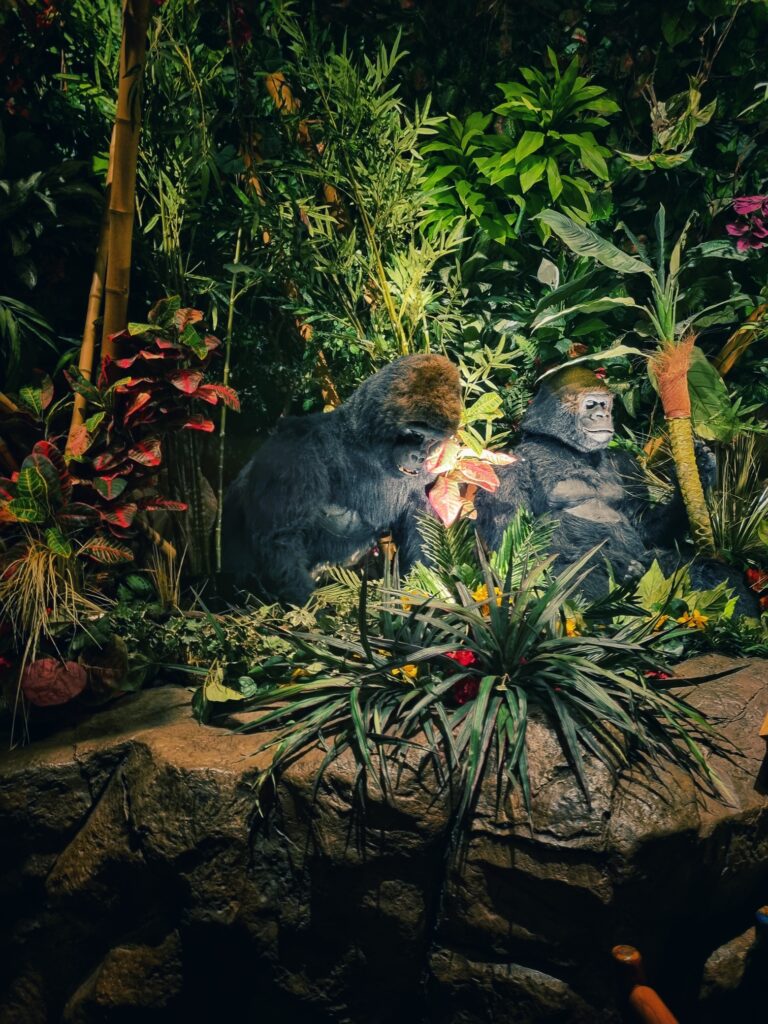 The humidity was pretty intense, it was certainly an authentic rainforest experience, but we all enjoyed it. The food was good and as experience dining goes, it really is lovely. I had a walk around with the boys looking at all the animals and we were so glad we went.
Visit the Arcades
The one thing I didn't especially like about Niagara Falls was that parts of it felt a bit like a Vegas strip. There is definitely that tacky, overly commercial side to it. We tried to avoid a lot of that and just do the activities we had planned, but the children did spend an hour in the arcades.
It was fine. They enjoyed it and accepted that when the tokens were gone that was it. If your children enjoy arcades, there are plenty of those types of things to do.
Here's a little taster of Niagara Falls from all angles.
Have you been to Niagara Falls? What was your favourite part?