You're not the only parents who decided not to find the baby's gender until birth. Some parents-to-be prefer to be surprised. While it's one of the most exciting journeys, it can also be challenging because you have to prepare for welcoming your baby without knowing if they're a boy or girl. Designing the nursery can prove a little difficult when all online articles provide recommendations on how to build boy or girl nurseries. 
Worry no more because you came to the right place to find out how to decorate a soothing and calming space while using a gender-neutral theme. We have some expert advice available for you, so keep reading to learn some innovative and creative tips and tricks. 
Choose a neutral colour palette
Once you choose the perfect room to transform into a nursery, it's time to start decorating it. The secret to building a gender-neutral space is to stay away from the classic blue and pink and go with neutral hues. Once you get rid of everything in the room, you can start repainting the walls to create a blank canvas that allows you to be creative. When shopping for wall paint, look for grey, beige, brown, white, green, or taupe.
If your nursery is smaller, paint all the walls in the same colour to create a symmetrical look. You can use accessories and décor to elevate the décor.
Use wallpaper if you want to create an accent wall
Suppose you want to add a touch of colour to the nursery; use wallpaper in a coordinating colour. You can easily switch the wallpaper later with a new model when your child grows and wants to redecorate the space. We recommend picking wallpaper with shades of green because the colour matches almost any colour palette and immediately makes the wall stand out.
Pick a theme
Discuss with your partner about themes you might like to use to design your baby's room. You can find inspiration in everything if you didn't think about a theme before. The outdoors, movies, your favourite book, or even your pets can serve as inspiration when decorating a nursery. Suppose you go with the nature theme; you can bring the jungle into your little one's room by using tropical wallpaper to create the accent wall and furry jungle animals as accessories. Suppose the room has large windows; keep them open to allow light to enter the inside of the house. Don't forget about plants; go to the local plant nursery and buy some plants with large leaves that purify the air to create a relaxing atmosphere. 
If you and your partner are mountain lovers, you can go with a mountain or forest theme. You'll find tons of murals and wallpaper of trees and mountains to decorate a gender-neutral nursery. Use natural textures and materials to resemble the outdoors, and add accessories that take you to your favourite place.
When picking a theme for the nursery, be careful not to go overboard with the elements because you can easily make the room feel crowded. 
Shop for furniture
Before going on a shopping spree, make a Pinterest board and save some nursery ideas to decide what kind of space you want to design. Neutral-coloured furniture is easy to find, and it's crucial when decorating a gender-neutral room. You should pick white or wood-coloured furniture items because they complement any colour palette perfectly. 
When shopping for furniture, fancy items might capture your attention, but buying practical and flexible pieces is best. If you want to convert the nursery into a room your child uses long-term, look for a convertible crib they can use for years. The same goes with the changing station; choose a piece with several drawers to serve as storage for your baby's clothes.
When furnishing the room, ensure you don't go on a shopping spree and purchase every element you find online. You don't need so many things in the nursery, a crib, changing station, armchair, and maybe a bookshelf is more than enough for the baby's first year of life.
Use some minimalist wall art
After you paint the walls and bring in the furniture, it's time to add a personal touch to the nursery, and you can do it by hanging some wall art. If you're looking for minimalist wall art, visit the site because it offers a wide range of artwork that will definitely fit your theme, whatever it might be. 
One way to use wall art to add personality to a room is to create a wall gallery above the crib featuring prints reflecting the room's theme. Let's say you picked a universe-inspired theme; prints with astronauts, planets, and stars would work great. Place each print in a unique frame and arrange them in an orderly fashion to create an aesthetically pleasing look.
In case you decide not to use wallpaper or wall art to boost the room's personality, add a mix of shelves. They can also serve as storage spaces.
Welcome a pop of colour into the room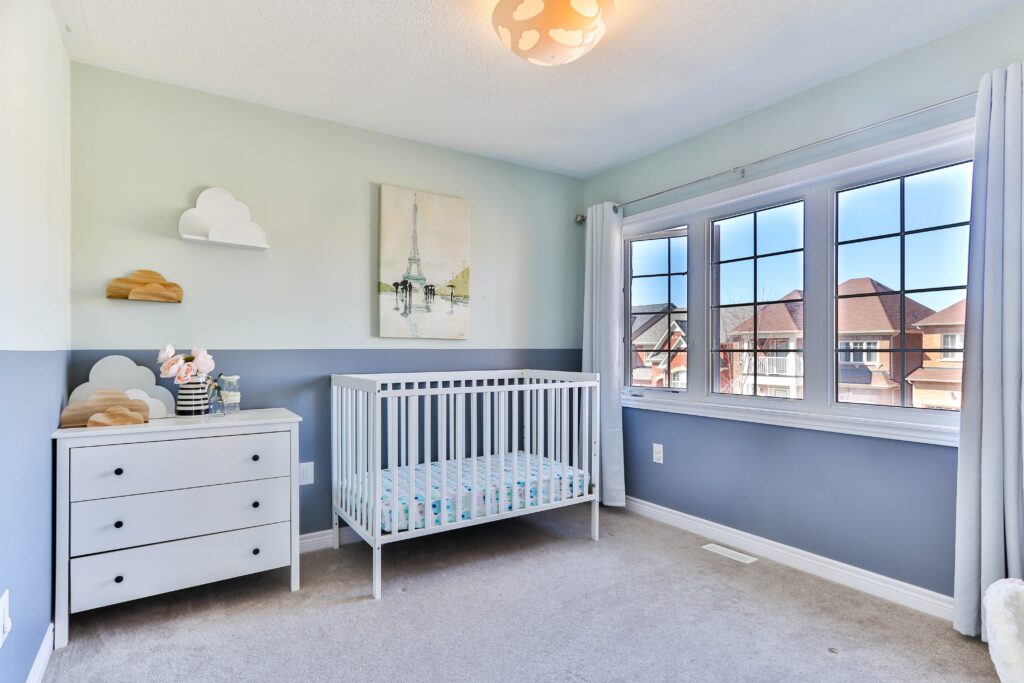 Suppose you kept the walls and furnishings in a neutral colour scheme, but you want to bring some colour into the room, you can hang pastel-coloured curtains. You'll find entire collections of nursery curtains in bold prints and pastel colours that are universally appealing online. 
Lavender-coloured curtains are a great choice if you want to add an element of surprise to the room. Look for a model with an abstract botanical pattern to transform the windows into a focal point.
Another way to create a pop of colour in the room is to use throw pillows and blankets. They're ideal additions for an armchair or rocker. One of the reasons parents use throw pillows and blankets to welcome colour into a room is that they can change them later. You'll find in home interior stores countless models and patterns. If you already picked your nursery's theme, you'll find it easier to filter the products and find the one that best compliments your design.