Is your toddler a little obsessed or fixated on something?
This is perfectly normal for toddlers. Over the years we've gone through a range of fixations from particular books or TV programmes to characters or specific toys or items.
Toddlers thrive on routine and repetition. They are constantly trying to make sense of the world around them and learn new things, so the same toy or TV show or activity provides comfort and reassurance in a world that can sometimes become a little too big and overwhelming.
We've had a few fixations over the last 12 months. The first…balls. Everything remotely round was a 'ball' and the excitement at seeing such a spherical object was sometimes very overwhelming. Balls are still 'in' but they are not quite as exciting as they were a few months back.
At the same time, In the night garden was also up there with the top obsessions and watching the show was an essential part of the day.
We've moved on now it seems and almost overnight the new fixation is cars – called "weeeesss" because cars go weeeeeeeeeeeeee when they go down the hill don't they, doh!
Cars are an all round fixation but monster trucks have the edge, which means that Blaze and the Monster Machines needs to be on permanent loop. Occasionally, I can sneak in a Raa Raa the Noisy Lion or Mr Tumble fix but not very often.
Some weeesss are better than others. Measured of course on the distance they can travel. This Kid O Go Car has a good weeeeeeee factor and has a handle as part of the toy, meaning toddlers can get hold of it and launch it well. It travels a good distance on most surfaces which also gets the fixated toddler seal of approval. It encourages gross motor skills, and the lights look like eyes, which also helps imaginative play.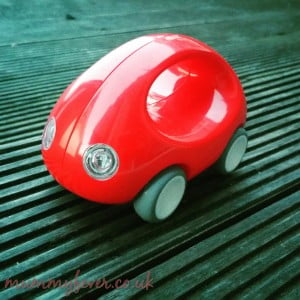 What is your toddler obsessed or fixated by?